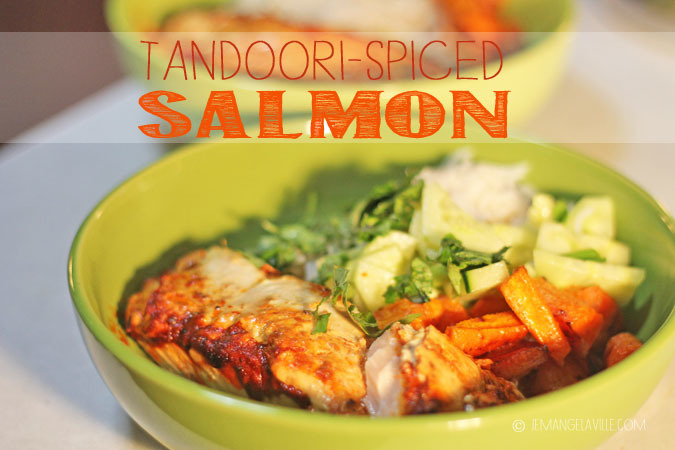 Hands down, this has become my most favorite salmon recipe. I came across it in Saveur Magazine and combined a lot of the steps and played around with the spices a little bit to better match what I had in my spice cabinet and ended up with this winner. This recipe does not use a completely traditional Tandoori spice mix, but I like to think it's close enough in spirit? (My main spice swap is substituting smoked paprika for chili powder, but I think the smokiness adds an interesting note. If you don't have smoked paprika, go ahead and use chili powder.)
* Because of the long marinating time, this recipe works best when you plan ahead. If you can marinate the salmon in the morning and let it sit in the fridge all day with the paprika-garlic-spice paste and then spread on the chile-yogurt after work and let that sit while the oven preheats, it's doable during the week. But also, it makes a great weekend dinner as well.
I've always been more of a medium-roasted salmon fan, so I let mine go until it reaches about 130 degrees F or so and then the carry-over usually gets it to about 135. You can adjust the time in the oven to your liking, but keep in mind, you'll need at least 13-14 minutes to develop a nice crust.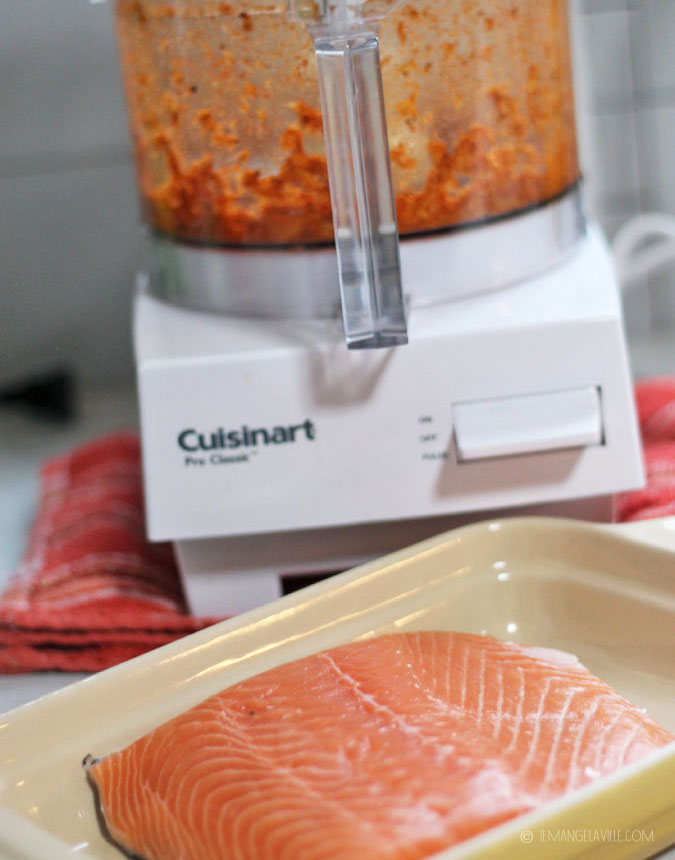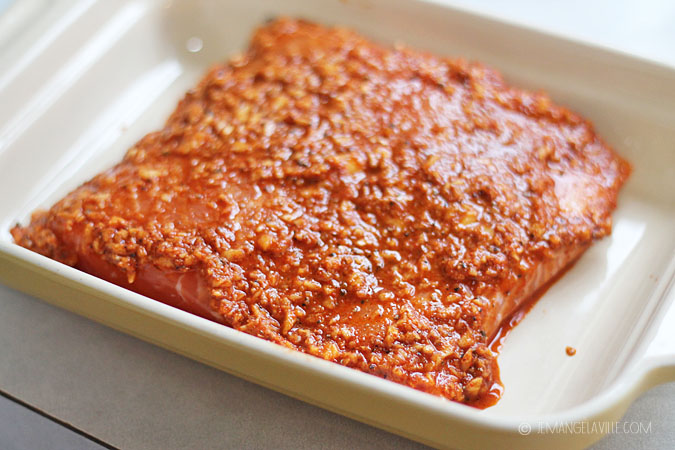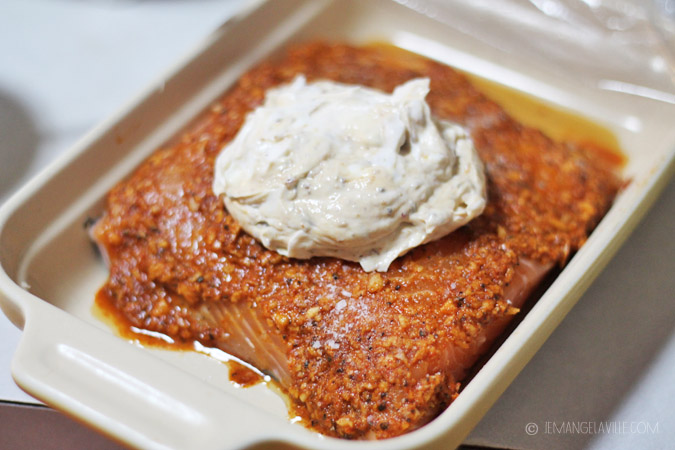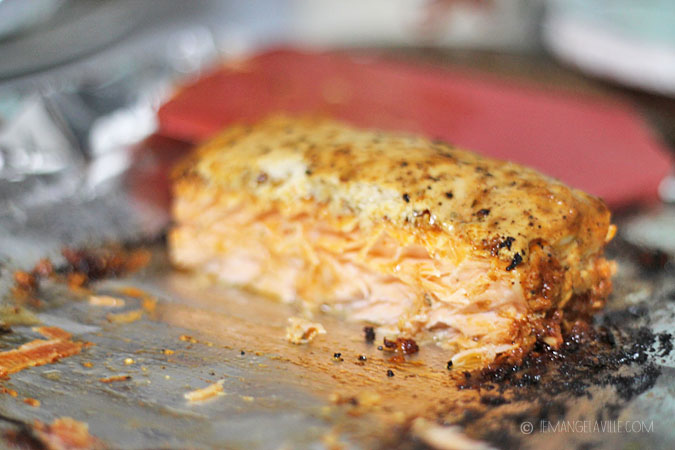 Tandoori-Spiced Salmon
Adapted from Saveur Magazine; serves 2-3
12-16 oz boneless, skin-on salmon filet
3 cloves garlic, peeled
1 2-inch piece ginger, peeled
1 tbsp water
1 tbsp canola oil
1/2 tsp Kosher salt
1/4 tsp ground black pepper
1.5 tsp white vinegar
2 tsp smoked paprika
1⁄2 tsp ground cardamom (I use cardamom seeds that I've ground in a spice grinder)
1⁄2 tsp garlic powder
1/4 tsp ground cinnamon
1/8 tsp ground cloves
1⁄2 tsp ground ginger
1/2 cup plain yogurt (Greek-style and/or 2% is fine)
1 tsp red chili paste ( I use this Thai Kitchen variety but you could also use Sambal Oelek, or one minced Thai chili)
1/4 cup chopped cilantro
Put salmon in a small, rimed baking dish. Add garlic, ginger, and 1 tbsp water to a food processor and chop. Add the canola oil, salt, pepper, vinegar, paprika, cardamom, garlic powder, cinnamon, cloves, and ground ginger and process until everything is mixed and you have a paste. Using a rubber spatula, smear the mixture over the salmon. Cover salmon with plastic wrap and refrigerate for at least 1 hour and up to overnight. I usually try to let the salmon sit with the spice paste for about 6-8 hours.
Combine the yogurt and the chili paste, along with a pinch of salt. Spread the yogurt mixture over salmon. Cover with plastic wrap again and refrigerate for 1 more hour. Carefully transfer salmon to an aluminum foil-covered baking sheet.
Heat oven to 500 degrees F. Bake until fish is lightly charred and cooked through, about 15-20 minutes. Using a large metal spatula, transfer salmon to a serving platter (or break up to serve in individual bowls) with brown rice, cilantro, and the pickled cucumbers on the side.
Braised kale or roasted carrots are also great additions to this meal.
Quick Pickled Cucumber
1⁄2 small English cucumber, peeled, halved, and diced into half-moons
1 tbsp seasoned rice vinegar
1 tsp granulated sugar
1/4 tsp salt
pinch crushed red pepper flakes
Toss everything together after you put the salmon in the oven and let sit (unrefrigerated) while the salmon roasts.