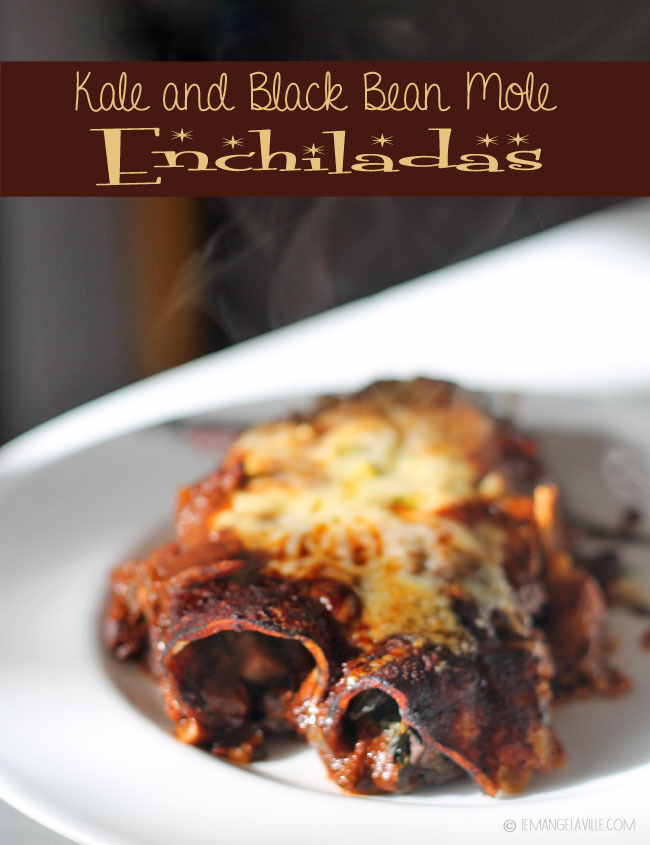 Cold wintery weather calls for something with melted cheese and bubbling sauce, right? Yeah, that's what I thought too. And it's really hard to go wrong with Mole Enchiladas. And when you make them a little lighter with kale and black beans instead of chicken, it's a dinner that'll find its way into your rotation on a regular basis–maybe even for a Meatless Monday!
For this recipe, I specify an amount of mole sauce to use. Because here's a confession–the handful of times I've made mole from scratch, it's been um, okay. That's a lot of work for something that I've never been that thrilled with when I attempt to make it myself. So, if you have a homemade mole recipe you love, by all means, use that! If you have a jarred version that you always buy, go for it. You could even swap the mole for a regular enchilada sauce if you'd like (but you'd be missing out a little bit because the rich and peppery mole is definitely fantastic!).
Personally, I've had good success with this Black Mole Paste by Juquilita and even the Dona Maria brand that you can most likely find at your local grocery store will definitely do in a pinch. Bottom line–there's no reason not to use a mole sauce if you want to. Both of the pastes I've mentioned work the same way by blending a certain amount of the concentrated mole with vegetable (or chicken) broth. I typically start with a quarter cup of mole paste for every cup of broth and I use a blender to get a very smooth sauce, and then heat.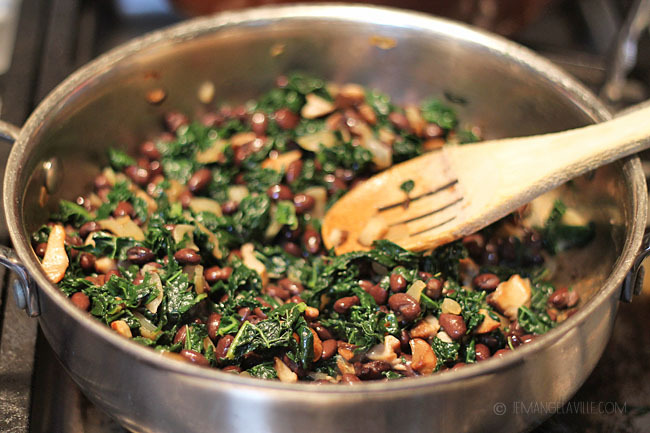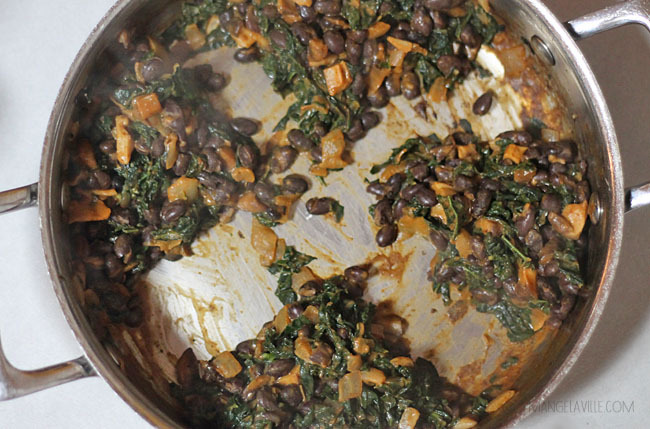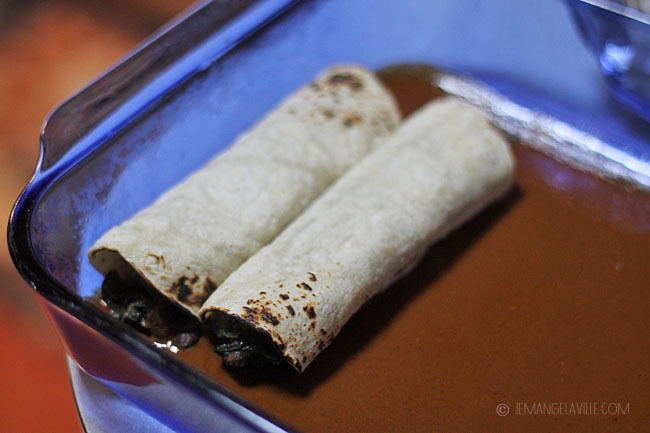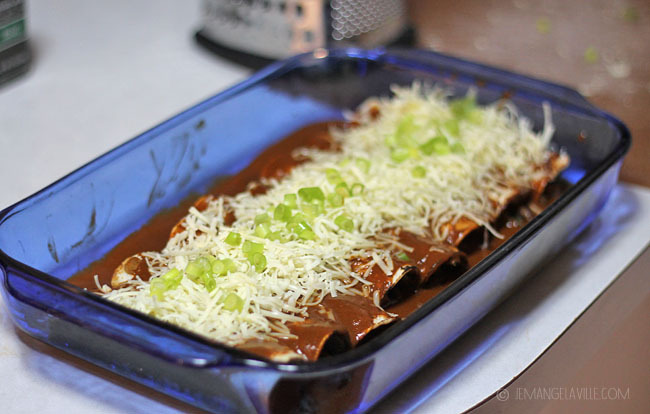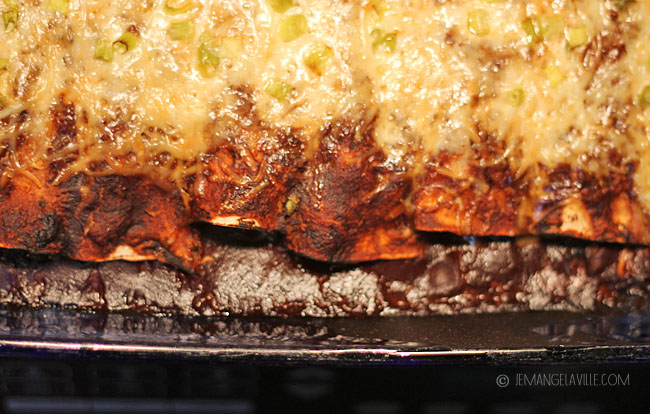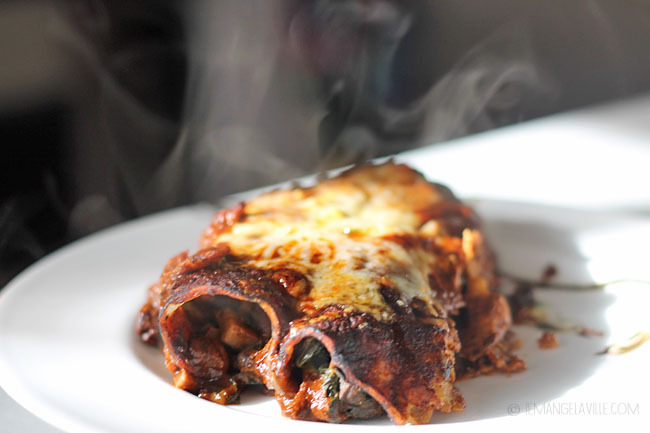 Kale and Black Bean Mole Enchiladas
Makes 8 enchiladas; serves at least 4
2-1/2 cups mole sauce (divided)
1 tbsp vegetable oil
1 medium red or white onion, diced
1 bell pepper, cored and diced
1 bunch kale (6-8 oz), stemmed and leaves chopped
1 can black beans, rinsed
8 corn tortillas
2 tbsp goat cheese (about 1.25 oz)
3 oz grated cheddar cheese (this is just under a cup)
1 tsp sesame seeds (optional)
Preheat the oven to 350 degrees F.
Prepare the mole (if using a paste, it'll be about 1/2 cup of the paste and 2 cups low-sodium vegetable or chicken broth, depending on whether you want it to be vegetarian). Warm the sauce up in a pot and hang tight.
Heat a skillet over medium heat and add the oil. Add the diced onion (hold back about 2 tbsp) and the bell pepper. Saute about 5 minutes until soft and starting to color just a little. Add the rinsed and chopped kale along with a sprinkle of salt, cover the skillet, and cook about 5 minutes more, stirring occasionally. Stir in the goat cheese and about 1/4 cup of the mole sauce. Set aside.
Warm your tortillas. You can either char them a little over a stove-top gas flame or wrap in foil and set them in your preheated oven for about 5 minutes. Right in the pan, divide the filling into four sections, then use each section to fill two tortillas (dividing the filling up before you start will make it so you don't run out of filling early). But, before you start rolling, pour about 1/2 cup of your mole sauce into the bottom of your baking dish (a 9 X 13-inch baking dish works great) to cover the bottom. Then, roll each tortilla up around the allotted filling and place it on top of the sauce. Eight enchiladas should fit perfectly.
Pour the rest of the sauce, (about 1-3/4 cups) over the enchiladas, making sure everything gets nice and coated. Sprinkle the cheese down the middle and then top with the reserved diced onion and the sesame seeds (if using). Forget to hold back some diced onions? You can skip adding more to the top or even use a couple of diced green onions. Spray a sheet of aluminum foil with non-stick spray and cover the enchiladas with the foil, spray-side down (this is a precaution in case any cheese touches the foil–you don't want it to stick and lose any of your delicious cheese).
Bake for 30 minutes. Uncover and bake for 15 more minutes. Everything should be melted and bubbly.
Serve with avocado, cilantro, and/or sour cream (or Greek yogurt). Also, chips and salsa on the side are not going to hurt anything.