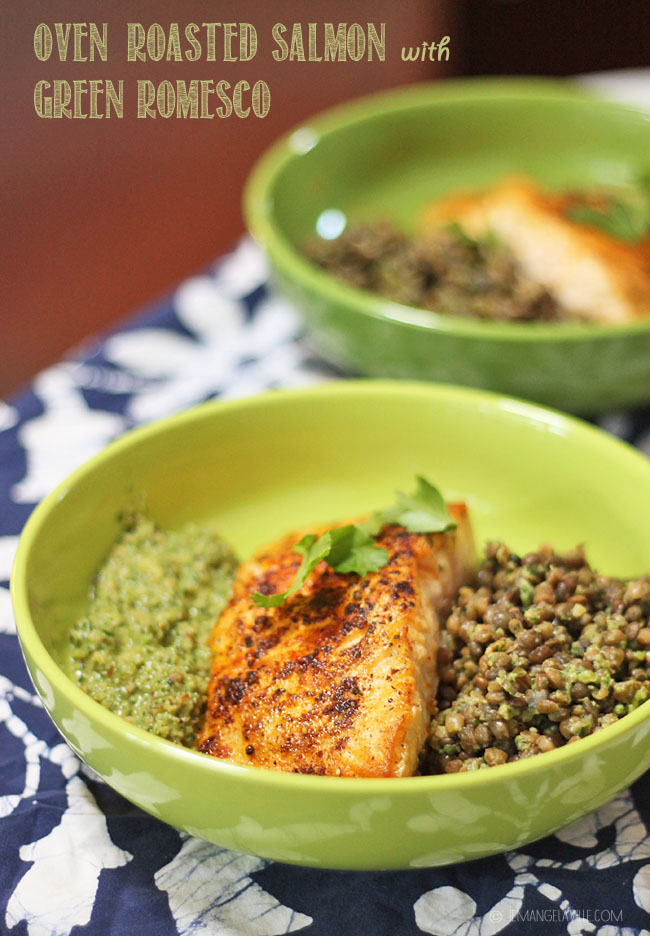 Romesco, a Spanish pepper and nut-based sauce, is typically made with red bell peppers, producing a bright red and flavorful summery sauce. This version mixes it up a bit with mildly spiced poblano peppers and it's easily one of my most favorite things to do with poblanos. It's also suitably fall-ish, in my opinion.
Besides, no matter the season, what's not to like about roasted peppers, vinegar, garlic, olive oil, and nuts? This romesco recipe is adapted from the cookbook, Grilling for Life by Bobby Flay. But really, I'll let you in on a little secret–you don't have to grill anything if you don't want to. You can of course, but your oven will do all the work quite easily.
Speaking of the oven, the salmon gets a sear in a hot pan, then finishes cooking in that very appliance. When we had this meal, some warm and tender lentils were tossed with a little of the romesco sauce for a great side.
And if you do find yourself with any leftover sauce, it's especially tasty with pasta with some crumbled goat cheese on top.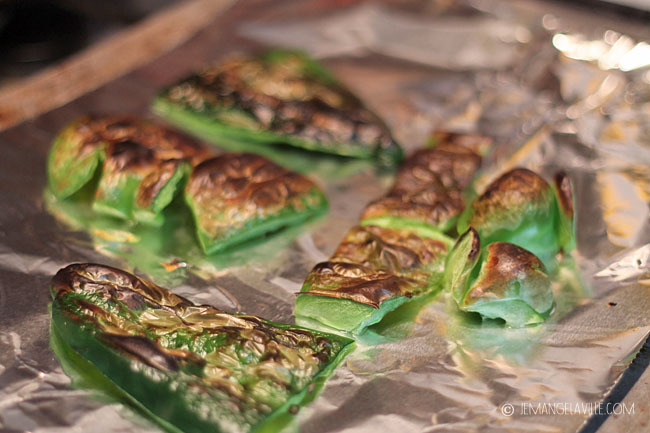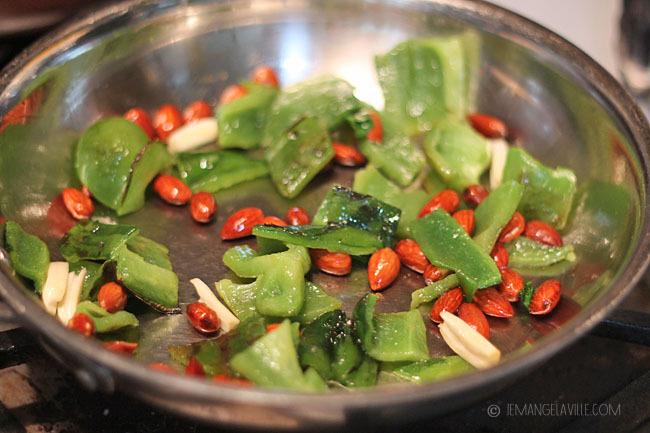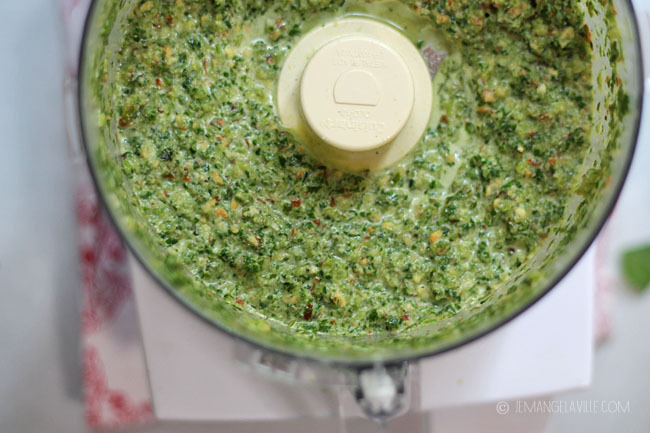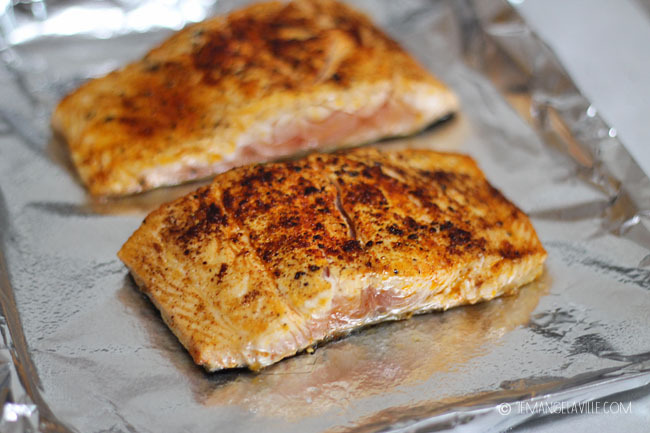 Oven-Roasted Salmon with Green Romesco Sauce – serves 4; easily halves* or doubles
Green Romesco
2 Poblano chiles
1 green bell pepper
1/2 cup white balsamic vinegar
2 tbsp olive oil
6 cloves garlic, minced
1/4 cup blanched almonds, toasted
1/4 cup water
1/4 cup chopped cilantro leaves
1 tbsp honey
1/4 tsp kosher salt
1/4 tsp freshly ground pepper
Stem and slice all the peppers in half and place on a foil-covered baking sheet. Press down to flatten. Turn on your broiler and toast the peppers until the skin is blackened. Place peppers in a bowl and cover with foil to steam for about 10 minutes. Afterwards, you should be able to easily peel off all the blackened skin. Chop and set aside.
Heat the olive oil up in a large pan over medium-high heat. Add the garlic and cook until soft and golden brown, about 4-5 minutes. Stir in the almonds, and the peeled and chopped poblanos and bell pepper. Cook for about a minute or two. Using a slotted spoon, remove and place in a food processor.
Add the vinegar to the empty pan and simmer for 1 minute to deglaze. Add it to the food processor along with the water, cilantro, and honey. Process until smooth, then season with salt and pepper – taste and adjust as needed.
Salmon
1 tbsp olive oil
1 tbsp smoked paprika
1/2 tsp kosher salt
1/2 tsp freshly ground black pepper
4 salmon fillets, 6-8 oz each
Preheat the oven to 400 degrees F. Add the oil to a large non-stick skillet over medium-high heat and let the oil warm up for a minute or two.
Sprinkle each fillet with salt, pepper, and paprika. Place skin side up in the skillet and let sear for about 2 minutes. Flip the fish over and give it 30 more seconds.
Remove from the skillet and place fish on a foil-lined baking sheet and roast in the preheated oven for 8-12 minutes depending on the size of the fillets. If you like your salmon on the more rare side, check after 6 or so minutes in the oven.
Serve salmon with the green romesco sauce, topping with additional cilantro to garnish.
* Just making dinner for two? You might still want to make a full recipe of the romesco so you will have leftovers for pasta!