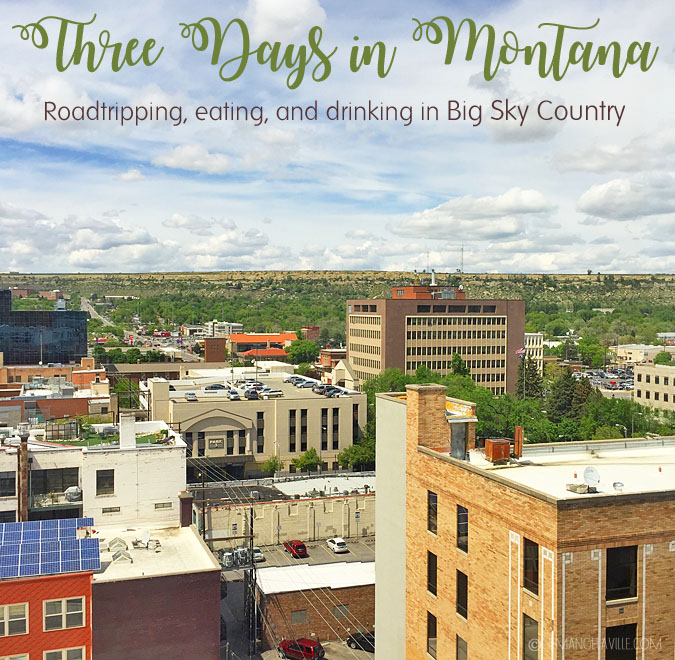 I think if I had to live somewhere other than Oregon, I could maybe live in Montana. Maybe. And while I would miss the ocean and the desert of my adopted home state, I would cherish the big blue skies and the quirky mountain towns of the Treasure State.
During a roadtrip to our eventual destination of Fargo, North Dakota we spent a few days in Big Sky Country—it's an incredibly long state to drive through. Missoula in the western region is almost 350 miles from Billings in the east and once you hit Billings, you still have another 247 miles until you finally come to the North Dakota border.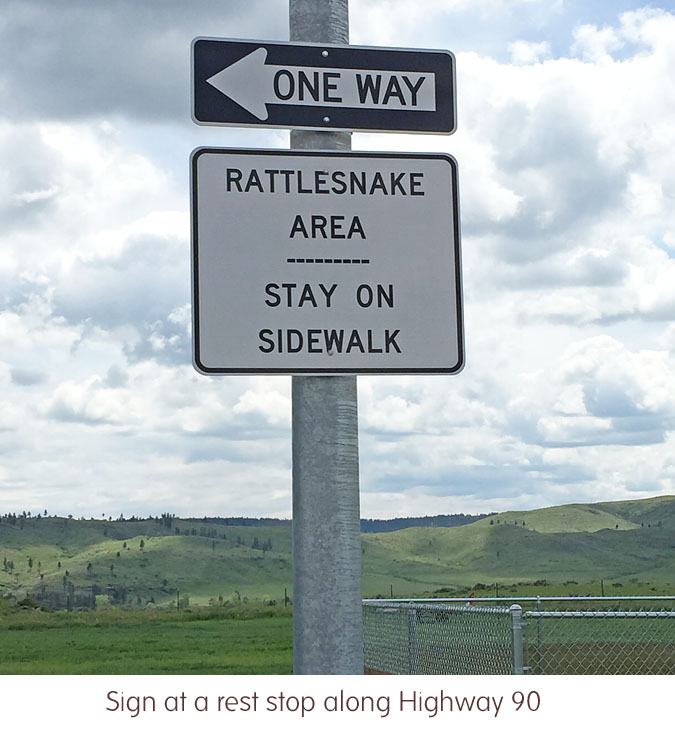 If you do find yourself roadtripping along interstates 90 and 94, there are a number of Montana communities that are definitely worth your time, here are a few of them.
Three Forks, Montana
This small town between Butte and Bozeman offers a few things—the historic Sacajawea Hotel, where you'll be offered a glass of bubbly when you check in. There's a summer farmers market in Three Forks and a quaint main street for strolling after a bison burger (complete with fire roasted green chilies, pepper jack cheese, and crispy fried onions) in the lively Sac Bar.
The rooms here were super comfortable and you'll definitely fall in love with the big front porch.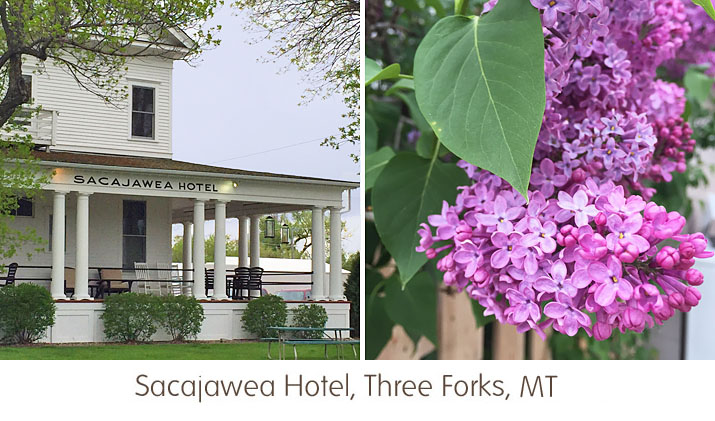 Yellowstone National Park
From Three Forks, it's just 108 miles to the north entrance of Yellowstone in Gardiner. Here, you can view the welcoming arch bearing the words For the Benefit and Enjoyment of the People. A massive national park, Yellowstone offers more than 3,500-square miles to explore. To do it justice, you will probably need at least a couple of days.
You'll arrive at the colorful Mammoth Hot Springs a few miles after crossing into Wyoming. There's a Visitor's Center in this part of the park, as well as the Mammoth Hot Springs Hotel, dating from the 1930s (though one wing of rooms was constructed in 1911). Yellowstone is so massive that there are multiple park lodges including the Lake Yellowstone Hotel, Old Faithful Lodge, and the Roosevelt Cabins.
Our initial plan was to stay at the Lake Yellowstone Hotel but unfortunately, on our trip, we experienced an unexpected late May snowstorm and many of the park roads were closed, so we couldn't make it to the hotel. We did manage a quick drive to the hot springs and its Visitor's Center and we spotted a number of elk out in the wild.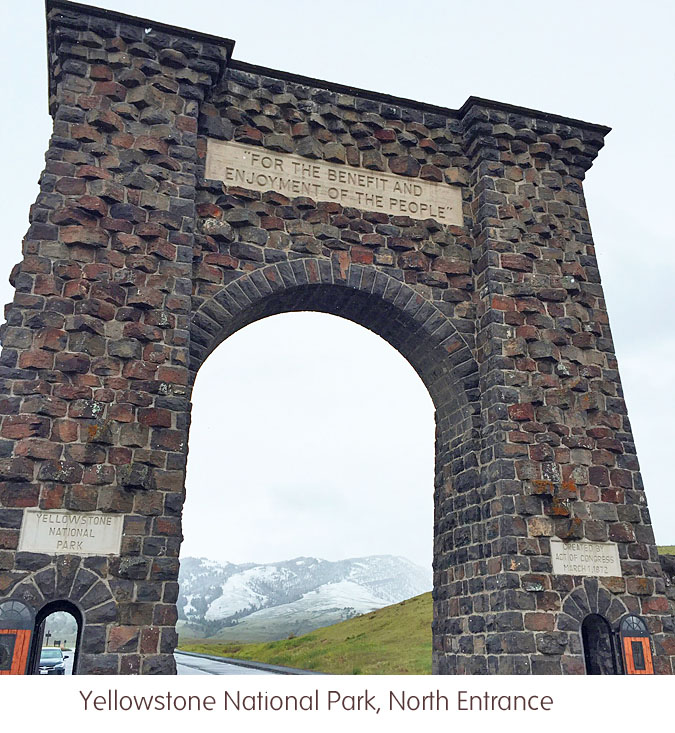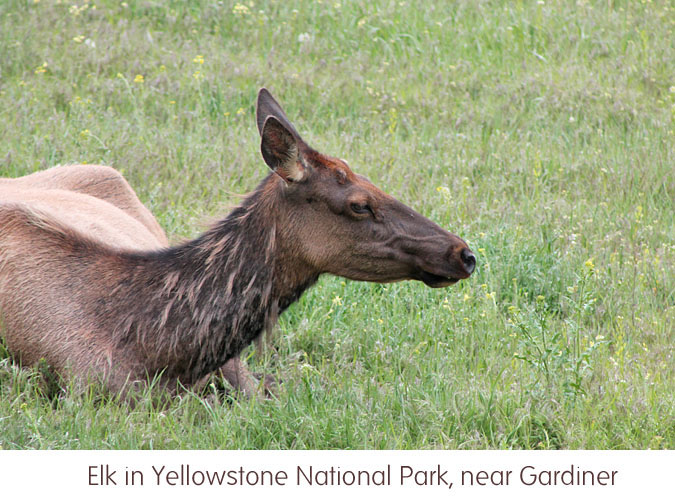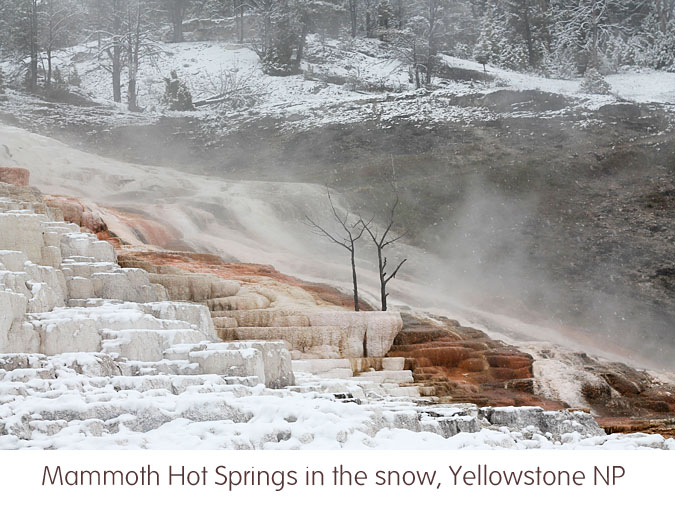 Livingston, Montana
Just about an hour's drive north of Yellowstone, Livingston was once a train hub and ranching community along the Northern Pacific Railway. Now, it's a convenient if not cosmopolitan home base for visits to see the geysers, hot springs, and wildlife down in the park. And, if you happen to get snowed out of the Yellowstone, it makes a wonderful fallback plan for a couple of days, especially if you can snag a suite at the Murray Hotel. Forty-eight hours here will give you ample time to wander galleries, boutiques, and hike around to local spots.
You'll also find that this charming Montana destination offers a couple of breakfast spots such as Gil's Goods along Park Street in the center of town, for a satisfying scramble and a latte. And if you need something to read before falling asleep at night, grab a smoothie at the Wheatgrass Saloon, housed inside Elk River Books, and stroll around sipping your Sid Vicious (kale, berries, coconut water, maca), while you peruse the cozy literature section upstairs. One of the nights we were there, poets David E. Thomas and Saif Alsaegh were giving a reading upstairs in the bookstore and it seemed like half the town showed up to have a glass of wine, a snack or two, and listen.
A couple of the best dinners we had during the trip were in Livingston, at the 2nd Street Bistro and Mustang Fresh. Salmon with lentils, bison Bolognese, Moscow mules, and an epic pork chop with a vegetable hash–it was all completely delectable. And if you want to pick up a little something to remind you of Montana, peek in at BHive Artisan Cooperative and grab yourself a handmade Montana mug.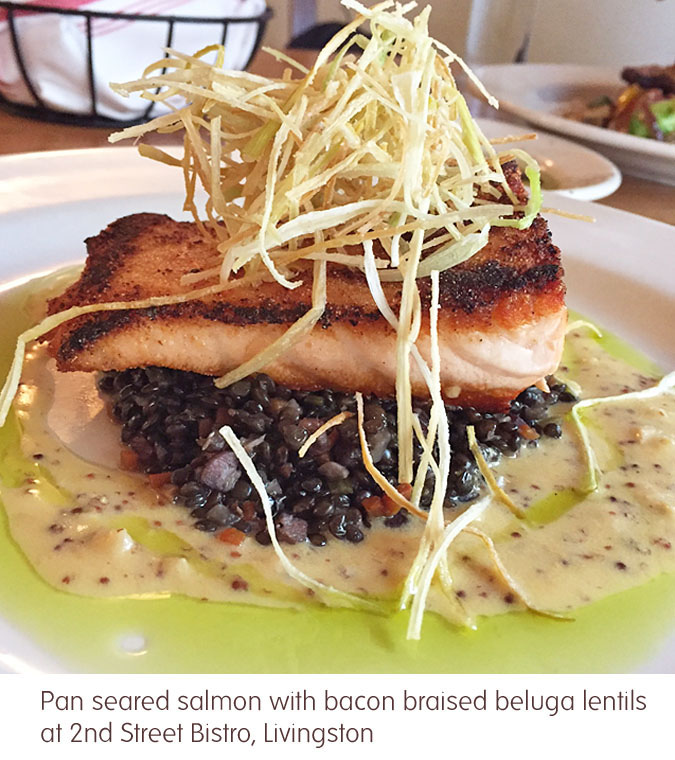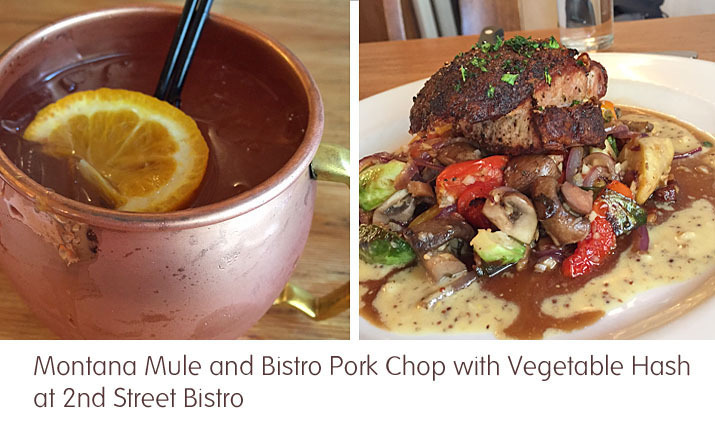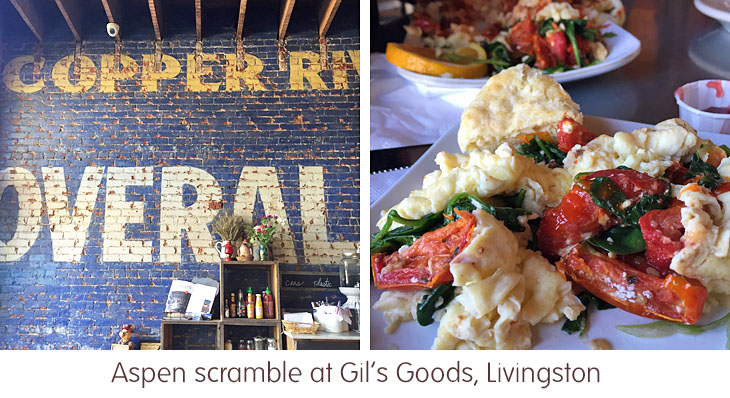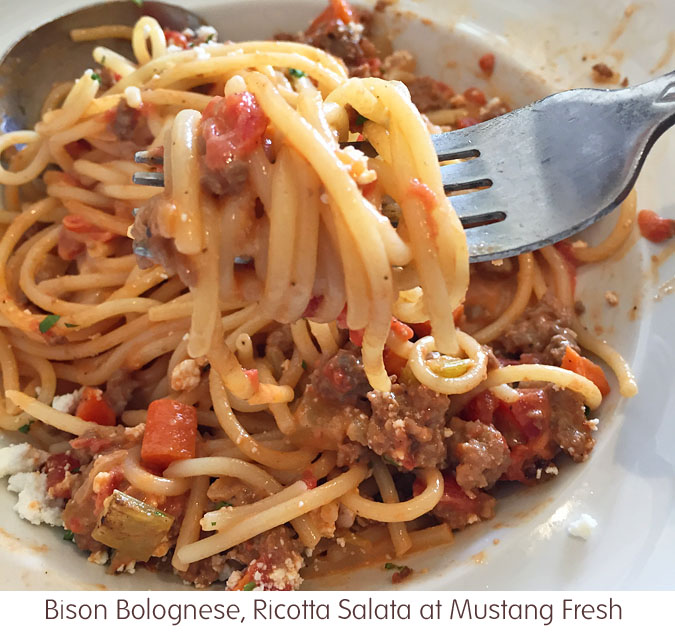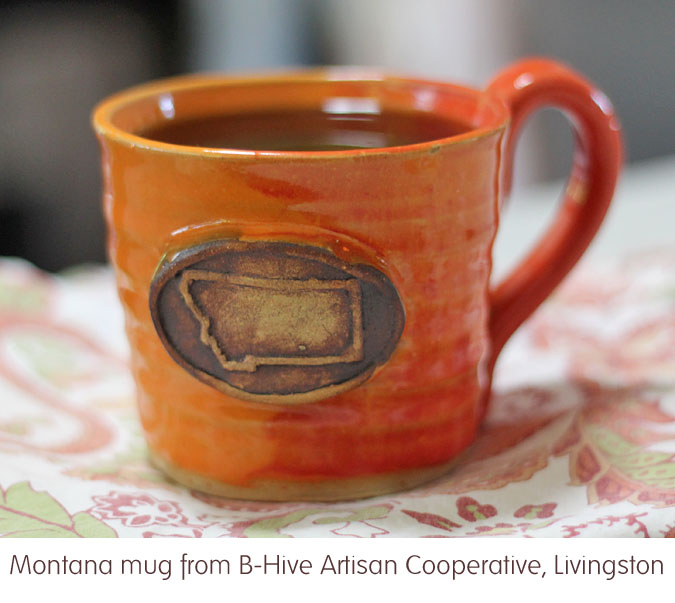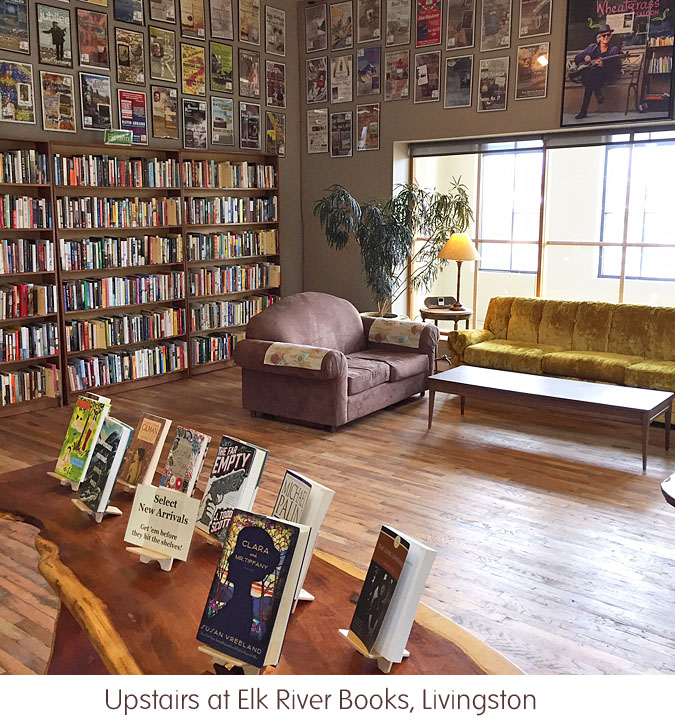 Billings, Montana
If Livingston is an artsy and eclectic small mountain town, Billings is a sprawling metropolis of glass and brick–the largest city in the state. Like Three Forks, we just had one night in Billings, but we made the most of it. It was a quick drive from Livingston (115 miles) that took us out of the West's mountains and towards the prairies of the Dakotas, with rolling hills and signs at rest stops warning of rattlesnakes.
We arrived early enough to get a beer and then walk across town to the Yellowstone Art Museum where we wandered through modern art galleries and relaxed in a comfortable courtyard. Two of the exhibits featured during our visit were Jaune Quick-to-See Smith and Rosane Volchan O'Conor—thoughtful and sometimes satirical paintings by a contemporary native artist and installation art depicting the colorful biomorphic forms of microscopic organisms.
Dinner that night was at The Fieldhouse where a Rosé flight and deep fried brussels sprouts with cashew-Parmesan and sundried tomato aioli were in order. This ended up being a memorable meal too with perfectly done scallops and spicy fish tacos—just what we needed before driving into the Peace Garden State the next day.
Our homebase for the night in Billings? The Northern Hotel, where our upper level, corner room looked out over the city's buildings and blue skies.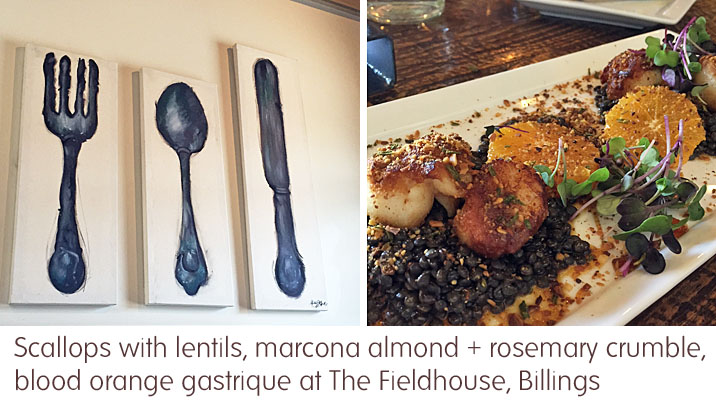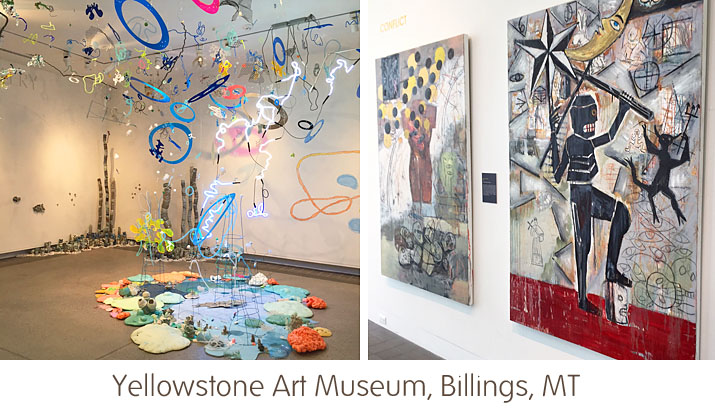 No matter how you choose to get lost in Montana you'll no doubt find an adventure, whether it's hiking a scenic trail in Yellowstone National Park, discovering a new artist at the Yellowstone Art Museum, or digging into a delightfully loaded bison burger.
Sacajawea Hotel
5 North Main Street
Three Forks, Montana 59752
2nd Street Bistro
123 North 2nd Avenue
Livingston, Montana 59047
Mustang Fresh
112 North Main Street
Livingston, Montana 59047
Gil's Goods
207 West Park Street
Livingston, Montana 59047
Elk River Books/ Wheatgrass Saloon
120 North Main Street
Livingston, MT 59047
B-Hive Artisan Cooperative
106 North Main Street
Livingston, Montana 59047
Northern Hotel
19 North Broadway
Billings, Montana 59101
The Fieldhouse
2601 Minnesota Avenue
Billings, Montana 59101
Yellowstone Art Museum
401 North 27th Street
Billings, Montana 59101