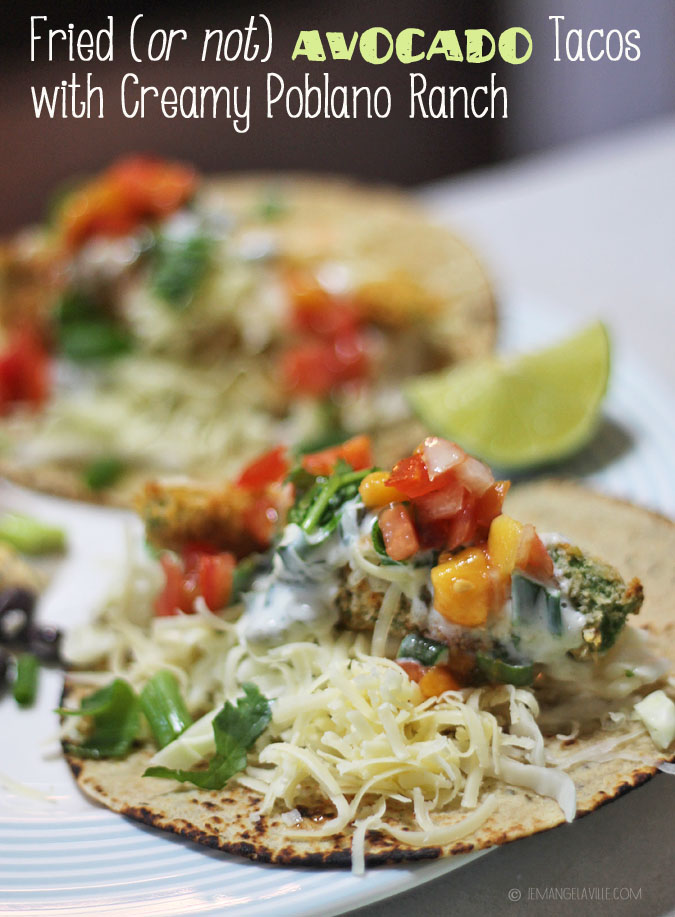 If you haven't already tried coating avocado with breadcrumbs and then frying, what exactly have you spent your life doing?
It's okay. You can start now. Using this preparation, the outside gets delightfully crunchy and inside, the avocado is all ripe and creamy. But, if you'd rather not fry, you can achieve pretty much the same results by baking the coated avocado wedges in the oven.
This recipe produces wonderful summer tacos–little avocado wedges on a tasty refried beans pillow. Garnished with shredded cabbage and cheese, as well as salsa, you really can't go wrong here. Plus, if you prepare the Poblano Ranch Dressing too, you'll make it better!
I've made these tacos both ways; frying in peanut oil and baking in the oven. I found that the frying leads to a bit more of a uniform and golden crispiness, but rotating the avocado wedges in the oven did a fairly good job of even browning as well.
Since avocados can be bland, the key to maximum tastiness is to season the flour well and also to hit the finished avocado wedges with a sprinkle of kosher salt.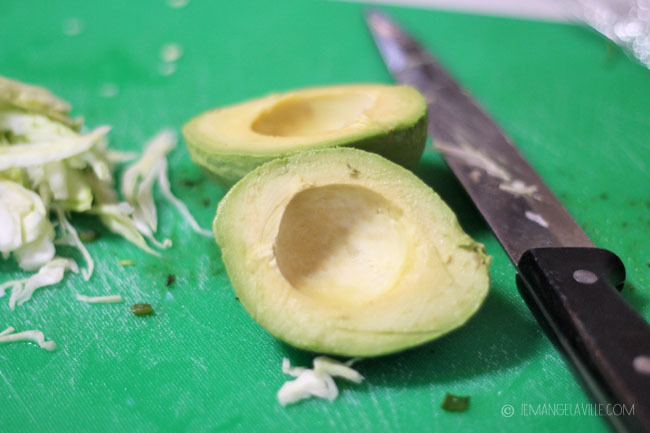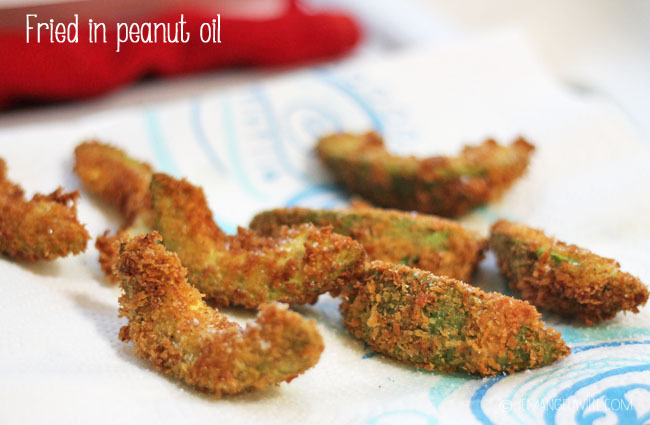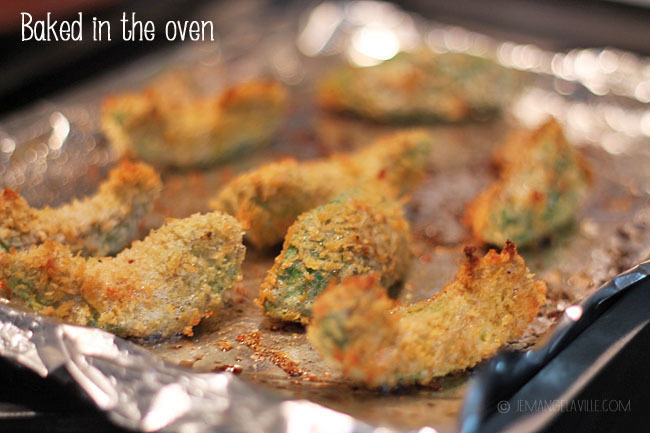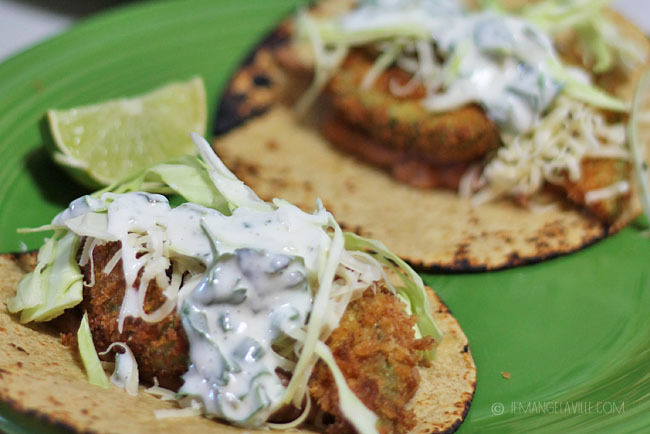 Fried (or not) Avocado Tacos with Poblano-Buttermilk Dressing
Adapted from a recipe in Bon Appétit, serves 4 (2 tacos each)
2 large eggs, beaten to blend
1 cup panko breadcrumbs
1/2 cup AP flour
1 tsp kosher salt
1/2 tsp ground pepper
1/2 tsp cumin
1 tsp chile powder
2 avocados, halved, pitted, cut into 8 wedges each (so, with two avocados, you'll have 16 wedges)
Kosher salt
Peanut or vegetable oil (3-4 cups if frying, 1-2 tbsp if baking, plus non-stick olive oil spray)
8 corn tortillas, warmed
1 can refried beans, heated
Garnishes: shredded green cabbage, cheese, salsa, lime wedges, poblano ranch (recipe below)
First, you're going to make yourself a little avocado coating station.
In one bowl add the flour plus the salt, pepper, cumin, and chile powder, in another the eggs, and in a third, the panko breadcrumbs.
One at a time, place an avocado wedge in the seasoned flour to coat (shaking off excess), then the egg, then finally in the panko to coat evenly. Place finished avocado wedge on a plate or baking sheet while you panko-up all the pieces.
To fry:
Pour the oil into a large pan or skillet. You want a depth of about 1-1/2 to 2 inches. Heat the oil until it reaches 350 degrees F. You'll most likely need to fry the avocado in batches, for about 3 minutes total, 1-1/2 minutes per side (flip once carefully while frying). When done, let the avocado drain on a paper towel lined plate (sprinkle with a little salt).
To bake:
Preheat the oven to 400 degrees F. Line a baking sheet with either parchment or foil. Spray that with your non-stick spray. Lay the coated avocado slices down on the baking sheet and drizzle all the wedges with a tablespoon or two of oil. Bake 5 minutes, flip to the other side, bake 5 more minutes, then flip so that the curved outer side is down for the last five minutes. This way all three sides have a chance to crisp up on the hot baking sheet. Remove from the oven, sprinkle with a little salt, and proceed.
To assemble:
Lay tortillas down on plates and spread with some warm refried beans. Top with two wedges of avocado per taco. Then add your garnishes–cabbage, cheese, salsa, and the poblano-buttermilk dressing. Eat.
Creamy Poblano-Buttermilk Ranch Dressing
1 large (or 2 small) poblano chile(s)
2 scallions, chopped
1/2 cup low-fat buttermilk
1/4 cup sour cream (you can also use full-fat Greek yogurt)
2 tbsp fresh lemon or lime juice
Kosher salt, freshly ground pepper
optional: dash or two of hot sauce (green Tabasco is perfect)
Roast the chiles – you can do this in the oven under the broiler (my favorite way) or if you have a gas stove, you can use the flame. However you blacken the skin, when you're done, place the pepper(s) in a bowl and cover with foil or plastic wrap and let steam for 10-15 minutes.
Peel the skin off and remove the stems and seeds. Dice finely. Add the roasted peppers, green onions, buttermilk, sour cream, and juice to a bowl and combine. Season with salt, pepper, and if needed, a dash or two of the hot sauce. I've found that you never know how hot peppers will be, so you might want a bit more of a kick.