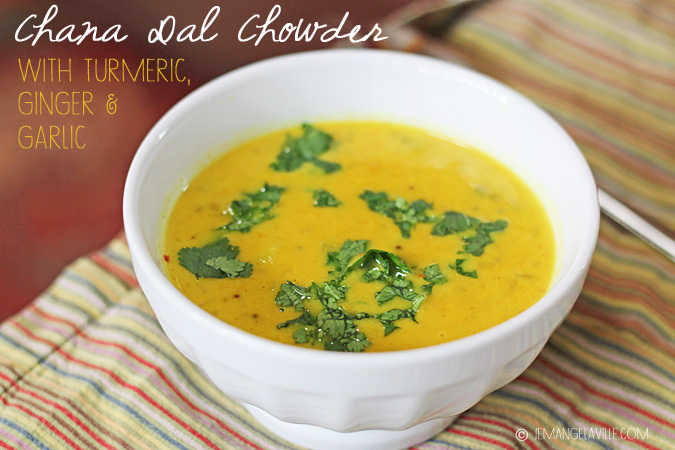 Feeling a little meh? Forget the chicken noodle soup, this is what you want when you're craving a big bowl of comfort!
This is a meal for chilly days or sleepy evenings when you're not quite sure if you're catching a cold or if you just need to recharge. It's thick and hearty and satisfying in a way you'd expect a chowder to be but with only a small amount of cream.
Chana dal beans* are a type of split chickpea (a Dezi chickpea to be precise) that sort of resembles a yellow split pea in appearance. They are very high in fiber and typically used in traditional Indian cooking. And once you stock your kitchen with a bag or two of these small and sunny yellow legumes, you will find that you will want to use them in all kinds of things–soups, stews, even hummus.
That said, you can also use the same amount of plain ol' brown lentils in this chowder instead. And if you want to swap the broth for diet or convenience, go ahead and use a vegetable or a chicken one.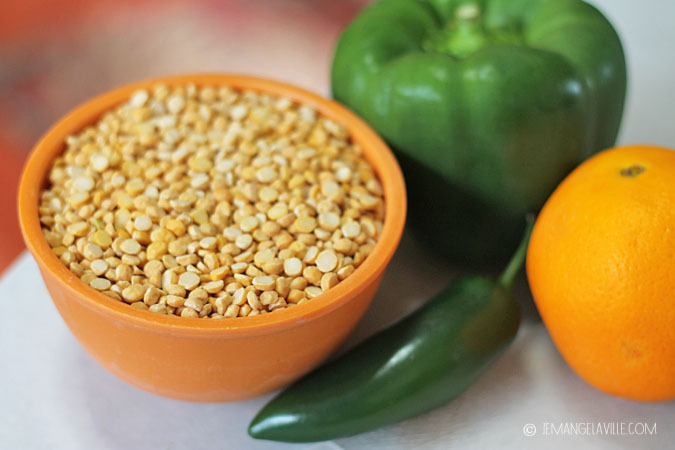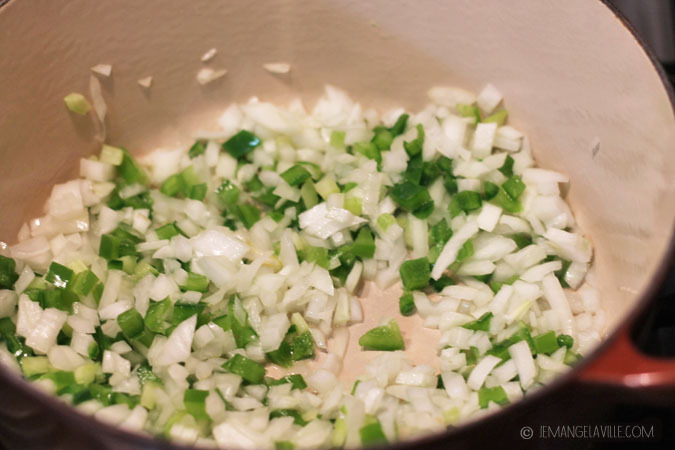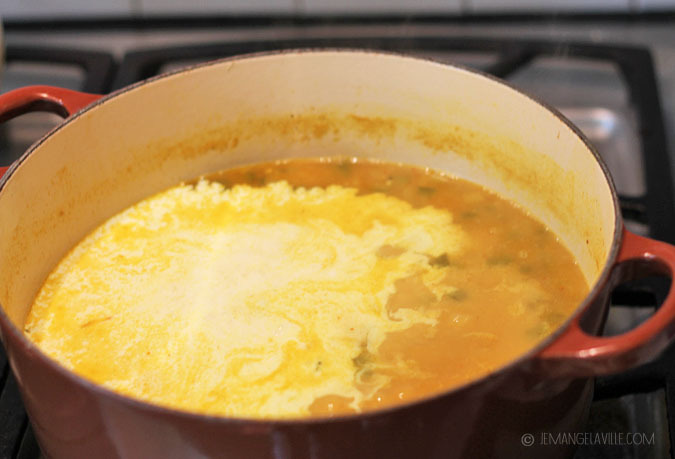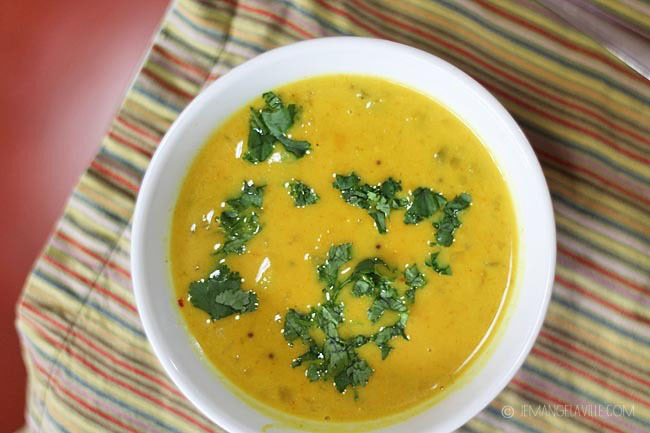 Chana Dal Chowder with Turmeric, Ginger and Garlic
Good for colds, rainy weather blahs, and anytime you need lots of flavor!
Serves 3-4
1 tbsp coconut oil
1 medium white onion, finely diced
1 green bell pepper, finely diced
1 jalapeno, finely diced
4 large garlic cloves, minced
1/2 tsp brown mustard seeds
1 tsp ground cumin
1 tsp ground turmeric
1-inch piece of ginger, microplaned or minced
1 cup dried chana dal beans (lentils can be substituted)
4 cups lamb broth (or use chicken or vegetable broth depending on your preference)
juice of 1/2 an orange
1/4 cup heavy cream
salt and black pepper to taste
chopped fresh cilantro for garnish and if you'd like, some pepper flakes for a little more heat
Heat the coconut oil up over medium heat in a soup pot. Add the diced vegetables and saute until soft, about 5 minutes.
Add the garlic, mustard seeds, cumin, turmeric, and ginger and stir until warm and fragrant, about 30 seconds. Next, add the beans, broth, and orange juice, turn up the heat to high, and bring to a boil.
Once boiling, cover partially and let simmer over very low heat until everything is very tender and the beans are almost falling apart – about 45-55** minutes. At this point, you can go in there with a potato masher or an immersion blender and break everything up a little.
Stir in the cream and cook over medium heat for a couple of minutes to bring everything back up to a piping hot temperature. Taste, and add salt and pepper (I usually start with 1/2 teaspoon kosher salt and 1/4 teaspoon black pepper). This is also where I decide if I want it a little spicier and maybe add a sprinkle or two of red pepper flakes.
Serve garnished with cilantro.
* Bob's Red Mill sells packaged chana dal beans on their website or find chana dal at online retailers like Amazon.com
** If you are using lentils, it will take less simmering time. Check after 30 minutes and go from there.