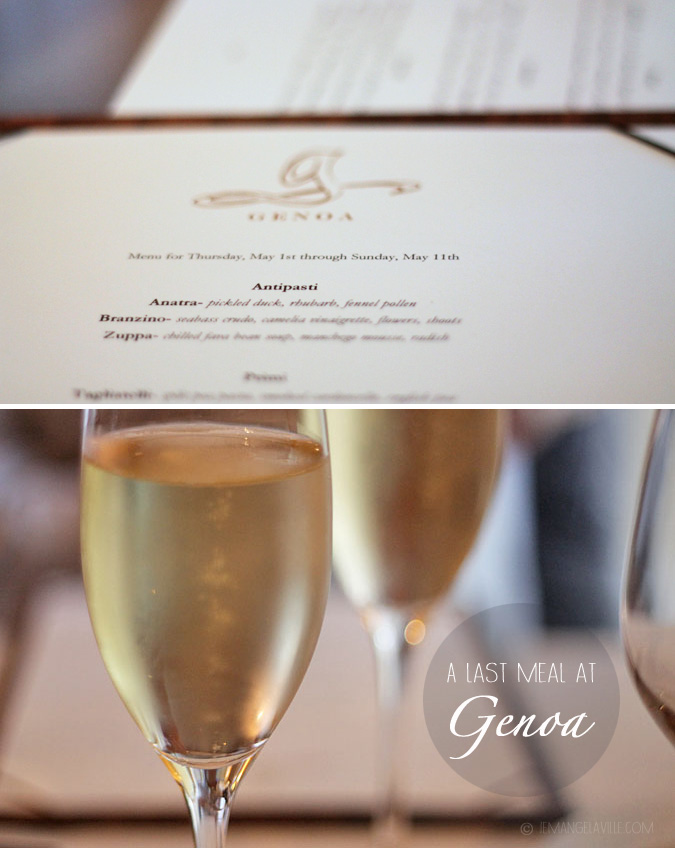 Genoa Restaurant
2832 Southeast Belmont St
Portland, OR 97214
OpenTable reservations — although, you may be out of luck at this point.
Well, in going through my archive, I've discovered that this is the 2nd time we've gone to Genoa for a wedding anniversary! Also, that I really like my new camera.
We were on vacation the week that it was announced that Genoa would be closing (Sunday, May 11th), and although I had just made reservations for an anniversary dinner at Laurelhurst Market, I swapped that out for a table at Genoa.
And although we've only gone to dinner there two or so times a year, we've loved all of our experiences at Genoa. From right after the re-open, until our last meal on Sunday. I hope it is truly an "extended hiatus" and that Genoa returns at some point. And also, that the staff there winds up doing cool things other places — honestly, one of the best parts of a meal at Genoa is learning about the wines and the fun banter with everyone. Of course, the food is pretty amazing too.
Accanto will be staying open but if you want to get to Genoa, you only have until Sunday, May 11th. And if you do make it in, go with the wine pairings — since they are hiatusing they are going through the cellar and pulling out all the gems of their wine collection for this last menu.
And now, a photo recap of our last May 4th meal. Delicious, fun, but a little bittersweet too. And, we were given a complimentary cheese plate since it was our anniversary!
Seriously, the year six anniversary should totally be cheese (it's iron).