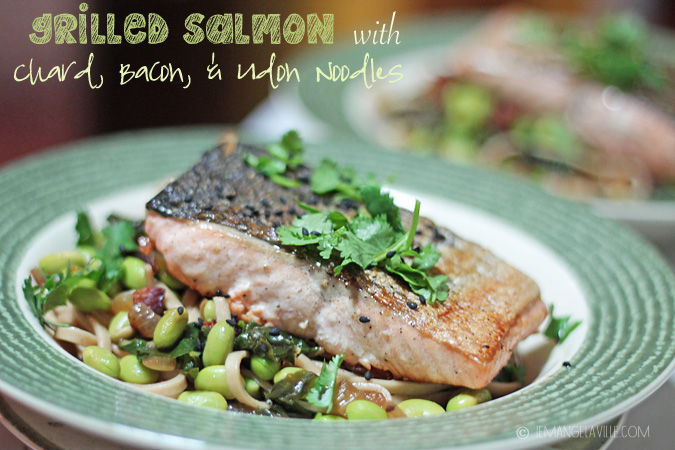 One of my most favorite restaurants on the Oregon Coast is Local Ocean in Newport*. And whenever we go there, even though I know I should order something new, I get the Grilled Halibut with Swiss chard, edamame, bacon, udon noodles, ponzu sauce – because it's so good that I just can't bring myself to order anything else.
Recently, I recreated it at home, using salmon instead of halibut and I think it turned out great. The thing with salmon is that you can get a nice crispy skin that just adds to the deliciousness of this plate.
Timing can be a little tricky, but if you're up for it, after you cook the bacon, just get three burners going on the stove at once and you can get it all done about the same time. Or just set the noodles, chard, ponzu, and edamame aside with some foil while you cook the salmon. That works fine too!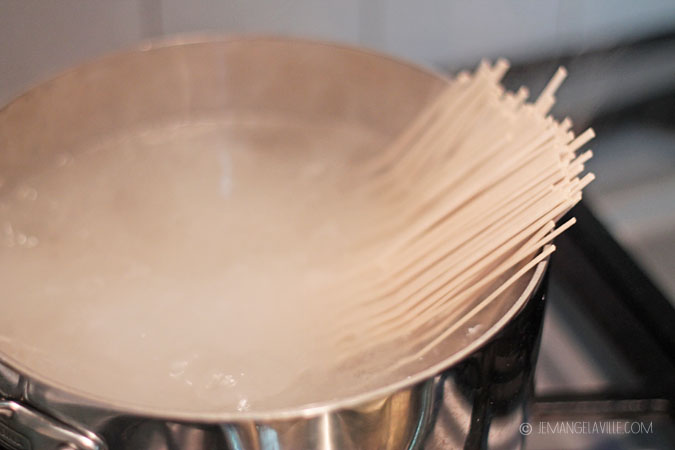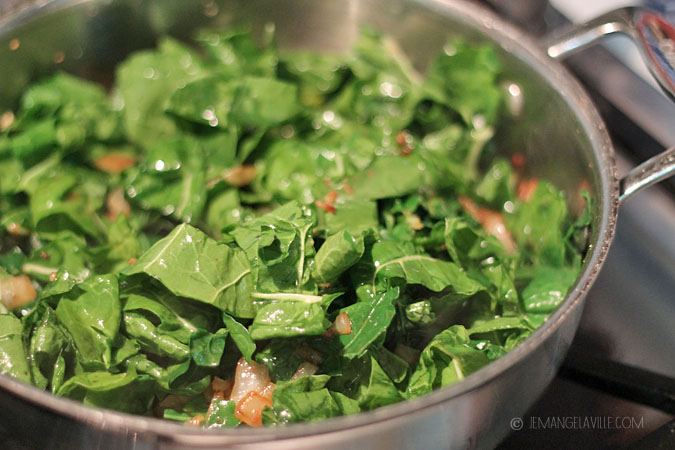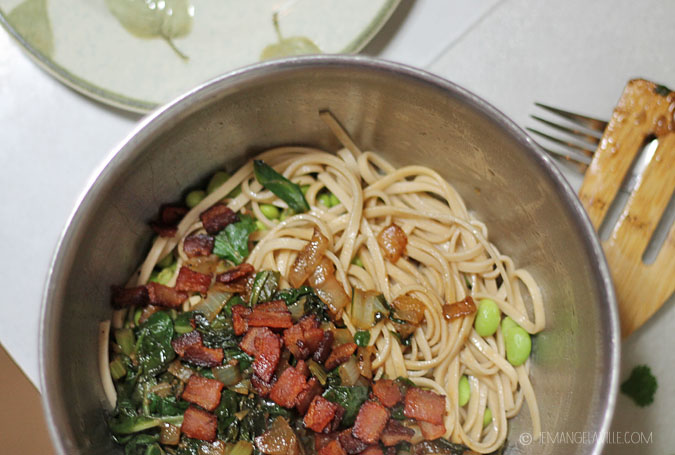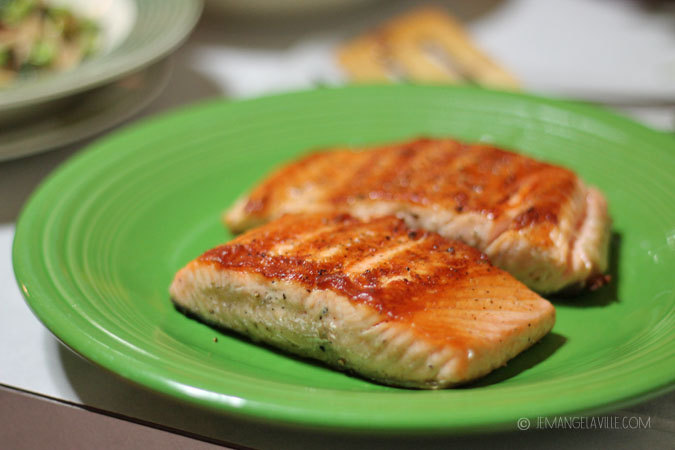 Grilled Salmon with Chard, Bacon, & Udon Noodles
Inspired by a dish at Local Ocean in Newport, OR. Serves 2; can be doubled.
3 slices Bacon, diced
1/2 cup diced Onion
2 cloves Garlic, minced
Kosher salt and black pepper
1 bunch Chard, ribs removed, trimmed and then diced, leaves chopped
3.1 oz dried Udon Noodles (I say 3.1 oz because that's usually the amount in one of those paper wrapped bundles, anything around 3 oz is fine)
1/2 cup frozen Edamame
2 Tbsp Ponzu Sauce
1 tbsp Olive Oil
two 5-6 oz pieces of Salmon
Cilantro leaves for garnish
Start the bacon in a cold, dry skillet over medium heat and when done, let it rest on paper towels to cool. Leave about a tablespoon of bacon fat in the skillet and add the onions and garlic, along with a sprinkle of salt and pepper. Cover and cook over medium heat, stirring frequently, for about 5-7 minutes. Add the chard stems and recover, cooking and stirring every so often for another 6-7 minutes. Add the chard leaves and a bit more salt and pepper, and cook until soft and wilted, about 5 more minutes.
While you are cooking the chard, start a pot of water over high and when boiling, cook the noodles until done (check the package but it's usually 6-8 minutes). For the last two minutes of cooking time, add the frozen edamamae. When done, drain and add udon and edamame to a large bowl. Add the cooked chard and ponzu and toss. Cover with foil and set aside.
Heat a grill pan or skillet and add a tablespoon of olive oil. Generously salt and pepper the salmon on each side and grill about 3-5 minutes per side, or until done to your liking. I like to let the salmon sit for a minute or so before I put it all together. If you have a nice crispy skin on your salmon, let it sit skin side up so you don't loose the crunch.
To Serve:
Add the diced cooked bacon to the noodle mixture and toss. Taste and add salt, pepper, or more ponzu if needed. Divide between two bowls and top with a piece of salmon (skin side up, if you'd like). Garnish with cilantro.
* For the record, other coast favorites are Restaurant Beck in Depoe Bay, Pacific Way Cafe in Gearhart, The Irish Table in Cannon Beach, BlackFish Cafe in Lincoln City, and the Astoria Coffee House & Bistro in Astoria.