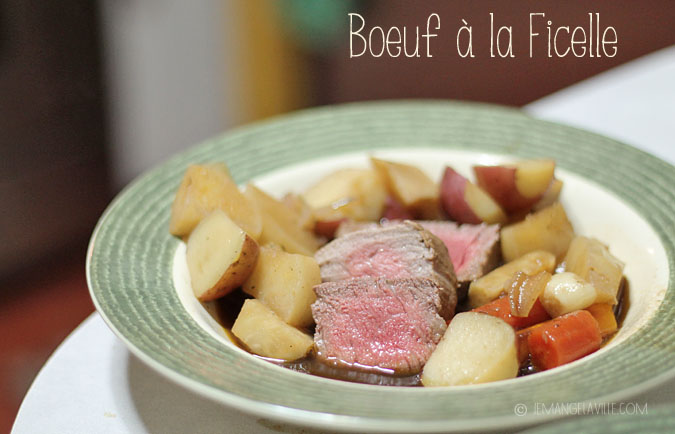 I really tried to like this week's French Fridays with Dorie recipe for Boeuf à  la Ficelle. I did! But, no, and I wasn't the only one that didn't quite care for it. To begin with, neither of us are big meat-and-potatoes eaters. And my general feeling is that if I'm going to make steak, I want to make it count. Poaching a piece of beef tenderloin (I only used a half of a pound because there were only two if us and I had an inkling of how this was going to go), does not in any way, shape, or form count. This one was kind of doomed in our house from the start, I suppose.
That said, this is really only one of a handful of recipes from this cookbook that I haven't enjoyed – so, that's a pretty good track record for Around my French Table, actually.
Also, we have been in the middle of an out-of-the-ordinary SNOWPOCAPLYSE! here in Portland, so I couldn't get all over town to find oxtail (although – marrow bones were no problem), so I made due with a packaged beef broth that I then added the browned onions and marrow bones too, as well as all the vegetables. So, kind of a fortified, more flavorful packaged broth, but that part was still pretty tasty. No, I think it was the boiling everything instead of roasting it part. I just…don't generally like boiled potatoes. Or boiled carrots and turnips. Now, drizzle with a little olive oil and roast? Yes.
And, I just don't even know what I can say about poached beef tenderloin without crying. I love you Dorie, but please don't ask me to poach beef tenderloin again. It's just too sad.
sigh.
I probably should have skipped this one. I mean, it wasn't horrible or anything, I just found it kind of bland. And kept thinking how awesome all the ingredients could have been with a different preparation. Did other French Fridays with Dorie participants like this one? Let's find out. Links to everyone's posts are here.
If you want to give this one a try, the recipe is here at spendidtable.org.