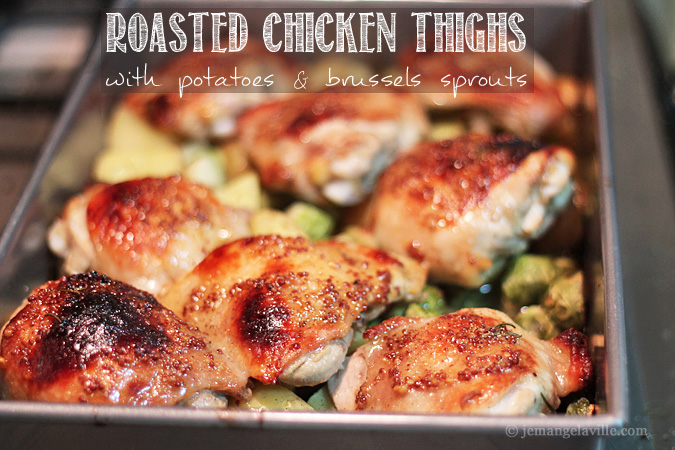 Just the other day, we got teased with about 10 minutes worth of snow. It didn't stick or anything, but during a winter that so far has been extremely mild*, it was a nice 10 minutes. The kind of 10 minutes that make you want to go roast a chicken. And if you don't want to roast a whole chicken, then at least maybe some chicken thighs.
A very nice aspect to this recipe (no matter what season you choose to make it) is that it is fairly one-dish. Especially if you marinate in a freezer bag. The honey in the marinade should give you a nice, darkened crust to your chicken.
And, like I mention below, the brussels and potatoes aren't going to get that dark – if you want more color, just pop them under the broiler while the chicken rests.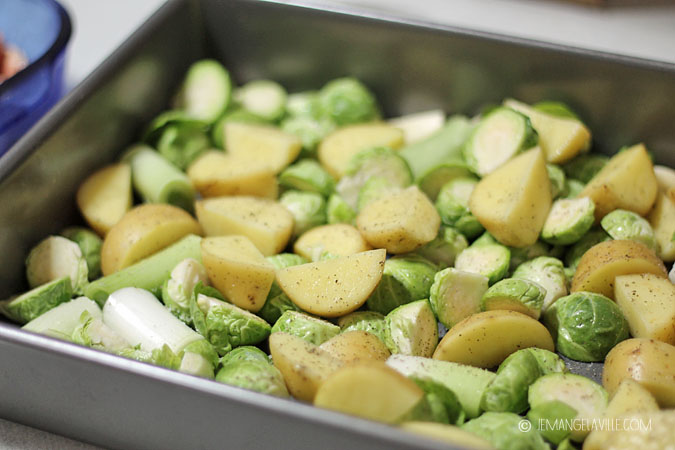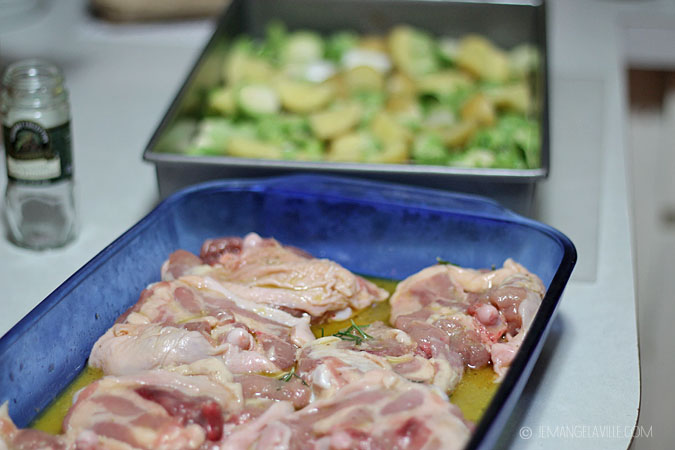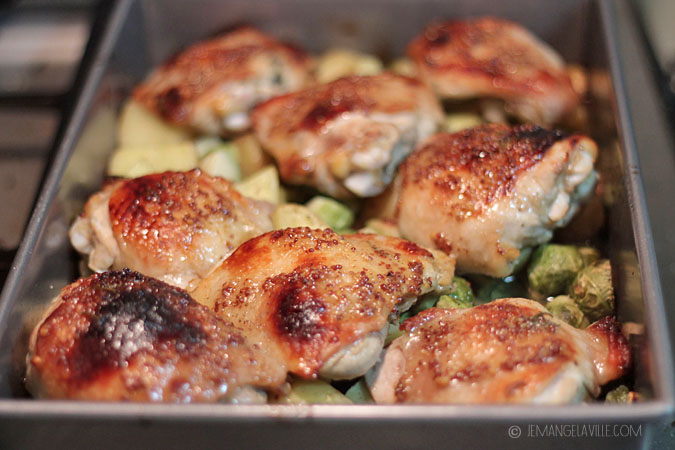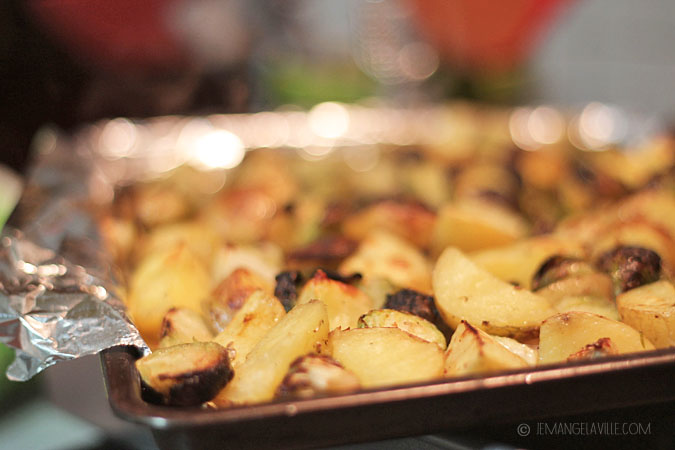 Roasted Chicken Thighs with Potatoes and Brussels Sprouts
Adapted from a recipe in Real Simple Magazine; serves four.
1/4 cup olive oil + 2 Tbsp Olive Oil
3 tablespoons grainy Dijon Mustard
zest of one lemon
1 tbsp honey
3 loves Garlic, minced
leaves from two 5-inch rosemary sprigs, divided
8Â bone-in, skin-on chicken thighs (about 2 1/2 pounds total)
1 pound Yukon gold potatoes, cut into 1-inch pieces
1 pound Brussels sprouts, trimmed
Kosher Salt and Black Pepper
Combine the 1/4 cup olive oil, mustard, garlic, honey, half the rosemary, and lemon zest in a large dish or freezer bag. Add chicken and marinate, refrigerated, for about 2 hours.
Heat oven to 425 degrees F. Toss the potatoes, Brussels sprouts, remaining rosemary, 2 Tbsp oil, and ¼ teaspoon pepper, and 1/2 tsp salt in a rimmed baking pan. Remove chicken from marinade and sprinkle chicken on both sides with a little salt and pepper and place chicken thighs on top of potatoes and brussels. Dispose of any remaining marinade.
Roast the chicken and vegetables about 30 – 35 minutes, or until an instant-read thermometer inserted in the thickest part of chicken (avoiding the bone) registers 170 degrees F. When chicken is done, if you want a bit more color on the vegetables, remove the chicken to a platter and tent with foil to rest. If your original baking pan is not broiler safe, transfer the vegetables one that is and set under the broiler for 1-2 minutes. To serve, add the chicken back on top of the potatoes and Brussels sprouts.
* It hasn't been tropical or anything, we just haven't really gotten below freezing at all. It's chilly, but not let's say, wintery. Hopefully, this statement will bring about a February SNOWPOCALYPSE to Portland. You're welcome.