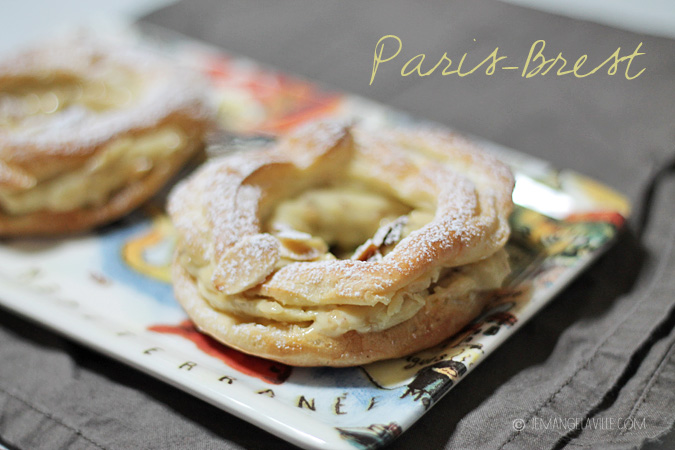 This week's French Fridays with Dorie is Paris-Brest, which is a particular Parisan pastry that was created in the olden days (the 1890s) to commemorate the Paris–Brest bicycle race. It's pâte à  choux dough (like for cream puffs or gougères) piped out in circles, baked, sliced in half, and filled with an almond praline vanilla pastry cream. I opted to make a half recipe and instead of one big eight-inch pastry, I made four small ones.
Notes:
1. I think my pastry tip was on the small side, so I got more pastries than I was expecting.
2. I used English muffins rings to pipe my rings inside of, but I think I could have skipped this. Next time, I'll try it without and see what happens.
3. I added coffee liqueur to my vanilla pastry cream.
4. Almost all of my sliced almonds fell off the tops of my pastries after baking.
5. I had enough pâte à choux leftover to make two cream puffs.
6. I decided to cover my puffs with melted chocolate and since my almonds mostly fell of the Paris-Brests, I covered two of those with chocolate too. The other two got the powdered sugar.
Check out everyone's Paris-Brest posts here. As always, all of the French Fridays recipes are in the cookbook, Around my French Table by Dorie Greenspan.