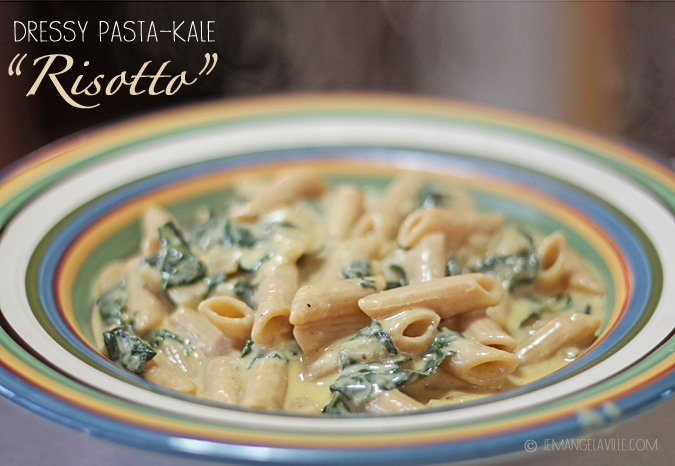 Everyone seems to have loved this week's French Fridays with Dorie recipe and I was no exception. Although, as someone who kind of feels like they over-indulged a bit during the holidays, I was not super enthusiastic about making a pasta dish filled with cream, cheese, and well…pasta. So, I changed it a bit.
The easiest swap was wheat pasta for the regular (a substitution that I make a lot), the second was skipping the cream – and not just because I was too lazy to go to the store. There's already marscapone cheese in there, so I thought that, along with the Parmesan would be enough to make it creamy. Not to mention that this pasta dish is cooked kind of like a risotto (hence the name) and the liquid is not drained, so the starchy pasta broth would help it all bind together as well.
I also added some chopped kale and a bit more cheese (hey! because I skipped the cream!) and I think it turned out fairly well. It's still extremely creamy, cheesy, and satisfying, if a little less French, I guess.
Here's a link to everyone's Dressy Pasta Risotto posts.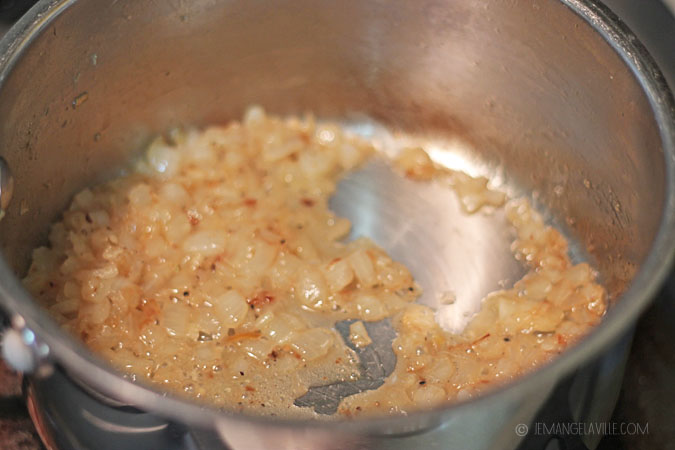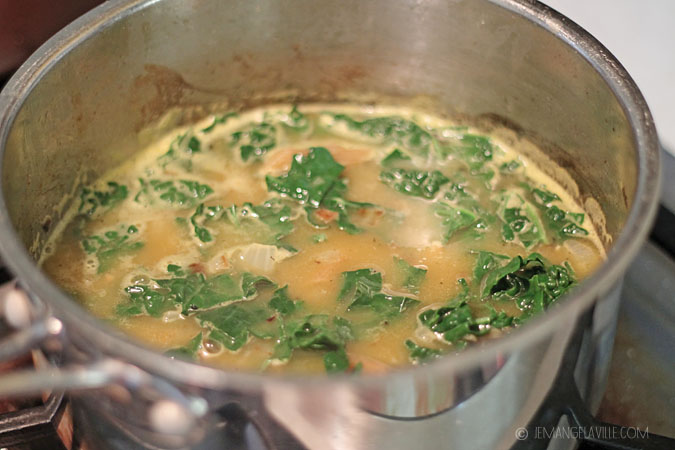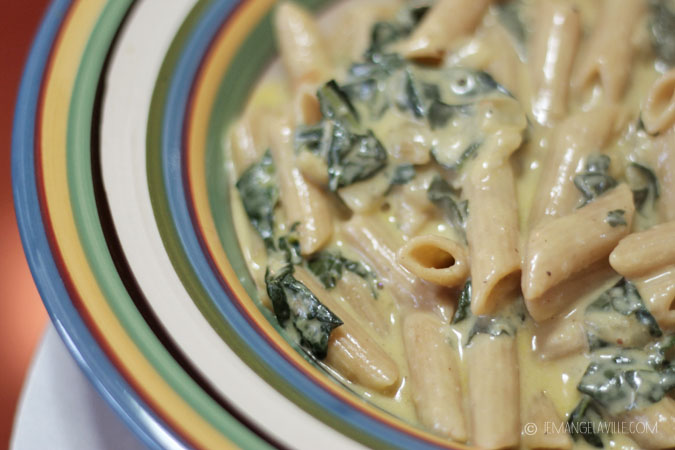 Dressy Whole Wheat Pasta-Kale "Risotto"
Adapted from a recipe in Around My French Table by Dorie Greenspan; serves 2-4 (depending on whether it's a side or a main course and if you're also having a salad or something. So many variables).
1 Tbsp unsalted Butter
1 Tbsp Olive Oil
1 small Onion, finely chopped
1 large clove Garlic, minced
2 Tbsp Vermouth or dry White Wine
Salt and freshly ground Pepper
3-1/4* cups low-sodium Chicken or Vegetable Broth
5 oz Whole Wheat Penne pasta (about 1-1/2 cups)
3 oz Kale, ribs removed, leaves roughly chopped
1/3 cup freshly grated Parmesan cheese
1/4 cup Mascarpone or Cream Cheese
1/4 cup finely grated Gruyere or Swiss Cheese
Melt butter and olive oil in a pot over medium-low heat. Toss in the onion and garlic, season lightly with salt and pepper, and cook, stirring, until lightly golden and starting to caramelize, about 15 – 20 minutes. Add the vermouth and deglaze, letting cook down until the liquid is almost all absorbed.
Pour in chicken or vegetable broth and bring to a boil. Add the pasta and kale, stir, and let it cook at a steady simmer until it has absorbed almost all the broth and the pasta is tender, about 18-20 minutes. If pan gets too dry before the time is up, you can add a little more broth.
After the time, there should be about an inch or less of liquid bubbling in the pan. Stir in the cheeses and cook for 1 minute. Taste for salt and pepper and pull the pan from the heat, cover, and let rest for 3 minutes before serving.
* I decreased the liquid a bit from the original as wheat pasta can get mushy much faster than traditional pasta. Start with this amount and if you find you need more liquid during the cooking process, you can always add more.