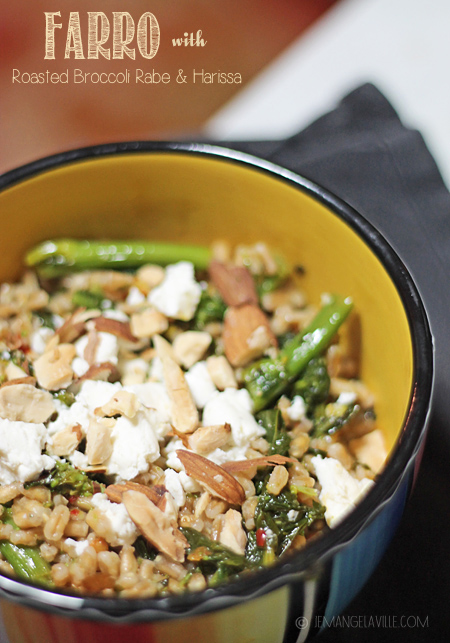 In writing an intro for this recipe, I was going to link to all of the other farro recipes I've made but then I realized that I've only posted about one other — Farrotto with Sausage, Sun-Dried Tomatoes and Saffron. Maybe I'm thinking of spelt? I do enjoy that whole grain a whole lot (see what I did there)?
So. Yeah. Farro. I have a HUGE container of it at home and I've decided it's time to start working my way through that. And a good option for that 2014 project is to use farro instead of pasta on occasion. Of course, farro is nothing like pasta and it will certainly be a different dish, but the results can be just as tasty. Take this roasted broccoli rabe recipe, for instance.
The grains of farro get plump and chewy and mix well with the still slightly-bitter rabe and spicy harissa. A little goat cheese on top adds some creaminess. Delicious! Roasted broccoli rabe gets a little crunchy in parts, almost like kale chips, so you do need to keep an eye on it while it's in the oven.
And while you can certainly make your own harissa, you should be able to find a tube or jar of it at the store. But, if you're lucky enough to live in Portland, Pastaworks on Hawthorne has Rose Harissa behind the cheese counter — the type of harissa that the recipes in the Toro Bravo cookbook call for (which is how I wound up with a container of it in my fridge).
One more harissa tip: the heat levels can vary depending on the brand/type. If you're not familiar with how spicy the kind you have is, taste it first. Then adjust how much to use based on that. Anywhere from one teaspoon to one tablespoon+ will work.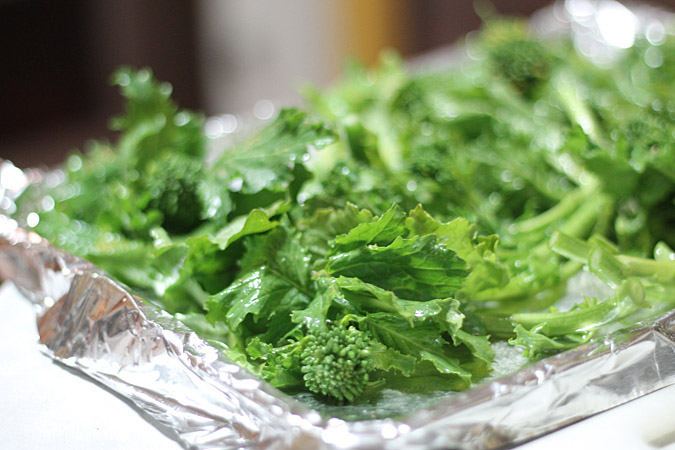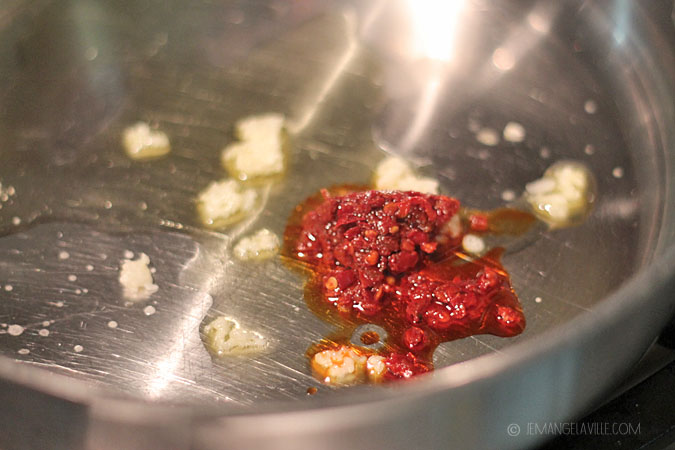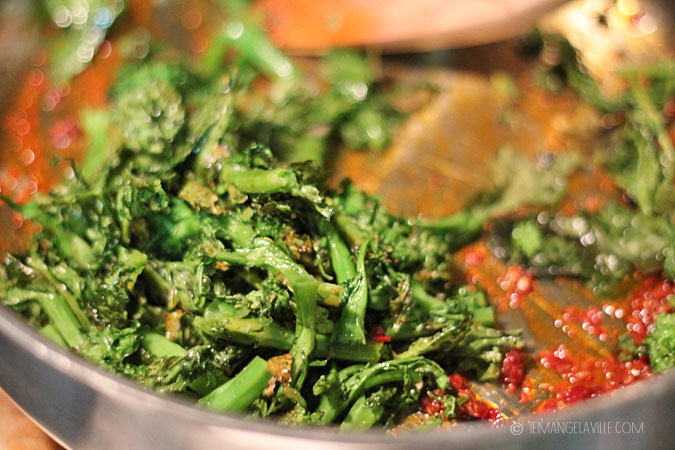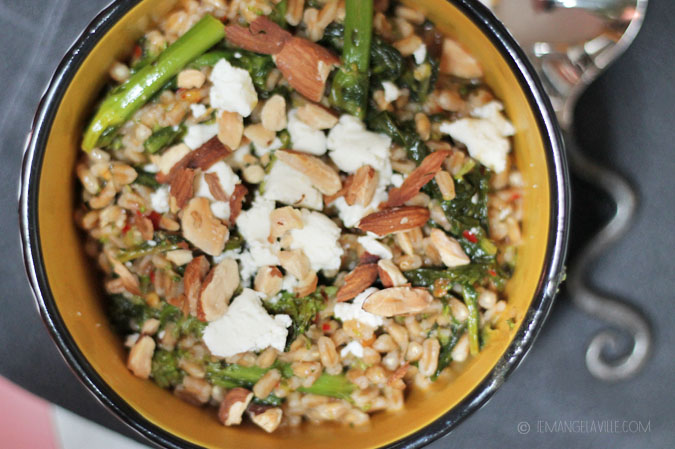 Farro with Roasted Broccoli Rabe & Harissa
Slightly influenced by a pasta recipe in Food & Wine magazine; Serves 3-4.
1 cup Farro
1 cup Vegetable broth + 2 cups Water
8 oz Broccoli Rabe, ends trimmed (about 1/2 a bunch)
2 tbsp Olive Oil
Salt & freshly ground Black Pepper
2 Garlic cloves, minced
1 tbsp Harissa (or less depending on how spicy your harissa is)
1/2 teaspoon Smoked Paprika
juice of 1 orange
2-3 tbsp soft Goat cheese
1/4 cup unsalted Almonds, toasted and roughly chopped
Bring the broth and water to a boil. Rinse and drain the farro and add to the pot. Reduce heat and simmer for about 30 minutes, or until farro is tender. Set aside.
Meanwhile, preheat the oven to 425 degrees F. In a bowl, toss the broccoli rabe with a tablespoon of the oil and season with salt and pepper. Arrange the broccoli rabe on a large baking sheet and roast for 15 minutes, then chop.
In a skillet, heat the remaining tablespoon of oil. Add the garlic and harissa and cook over moderate heat, stirring for 2 minutes. Add the roasted broccoli rabe and smoked paprika and cook until rabe is tender, about 2 minutes.
Add the farro, any leftover cooking water/broth and the orange juice to the skillet and cook, stirring, about a minute or so. Taste and adjust salt and pepper. Spoon into bowls and serve topped with some crumbled goat cheese and toasted almonds.