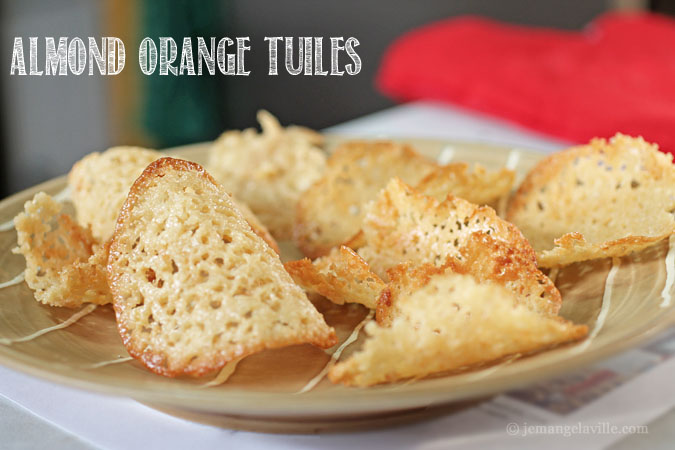 I wouldn't call this a disaster, but it was maybe a mishap? I made a half recipe, and I think I scooped my dough a little on the large side, as I only got about about 12 tuiles. Which means, for this French Fridays with Dorie, I got ONE really perfect looking tuille. Oh, but it was really quite pretty! All the others had broken at one point, chipped, and even with two rebellious tuilles, reverted back to their somewhat flat shape.
I found that I needed to let mine sit on the hot cookie sheet for about two minutes, or trying to remove them, even with a metal spatula, was a mess of squished cookie unwilling to be put back together. Once on the rolling pin though, they seemed to set up (except for a couple that actually unfurled later on the plate). This one was a lot of work, and while good, I think I'll just stick to some heartier chocolate chip cookies next time.
Oh yeah, and I obviously didn't leave enough space between my dough balls when baking. They were easy enough to slice apart with the spatula, but it was pretty amusing when I took them out of the oven.

You can see more successful tuilles here, at this link.