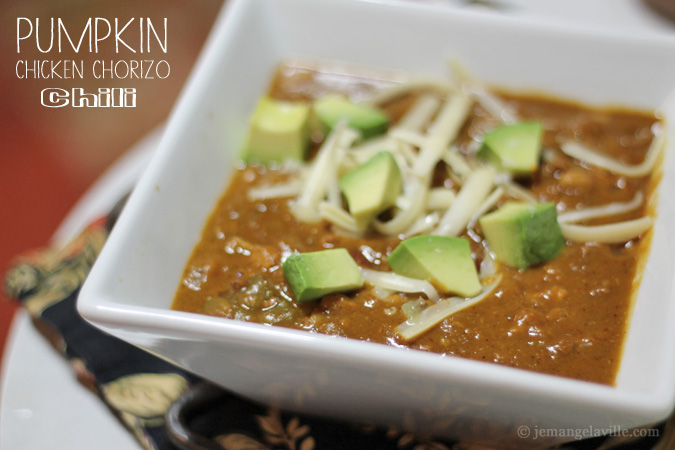 Well, I hope everyone had a great Thanksgiving! Do you have an extra can of pumpkin puree? Want something delicious to do with it? Well, read on.
This is honestly one of the best things I have ever made in my slow cooker. Seriously. And of course, this is exactly the time of year that everyone has a can of pumpkin puree in their cabinet, pumpkin puree stored in the freezer, or can easily go get a can at the store. After making this, you may just start stocking up on some year-round. If you didn't know there were no tomatoes in this chili, you probably wouldn't be able to tell. Eight hours and the canned pumpkin and all of the other ingredients do something rather magical together. jwa doesn't even like chili and he loves this chili.
I find the chorizo adds enough heat for me, but you may want more. If so, just serve with some hot sauce.
And like a lot of chili recipes, this one has a secret ingredient – smoked chocolate chips. In the recipe below, I just listed bittersweet chocolate chips, but if you are feeling extra ambitious or adventurous, get yourself some of these Smoked Chocolate Chips at Mouth.com. They're actually made by Hot Cakes Bakery in Seattle, but if you go to their website and try to buy some, they will want to charge you $15 for ground shipping.
After taking to the internet, I found the chips elsewhere. Hooray! Mouth.com has free shipping if you spend over $50 (look around, you'll probably find other stuff you want to try). These chips are so awesome and they last awhile since you'll only use a handful or so at a time. Like for this chili, I typically use half smoked chips and half bittersweet (about two tablespoons of each). And for very unique chocolate chips cookies, I use a 1:4 ratio of smoked chips to regular.
But, even using plain chocolate chips, this chili recipe is delicious! And it's just the thing on a cold, blustery night. I typically go light on the meat when I make chili, but if you want more, you could easily double the chorizo (it'll be spicier) and/or chicken thighs. And I also obviously added beans to my chili. And I would do it again, too. I am on TEAM-BEAN!!! when it comes to chili, y'all.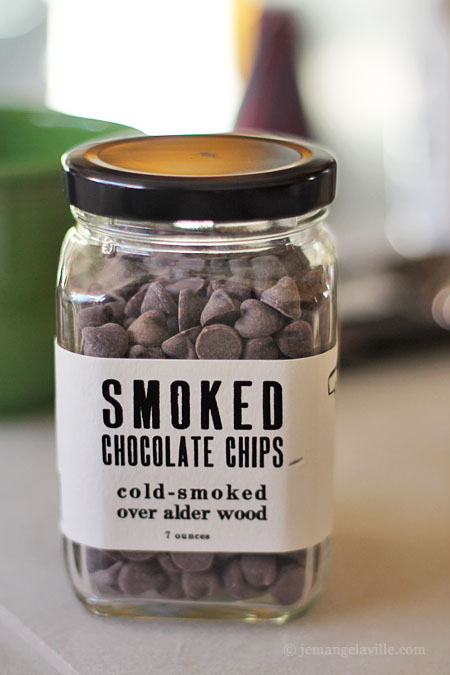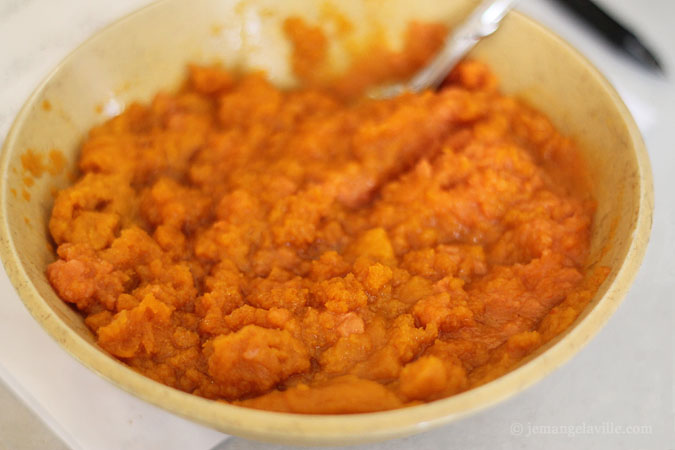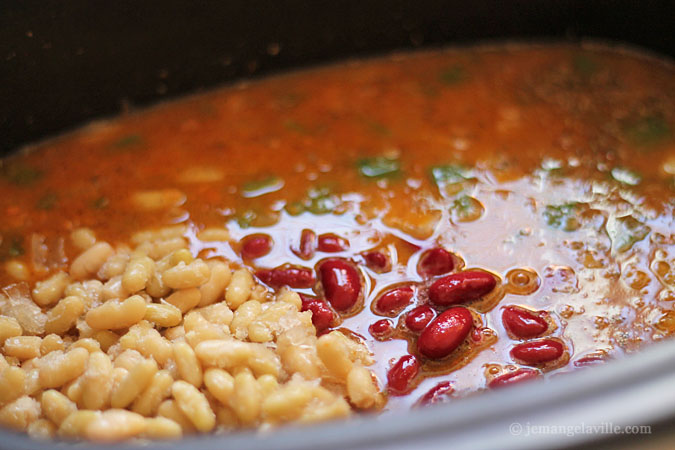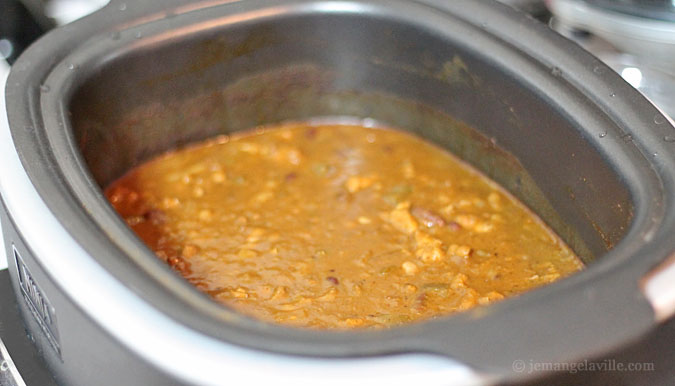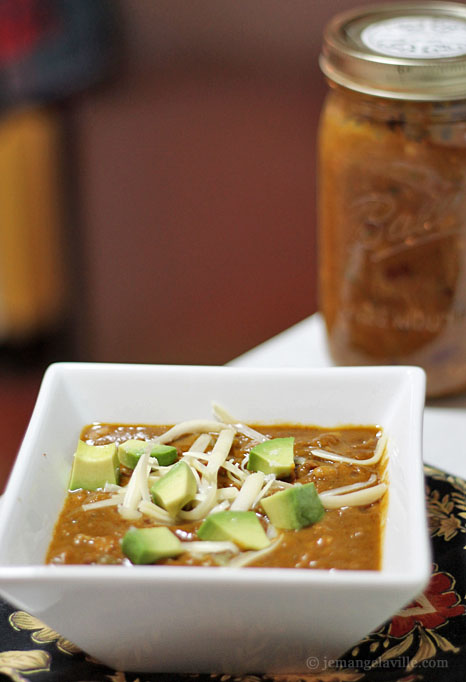 Slow Cooker Pumpkin Chicken Chorizo Chili
Makes 4-5 servings; can be doubled.
1 tbsp Olive Oil
1 White Onion, diced
1 Green Bell Pepper, diced
1/4 lb Mexican Chorizo Pork Sausage
1/2 pound (2-3) boneless, skinless Chicken Thighs
1 15-oz can Pumpkin Puree
1 Tbsp Chili Powder
2 tsp ground Cumin
1 tsp Garlic Powder
1/2 tsp dried Oregano
2-1/2 cups low-sodium Chicken Broth
1 15-oz can Red Kidney Beans, drained and rinsed
1 15-oz can White Beans (or Garbanzo, Pinto, or Black Beans), drained and rinsed
1/4 cup Bittersweet Chocolate Chips (or use half smoked Chocolate Chips, half Bittersweet)
Salt to taste
Garnishes: shredded cheddar cheese, diced avocado, diced red onion, cilantro, hot sauce, sour cream or Greek yogurt, tortilla chips
Like most crockpot or slow cooker recipes, this one starts on the stove top. Add the oil to a large pot and cook the onion and green bell pepper over medium heat until soft and starting to color. Remove and add to the bottom of the slow cooker. Return pot to heat and add the chorizo and break it up with a wooden spoon and cook until no longer pink and it starts to look a little crispy. Add to the slow cooker. If your pot is a little dry, add a a little more oil and turn up the heat to medium-high. Add the chicken thighs (sprinkle a little salt and pepper on each side first), and just cook until golden on each side (you're not actually trying to cook the chicken through here, just add some flavor by browning). Remove to a plate and dice the chicken thighs, then add to the crock pot.
If you've got a a lot of good stuff on the bottom of your stovetop pot (and you probably do), quickly deglaze the pan using about a 1/2 cup of your chicken broth. To the slow cooker, along with the onion, peppers, chorizo, and diced chicken add the chili powder, cumin, garlic powder, oregano, pumpkin puree, beans, broth (from the pan if deglazed, plus the additional 2 cups), and chocolate chips. Stir and put the cover on.
Cook for eight hours on low. Before serving, add salt to taste (it will probably be between 1/2 teaspoon to 1 teaspoon), and serve with one or all garnishes.