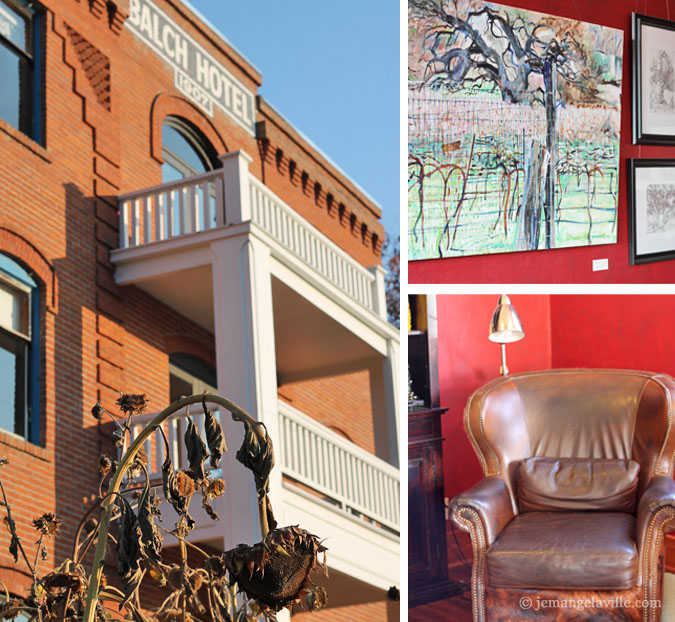 Balch Hotel
40 S. Heimrich Street
Dufur, Oregon 97021
In late October we found ourselves in Dufur, Oregon for the monthly Supper Club at the Historic Balch Hotel. This wasn't unexpected or anything – I had planned it and we'd even been to a couple of these dinners before, but it had been a few years since we had gone back. I'm not sure why, as I am totally in love with this hotel and all of our Supper Club experiences have been very, very tasty. I think we just forgot about it. Or we were just lazy. Or maybe a bit of both?
We even got to stay in my favorite room (number 9 – it has brown walls). And the weather when we went was just perfect! A crisp chill in the air, blue skies, brightly colored leaves, and lots of sun. Dinner was cassoulet, which was delicious and even inspired me to attempt my own version of cassoulet at home a couple of weeks ago (it was quite good).
The full, three course dinner at this event was prepared by Jamie Snell of The Lamb's Table catering in Portland.
I. Watercress, butterleaf and grape salad with Stilton cheese, toasted walnuts and pear vinaigrette.
Ii. Cassoulet with duck confit, chicken thigh, smoked bratwurst, and white runner beans – baguette and butter.
III. Jonathan apple strudel with vanilla ice cream, drizzled with maple and sea salt.
But, great food aside, one of the best things about the Balch Hotel is just wandering around the hallways and common areas, taking pictures. Great artwork on the walls, leather furniture, antiques, historic building – it's like the exact hotel I would design if I was going to design a cool old hotel in the middle of a small Oregon town.
Not too far away, just across the border into Washington, is the Maryhill Museum of Art, another favorite destination (so I guess that makes this a "Pacific Northwest Roadtrip"). Who would have guessed such a large collection of Rodin sculptures and drawings reside in (kind of) the-middle-of-nowhere Washington?
Have you been to either of these Columbia Gorge-ish attractions? If not, you really should. Although at this point, it's advisable to wait until the spring (Maryhill closes mid-November through mid-March and Dufur is just super cold in the winter), but then you really should drive east, hit a Supper Club at the Balch, stay the night, and then tour the Maryhill Museum of Art the next day before heading back to Portland.
On this last occasion, while we were leaving the hotel, jwa checked his phone and twitter and read that Lou Reed had died. So that was kind of sad (and then I had Velvet Underground songs in my head while we drove to the museum).