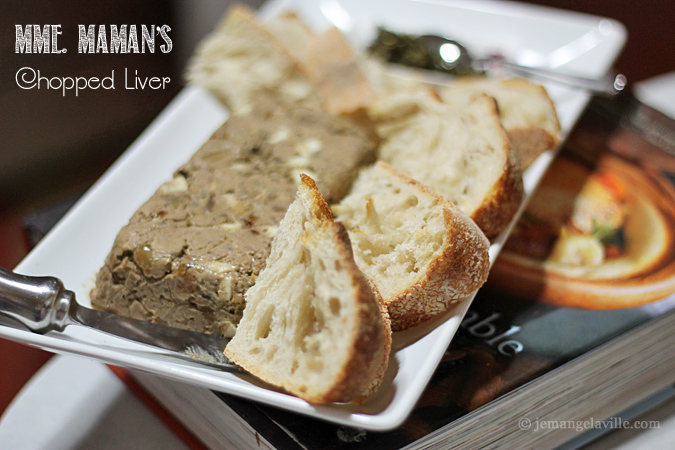 This week's French Fridays with Dorie is one of those liver ones – the type that some people like to sit out. And I don't blame them at all. I'm okay with liver, but I must admit to always skipping the sardine recipes.
For this one, my plan was to just make a half recipe (there are only two of us), but my chicken livers came frozen, in a one-pound tub. So…made the full version and froze half the finished chopped liver (without the egg), to bring out sometime in January.
We had this for dinner with some sourdough bread from Roman Candle Baking Co, a spinach salad, and I discovered that if you serve capers on the side, they are delightful sprinkled on top of a slice of toasted sourdough that's slathered with chopped (or in this case, food processor-chopped) liver. I like smoothness in my liver recipes and I must admit, this was a much more appealing project for me if I did it more like a pate. So that's what I did. The verdict: Delicious! I am looking forward to using up the freezer stash.
For the spice mix, I used the version that Liz from That Skinny Chick Can Bake posted earlier, except I used regular pepper as I had no white pepper. Oh, and I added some garlic when I was cooking the onions.
Here's a link to everyone's posts. Like all the French Fridays with Dorie posts, this recipe is in the cookbook, Around My French Table by Dorie Greenspan.