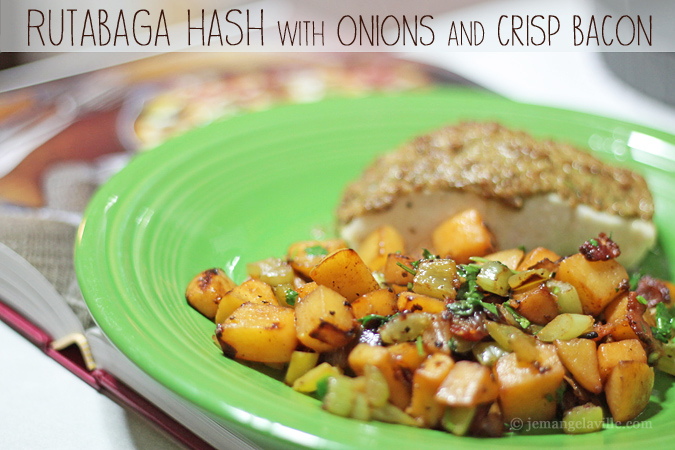 I have a confession – I usually have to go ask a produce person if the item I'm holding in my hand is a turnip or a rutabaga. Up until about 10 years ago, I thought a parsnip was a turnip. In fact, before I even posted this, I double-checked to make sure that I used rutabagas when I made this dish. Yep. It's all good. Whew!
Last year, the cookbook, Roots: The Definitive Compendium with more than 225 Recipes by Portland-based Diane Morgan came out and I was very excited to get a copy right away. This is one of those cookbooks where every other page will be folded down or have a post-it on it marking a recipe that you just NEED TO TRY. It's seriously such a great fall and winter cookbook to look through and make stuff from – if you don't already, you should really try to get yourself a copy! Need more convincing? Two words: carrot margarita.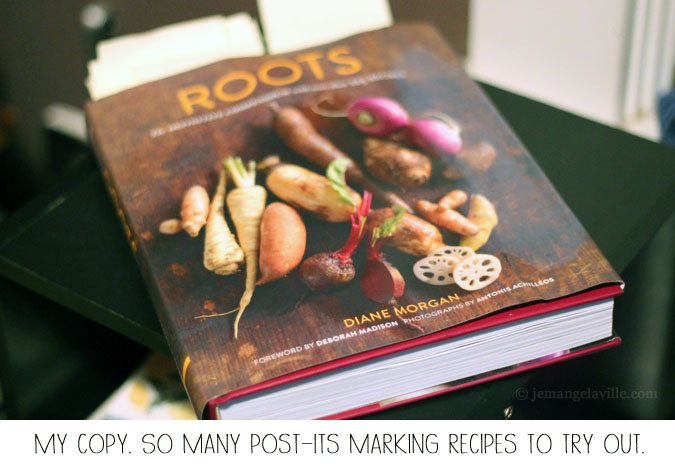 In addition to a unique root vegetable cocktails, there's also many, many recipes for the well-known roots like potatoes, carrots, beets, all the way to the turnips, parsnips, and rutabagas to the more exotic lotus root, yuca, and burdock root.
One of the first recipes I chose to create was the Rutabaga Hash with Onions and Crisp Bacon. Delicious! Take the time to get some color on the diced vegetables and you'll be rewarded with crispy, tender golden morsels. I did halve the recipe below when I made it for 2-3 servings. And I added a couple of cloves of garlic because I have an affliction that makes me add garlic to everything savory. But making it strictly as written will result in an amazing winter side dish. Or maybe even a main dish with a couple of poaches eggs per person (oh geez, can't wait to try that)!
And while this is no means a vegetarian cookbook, there are quite a few meatless recipes (or ones that are easily adapted to be meat-free), if you are looking for that sort of thing.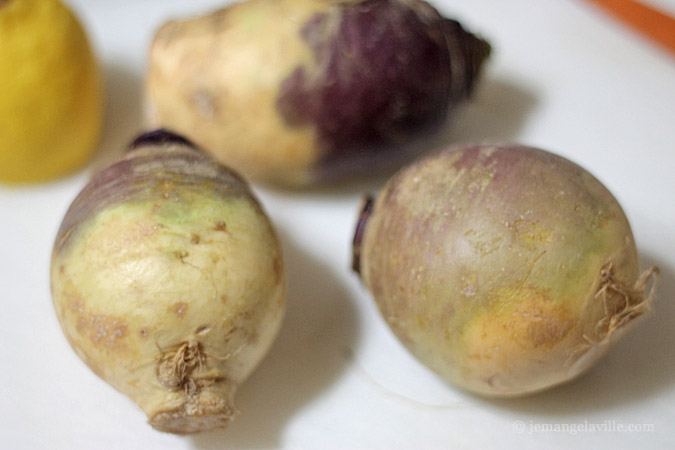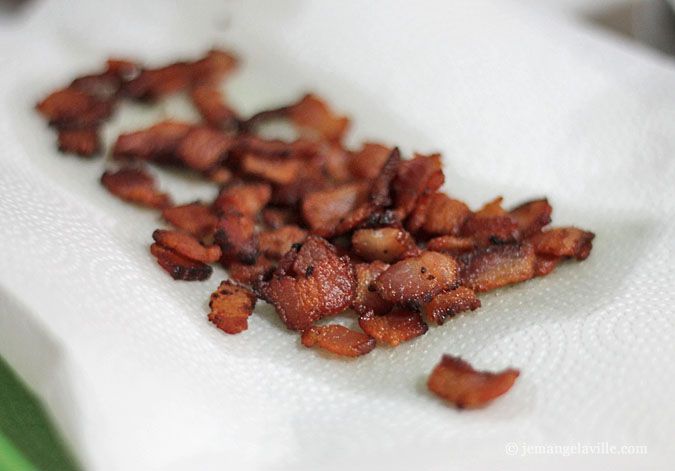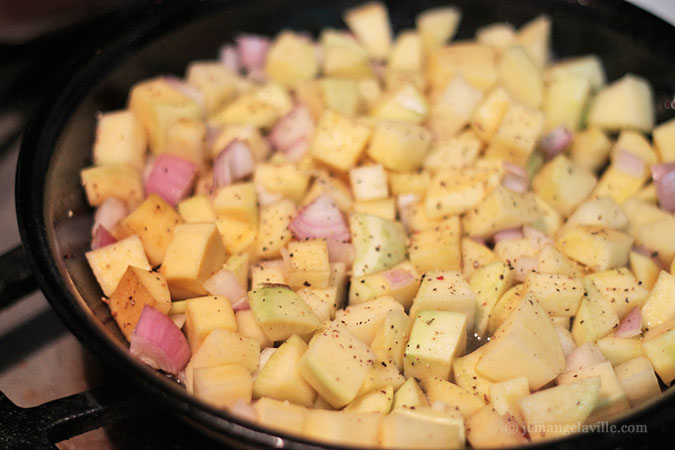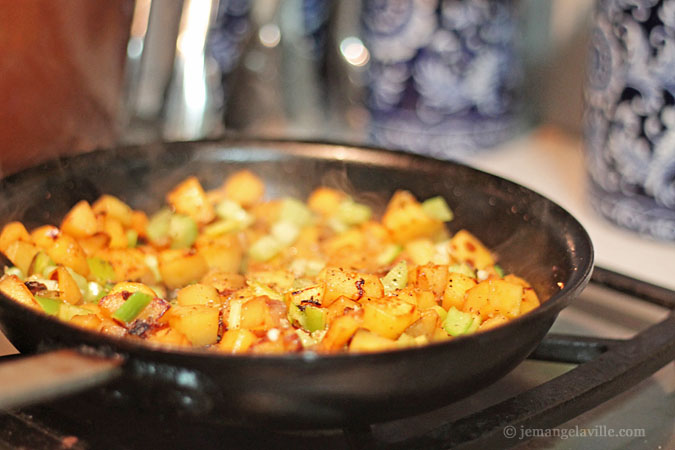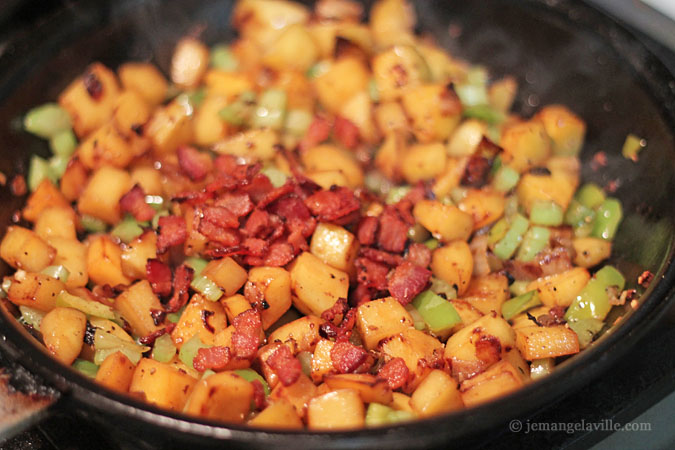 Rutabaga Hash with Onions and Crisp Bacon
Recipe by Diane Morgan, from the cookbook, Roots. Posted with permission. Serves 4 to 6.
6 slices Bacon, about 5 oz, cut into 3/4-inch pieces
2 lb Rutabagas, ends trimmed, peeled, and cut into 1/2-inch dice
1 large Yellow Onion, cut into 1/2-inch dice
2 Celery Ribs, halved lengthwise, then cut crosswise into slices 1/4-inch thick
1 Anaheim Chile, stemmed, seeded, and cut into 1/2-inch dice
1 Jalapeño Chile, stemmed, seeded, and minced
1/2 tsp Kosher or fine Sea Salt
1/2 tsp freshly ground Pepper
3 tbsp chopped fresh Cilantro, plus more for garnish
Tabasco or other Hot-Pepper Sauce for serving
In a 12-inch frying pan, preferably cast iron, cook the bacon over medium-high heat until crisp, about 5 minutes. Using a slotted spoon, transfer to paper towels to drain.
Pour off all but 1/4 cup of the fat from the pan. Return the pan to medium-high heat, add the rutabagas and onion, and sauté, stirring constantly, for 2 minutes. Reduce the heat to medium, cover, and cook, stirring once, for 7 minutes to steam the rutabagas. Uncover the pan, increase the heat to medium-high, and cook, stirring, until the vegetables are browned at the edges, about 1 minute longer.
Add the celery and chiles, stir briefly, and then cover and cook for 3 minutes longer. Uncover the pan and add the salt and pepper. Cook, stirring frequently, until the rutabagas are fork-tender and the celery is crisp but not raw tasting. Fold in the cilantro and bacon. Serve immediately, garnished with additional cilantro. Pass the hot-pepper sauce at the table.