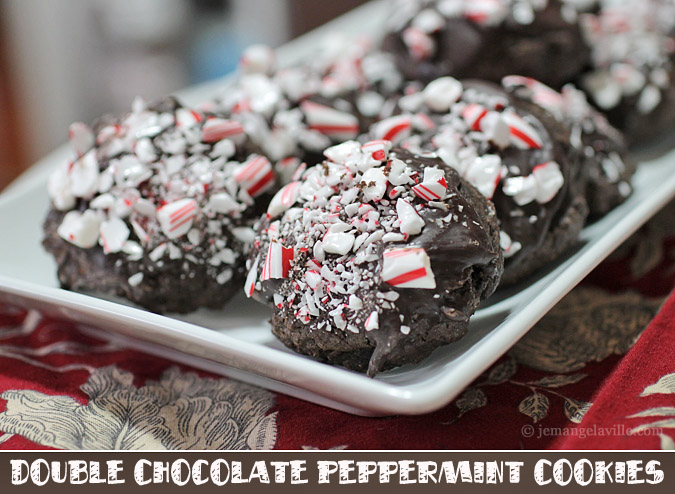 Generally, my cookie repertoire is fairly boring – chocolate chip, peanut bitter, an occasional oatmeal raisin. But sometimes, especially during the holidays, I like to mix it up a bit. These Double Chocolate Peppermint Cookies do just that and are quite festive as well! Of course, now I have a bunch of extra candy canes lying around the house, which will probably mean making some peppermint bark.
The original recipe called for the melted chocolate to be drizzled on top of the cooled cookies, but I think it makes much more sense to just spread a layer of chocolate on top – more surface area for the candy cane pieces to stick to. I also made mine about twice the size called for, (I used a small scoop that equals about two tablespoons), because bigger cookies are better cookies. Right?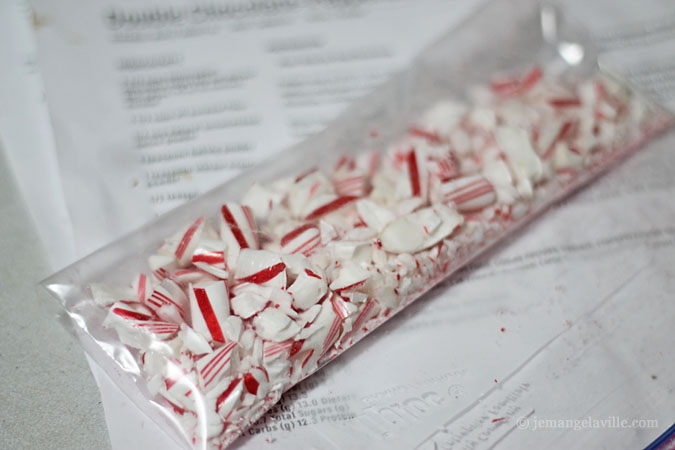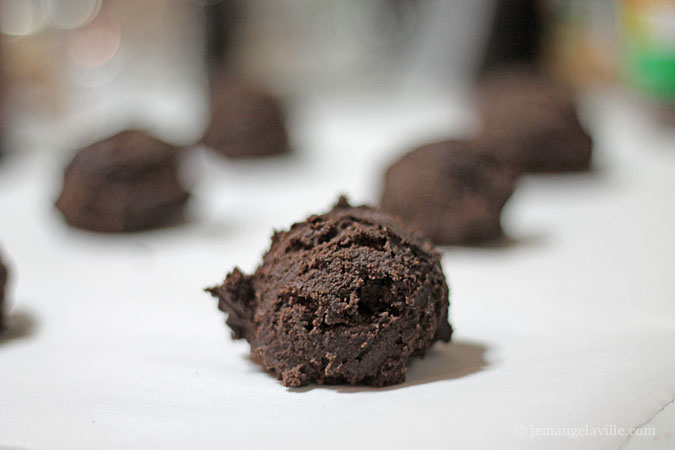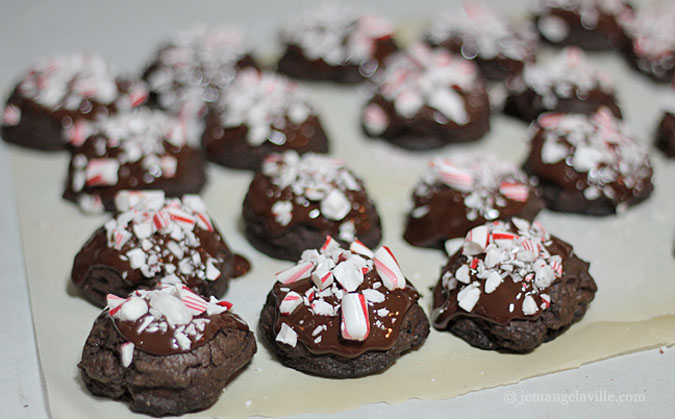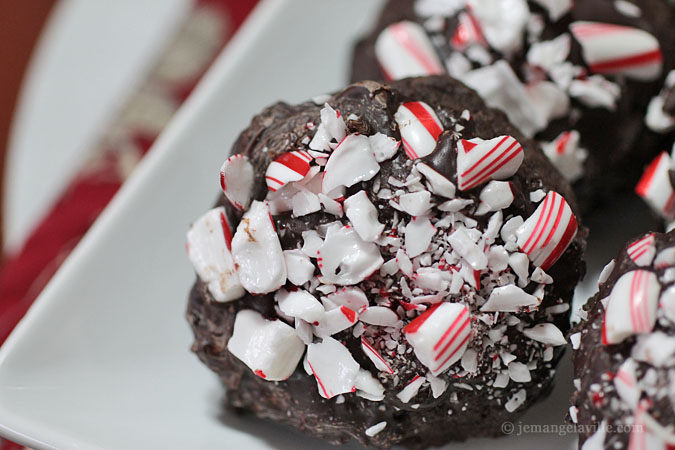 Double Chocolate Peppermint Cookies
Adapted from a recipe in Bon Appétit Magazine, makes about 2 dozen cookies.
2-1/2 cups bittersweet Chocolate Chips, divided
1 1/2 cups AP Flour
1/4 cup natural unsweetened Cocoa Powder
1 tsp Baking Powder
1 tsp instant Espresso Powder
1/2 tsp Kosher Salt
1/2 cup (1 stick) unsalted Butter, room temperature
1 cup Sugar
1 tsp Vanilla Extract
1 tsp Peppermint Extract
2 large Eggs
4 Candy Canes or 16 red-and-white-striped hard Peppermint Candies, coarsely crushed
Preheat oven to 375 degrees F. Line 2 large rimmed baking sheets with parchment paper. Stir 2 cups chocolate chips in medium metal bowl set over saucepan of simmering water until melted and smooth. Measure 2/3 cup melted chocolate; transfer to small metal bowl and reserve for tops of cookies.
Whisk flour, cocoa powder, baking powder, espresso powder, and salt in medium bowl. Using electric mixer, beat butter in large bowl until creamy. Add sugar and both extracts; beat until smooth. Add eggs; beat to blend. Beat in melted chocolate from medium bowl. Add dry ingredients; beat just to blend. Stir in remaining 1/2 cup chocolate chips. Using a tablespoon or small scoop, gather a small ball of dough (about two tablespoons worth) and roll dough into a ball. You can also use a small scoop for this (what I did). Place on prepared baking sheet. Repeat with remaining dough, spacing cookies 1-1/2 inches apart.
Bake cookies until cracked all over, about 12 minutes. Cool cookies on the baking sheet for 5 minutes. Transfer cookies on parchment paper to racks to cool completely.
Rewarm reserved 2/3 cup chocolate over small saucepan of simmering water *. Using a spoon, spread melted chocolate on the top of each cookie. Sprinkle crushed candy canes over, arranging some pieces with red parts showing, and pushing down into the melted chocolate slightly. Chill just until chocolate sets, about 20 minutes.
* I didn't bother tempering the chocolate here, since I figured it would be mostly covered by the crushed candy canes, but if you want to, you could. When I temper chocolate, I usually use the microwave method discussed in the comments. So, you could just melt all the chocolate initially that way.