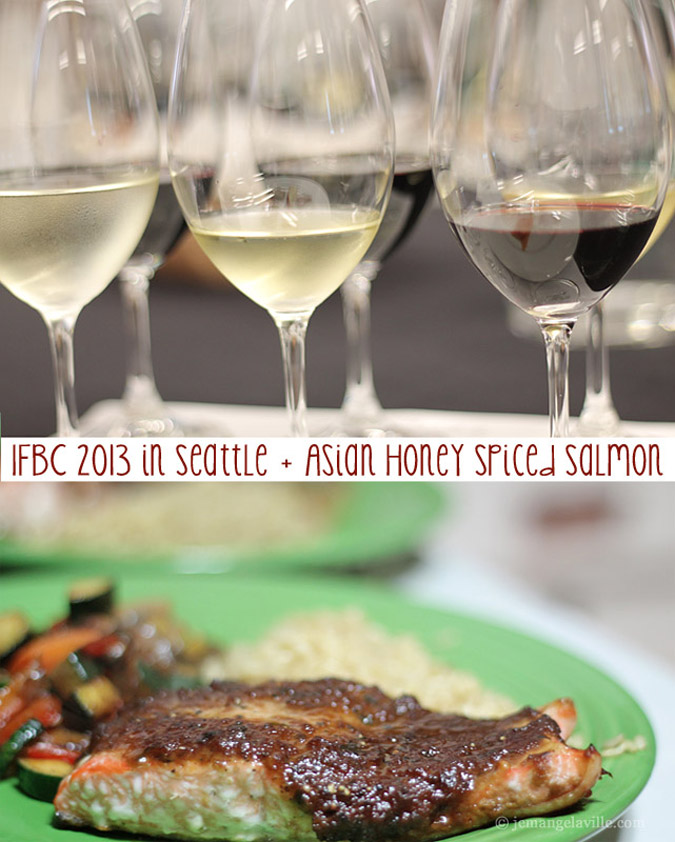 For my last International Food Bloggers Conference post, I'd like to talk about Chateau Ste. Michelle winery in Woodinville, WA.
There was an optional trip on Thursday, before the conference started, to visit the winery and taste some wines. It was a lot of fun and everyone was treated to a tour, wine samples, and accompanying food pairings. But one of the best surprises of the event, was that each attendee was presented with a complimentary copy of Chateau Ste. Michelle Culinary Director John Sarich's cookbook, Chef in the Vineyard: Fresh & Simple Recipes from Great Wine Estates to take home. I've already made one recipe from it (my adaption posted below).
In addition, John Sarich of Chateau Ste. Michelle also presented a session at the conference: Food & Wine – practical advice for pairing wine and food, from classic pairings to unexpected surprises.
I attended that (part of a wine tasting double-header along with Wine & Writing: Live Blogging – An Exercise in Writing with Bordeaux Wines right before). During this Chateau Ste. Michelle presentation, I learned a couple of interesting things:
1. Old world grapes do not work well with soy sauce but new world grapes do. Actual quote from my notes: "There's an affinity with new world red wine and soy sauce." Surprising, no? The example was tasting some tuna poke with Chateau Ste. Michelle Merlot. Went together like…two things that go super well together (peanut butter and jelly. Stewart and Colbert. feet and socks.) In fact, the recipe below illustrates this pairing quite well.
2. Late harvest Riesling and Pâté are AMAZING together. I would have thought the very sweet Riesling and the heavy rich Pâté would be too, too much, but seriously, no. They are heavenly!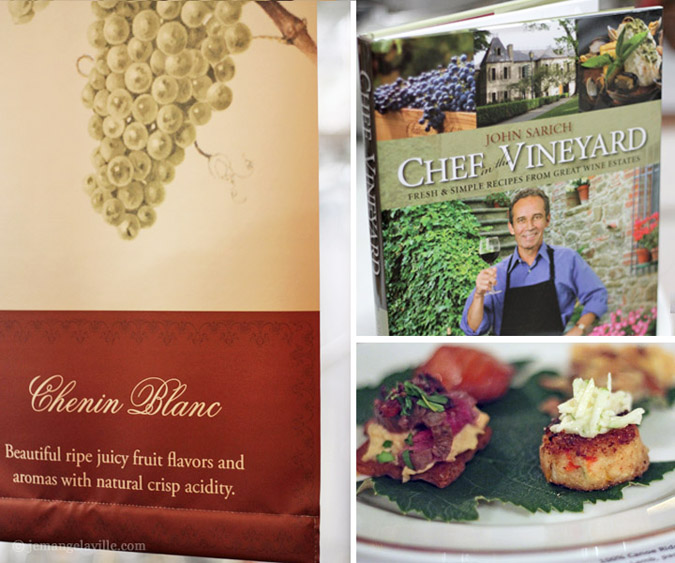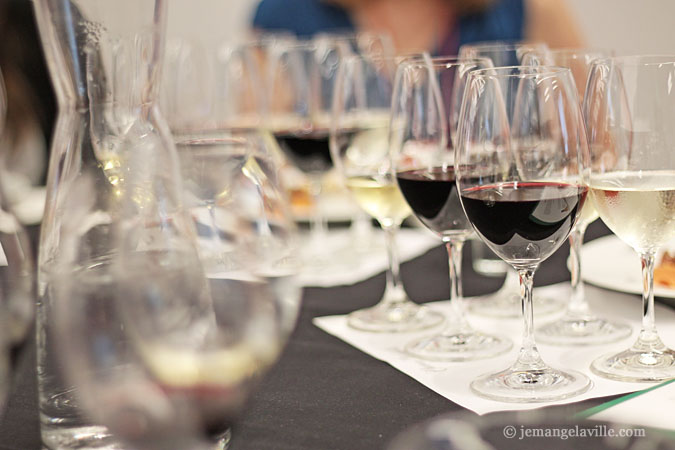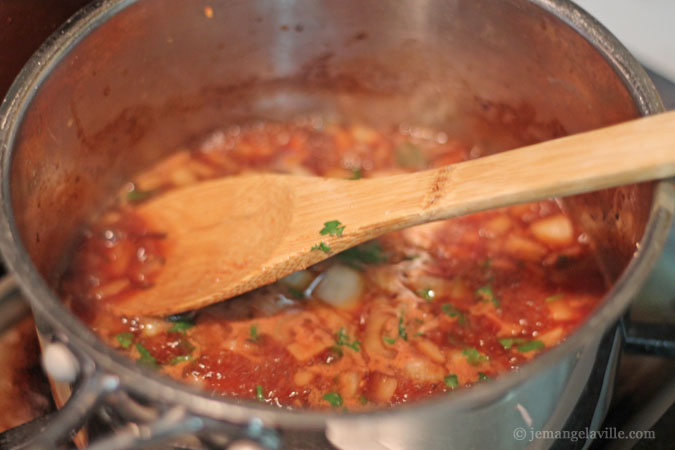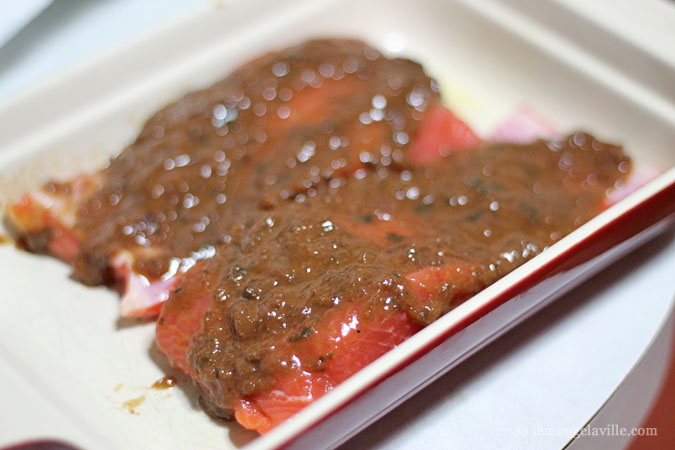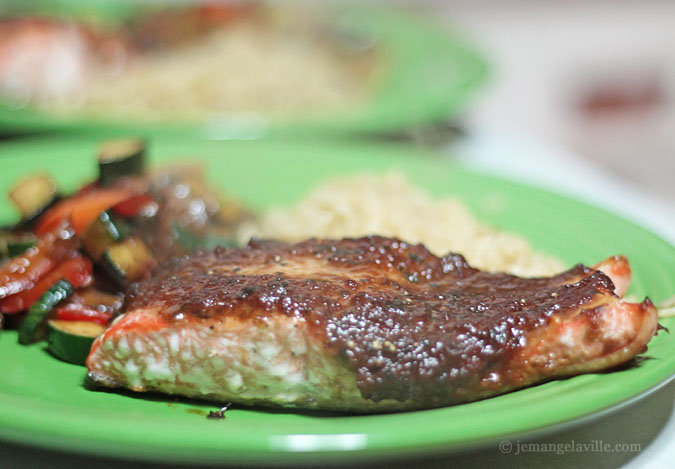 Now, when I made this sauce for my salmon (in the cookbook it gets slathered on pork ribs), I diced the onion rather than grating, which made it seem necessary to blend it all before using. Also, I found that the flavor really developed after sitting in the fridge overnight, so if you have the time, make the sauce a day ahead. This Asian Honey Spiced Salmon goes great with some brown rice and sauteed veggies, and you can drink the rest of the wine with dinner!
Asian Honey Spiced Salmon
Adapted from a recipe in Chef in the Vineyard: Fresh & Simple Recipes from Great Wine Estates by John Sarich; serves 2, can be easily doubled.
1 tbsp Canola or Peanut Oil
1 /2 cup diced Onion
2 cloves Garlic, minced
2 tsp grated fresh Ginger
1/4 cup low sodium Soy Sauce
1/3 cup Chicken Stock or low-sodium Broth
2 Tbsp Merlot (recommended: a Merlot from Washington or California)
1/2 tsp Dry Mustard
1 tbsp Honey
2 tbsp chopped fresh Cilantro
1 tbsp Tomato Paste
1/4 tsp Toasted Sesame Oil
1/4 tsp Hot Chili Oil
2 Salmon filets, about 6-8 oz each)
Kosher Salt & Freshly Ground Black Pepper
Heat a skillet over medium-high heat and add the oil. When hot, add the onion, garlic, and ginger. Cook until onions are soft, 5-7 minutes. Next, add the soy sauce through chili oil. Bring to a boil, and simmer until slightly thickened, about 20 minutes. Taste and adjust seasonings, if needed. Let cool and then puree in a blender or food processor. If you are making this the night before, refrigerate until needed.
Preheat oven to 425 degrees F. Lightly spray a baking dish with non-stick spray. Add the salmon skin side down and sprinkle lightly with salt and pepper. Add about two liberal tablespoons of the sauce to each piece of fish, smoothing out lightly to coat each fillet. Bake about 12 minutes or until salmon is roasted to your liking. Warm the extra sauce and serve on the side.