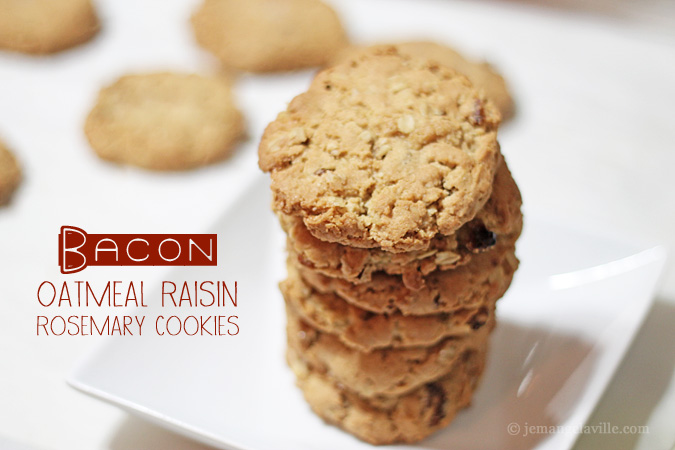 You could certainly ask, "Why would you put bacon in a cookie?" And I would respond with, "Why not?"
I'm not a huge bacon-for-bacon's-sake type of person but when I came across a recipe for Bacon Oatmeal Cookies, I was a bit intrigued. And on a recent cold, rainy day I decided to experiment a bit and try it out. Conclusion: while this certainly won't replace a traditional, spiced, oatmeal raisin cookie, I think these are worthy of a batch or two – not quite a novelty, but not an instant, all-time favorite cookie (that's chocolate chip, of course). But definitely bring them to a holiday party or a dinner for a unique snack.
I first saw this recipe on the Hot Cakes Bakery site Рthey sell the cookies but also linked to a recipe in Bon App̩tit magazine, which I adapted below. Yes, I did cut down the bacon a bit, but I think it works well as a accent flavor, not a multiple-bacon-pieces-in-every-bite kind of thing. The resulting cookie was crisp, but with chewy raisins, a bit of smoke from the bacon, and a hint of rosemary flavor throughout.
Also, just because it's somewhat on topic, this is my absolute favorite bacon: Trader Joe's Uncured Applewood Smoked Bacon – it's what I used in these cookies and what we generally have on hand in the freezer for special bacon-occasions.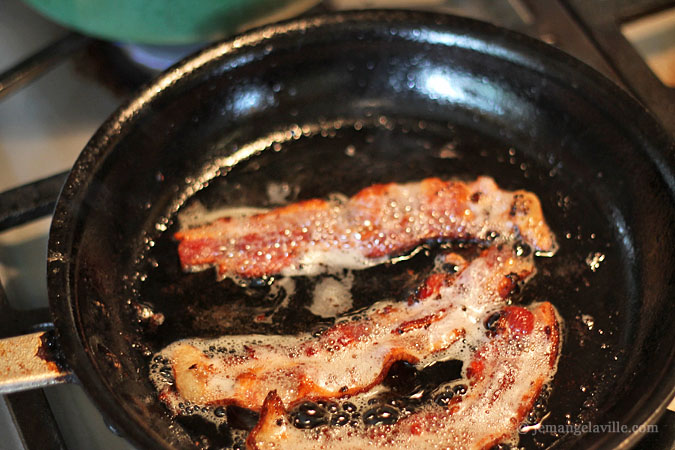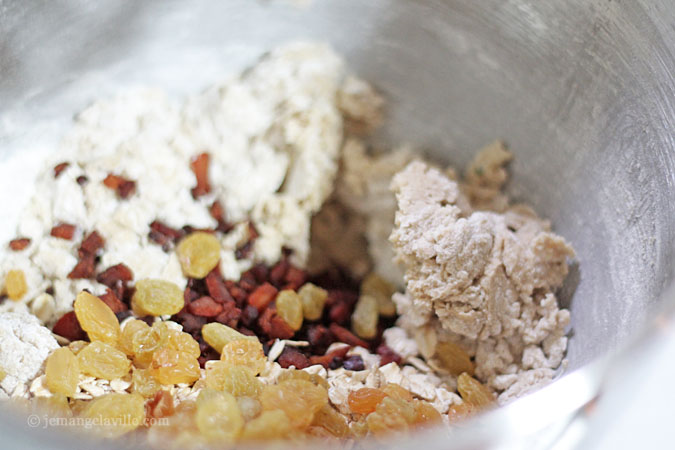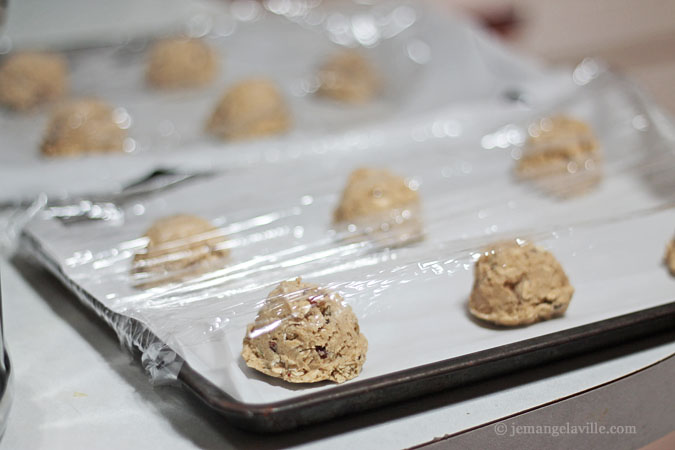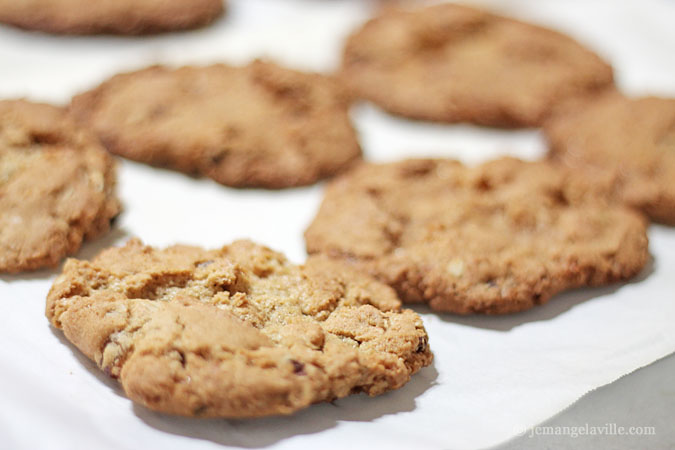 Bacon, Oatmeal, Raisin & Rosemary Cookies
Adapted from a recipe in Bon Appétit magazine; makes 10-12 cookies
3 slices Bacon
1 cup Cake or White Pastry Flour
1/2 tsp Baking Powder
1/2 tsp Kosher Salt
1/4 tsp Baking Soda
1/2 cup packed dark Brown Sugar
1/3 cup Granulated Sugar
1/4 cup Shortening
1 large Egg
1/4 tsp Vanilla Extract
1/2 cup Old-Fashioned Rolled Oats
1/2 tsp chopped fresh Rosemary Leaves
1/3 cup Golden Raisins
Line 2 baking sheets with parchment paper. Cook bacon in a large skillet over medium-low heat, turning occasionally, until deep golden brown and crisp. Using a slotted spoon, transfer bacon to paper towels. When cool, crumble into small pieces.
Whisk flour, baking powder, salt, and baking soda in a medium bowl. Using an electric or stand mixer, beat both sugars and shortening in a large bowl, occasionally scraping down sides, until well blended, 2–3 minutes. Add egg and mix. Add vanilla; mix on medium speed until pale and fluffy, 4–5 minutes. Mix in dry ingredients.
Fold bacon, oats, rosemary, and raisins into batter and stir until evenly incorporated. Using a medium ice cream scoop form dough into balls, and scoop batter onto prepared sheets, spaced at least 3 inches apart. Chill dough for 1 hour or cover and chill overnight.
Preheat to 375 degrees F. Bake cookies, rotating pans halfway through, until edges are light golden brown and centers are still slightly soft, 14-16 minutes. Let cool on baking sheets for 10 minutes. Transfer to a wire rack; let cool completely.