Recently, I was contacted by Safeway and asked if I wanted to try some products from the new Marcela Valladolid line and enter the Safeway Real Taste of Mexico Meal Solution Challenge.* Being a huge fan of Mexican food, I decided to take them up on their offer – and also because I could give a $50 Safeway gift card away on my blog! And if you don't live by a Safeway, don't worry, it's also good at a number of other stores (see below).
In starting to develop a recipe for the contest, I kind of veered away from Mexico a bit and accidentally wandered down to Argentina and Peru (let's call it pan-South American, maybe?). But hey, that's a useful thing about these Marcela Valladolid products – you can experiment a bit and see where your imagination and other ingredients take you!
I chose to use the Flank Steak for Arrachera, which is seasoned with a tasty mix of citrus, rosemary and thyme. And while it would have no doubt made great tacos, it also worked very well in this soup. Versatility! We also used the corn tortillas for sopping up all the flavorful broth.
See the recipe below and (Winner is bring notified, thanks for entering!) please leave a comment to enter for the drawing, by posting your favorite Mexican meal in the comments section. I'll randomly pick a winner on Thursday, October 24th (around noon Pacific Time) and contact the winner. Please make sure you regularly check the email that you use to comment. If I can't get a hold of the winner within 5 days, I will pick a new winner. Cold, but true.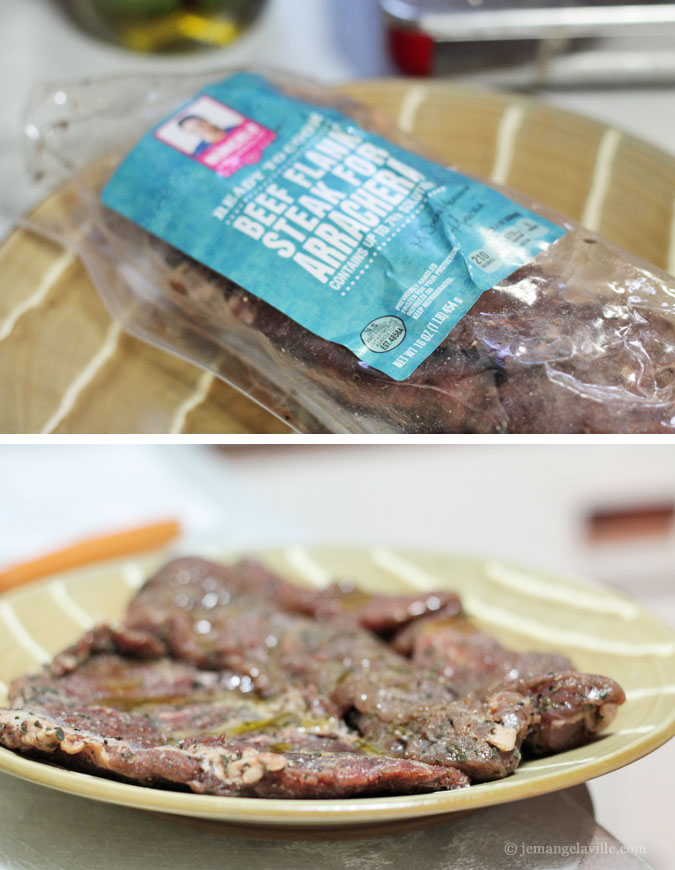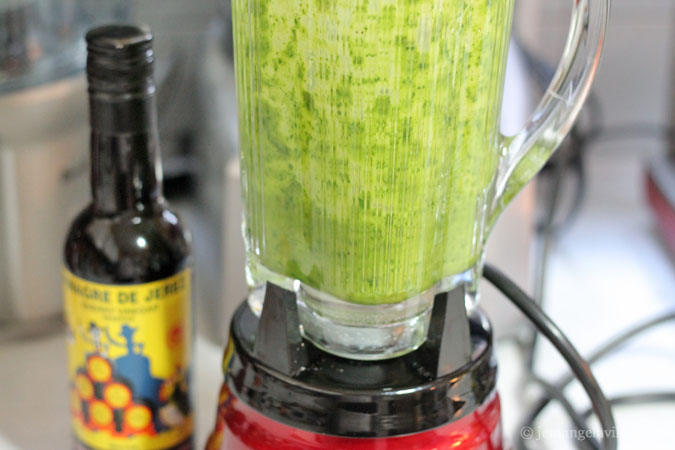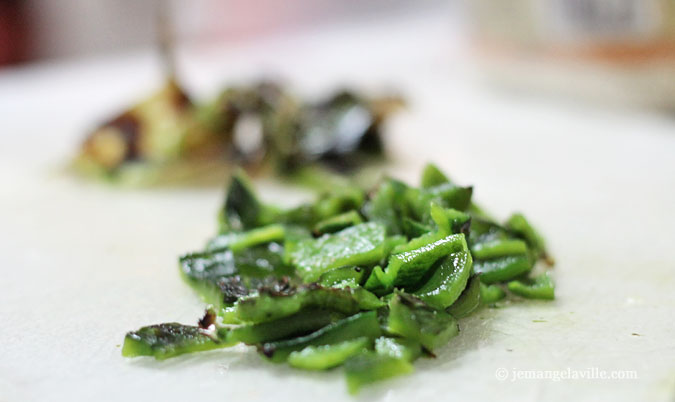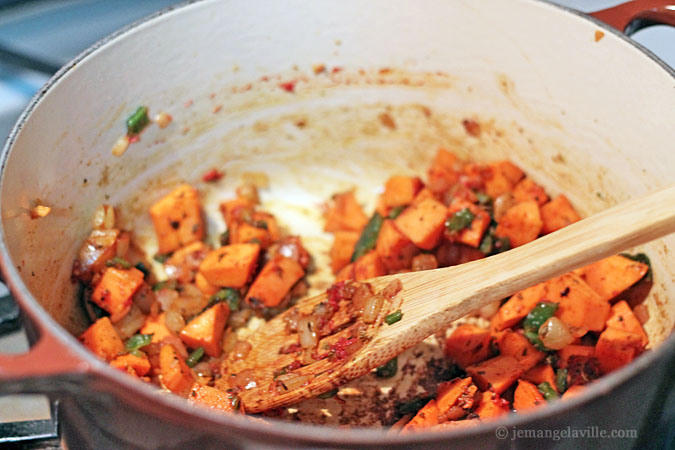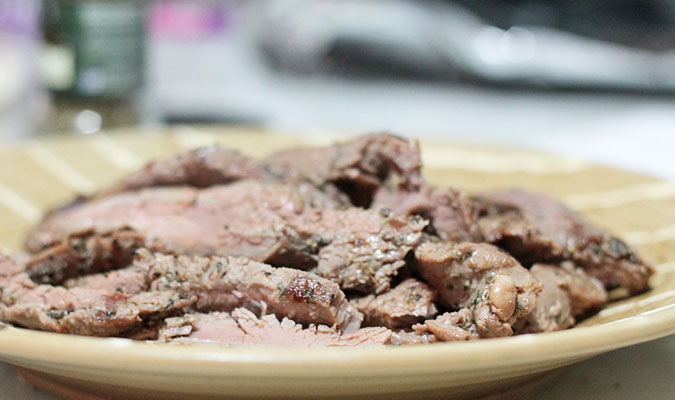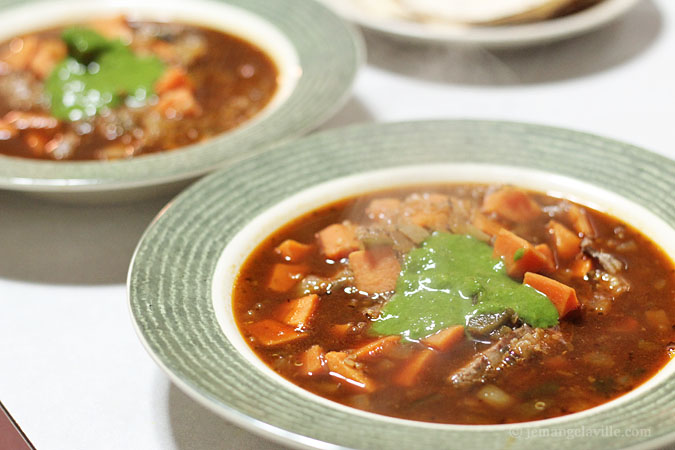 Grilled Flank Steak & Quinoa Soup with Cilantro Chimichurri
Serves 4
1 Poblano Pepper, halved, stemmed and seeded
2 tbsp Olive Oil, divided
1/2 cup diced White Onion
4 Cloves Garlic, minced
1 Sweet Potato, peeled and diced
1/2 tsp Kosher Salt
1 tsp ground Cumin
1/2 tsp Smoked Paprika
1/2 tsp dried Mexican Oregano
1 tbsp Tomato Paste
1 tbsp AP Flour
juice of 1/2 an orange
4 cups low-sodium Beef Broth
1/3 cup Quinoa
1 package Marcela Valladolid Flank Steak for Arrachera
1 package Marcela Valladolid White Corn Tortillas, warmed (plan on 1-2 per person)
Cilantro Chimichurri (recipe below)
Optional garnishes: crumbled cotija cheese, sliced radishes, diced avocado
Roast poblano pepper: Split pepper in half, removing stem and any seeds inside. Broil halves on a foil-lined baking sheet until blackened, about 5 minutes. Set aside in a bowl covered with foil or plastic wrap to steam for about 5-10 minutes. Peel and dice pepper. If you don't have time to do this step, you can skip, and just diced the unroasted pepper.
Start the Soup: Cook onions, diced, roasted poblano, and garlic in the tablespoon of oil for about 5-7 minutes. Add the sweet potato and cook a few more minutes, sprinkling with 1/2 tsp salt and a few grinds of black pepper while cooking. Add tomato paste, cumin, smoked paprika. Cook 1-2 minutes, then add flour and cook 1-2 minutes more. Then add orange juice and beef broth. Bring to a boil, then lower heat and simmer 20-25 minutes.
While stew is simmering, cook quinoa according to the directions on the package (Typically, rinse quinoa, bring 2/3 cup water to a boil with a pinch of salt, add quinoa, turn down heat, and simmer for about 15 minutes). Set quinoa aside after it's ready. Heat the remaining tablespoon of oil in a grill pan and cook steak for about 4-5 minutes per side over medium-high heat for medium rare/medium. Set on a plate to rest for 5-10 minutes. While steak is resting, add cooked quinoa to soup.
When it's done resting, add any accumulated steak juices into soup. Slice steak into thin strips against the grain, and divide sliced meat between 4 bowls. Ladle soup over steak and garnish the top with a drizzle of chimichurri and any desired garnishes. Serve with warm corn tortillas.
Cilantro Chimichurri
1/4 cup chopped Cilantro Leaves
1/4 cup Chopped Parsley Leaves
2 Cloves Garlic, minced
1/4 tsp Kosher Salt
few grinds Black Pepper
pinch Cayenne Pepper
1/2 cup Olive Oil
1 tbsp Sherry Vinegar
juice of 1/2 Lime
Add all ingredients to blender. Pulse to blend. Can be made a couple of hours ahead. Store in the refrigerator until ready to use.
For the giveaway winner: $50 Safeway Gift Card can be used Safeway, or if you don't live in a location that has that brand, the gift card can also be used at: Dominick's, Vons, Randall's and Tom Thumb.
* Disclosure: I was given my own $50 Safeway Gift card to purchase additional products for my contest entry.