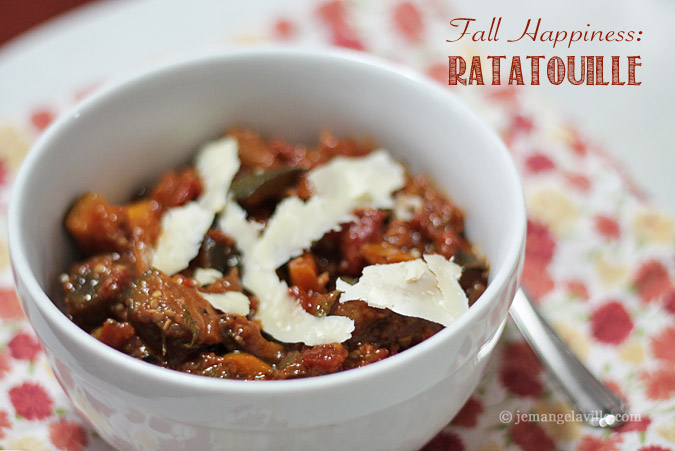 Ratatouille is one of those recipes that I've been making for years. I used to make it all the time in grad school, fairly often when I lived in California, and still make a pot every so often now. And one of my favorite times of year to make ratatouille is fall. Sure, you'll probably need to used canned (or tetra-pak) tomatoes, but who really wants to simmer vegetables on the stove top for an hour in summer anyway (not me!)? Plus, in fall, a big bowl of vegetable stew is exactly what a person wants – especially when you have discovered the best possible ratatouille recipe, which this is!
Another plus to making a big pot of this is everything you can do with the leftovers (if you have any) — I recently slathered ratatouille on a piece of what pita bread, topped it with some smoked mozzarella, and gave it a few minutes in the toaster oven for a delicious pizza-for-one kind of meal.
Another idea? Take your ratatouille and poach some eggs on top of the simmering stew – completely out of this world. That's one you don't even have to reserve for leftovers, I'm thinking of making this again soon for the specific purpose of cracking eggs on top, covering, and letting them cook for about 4-5 minutes. The runny yolk and the tomatoes equal pure magic. And with a little of the cheese and olive oil it's so amazingly good (and a decidedly hearty and decadent Meatless Monday meal to boot).
One last thing – have you entered to win a $50 Safeway gift card? You have until Thursday, October 24th at noon to do that here. Okay, on with The Best Ratatouille.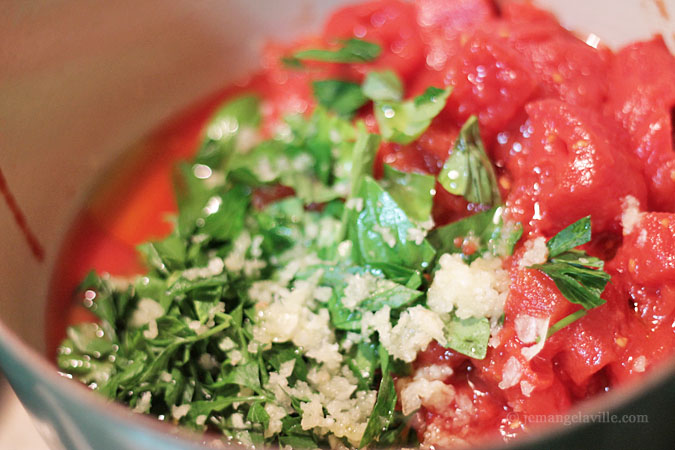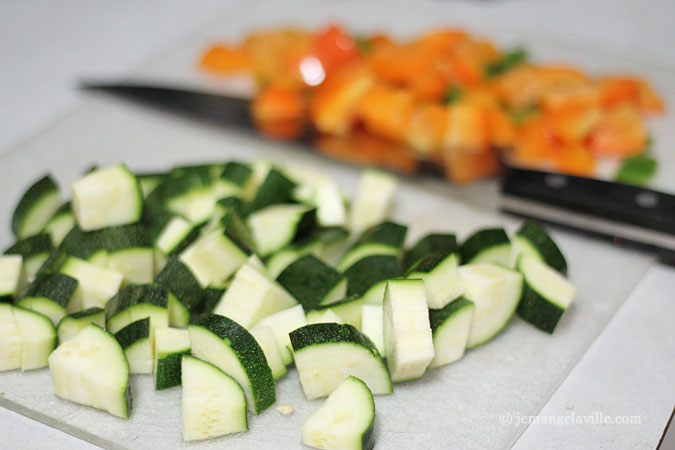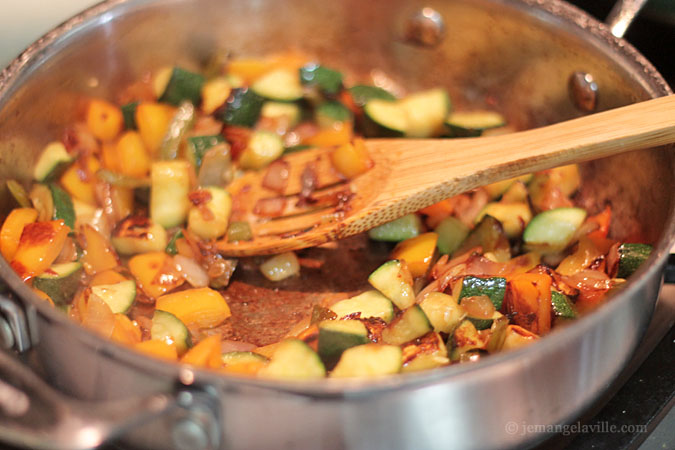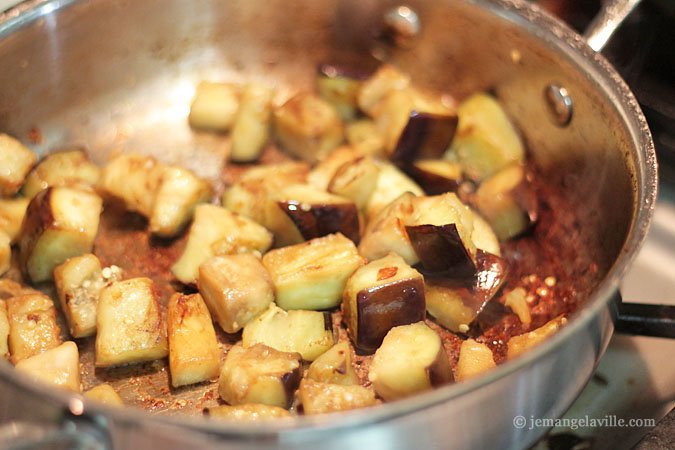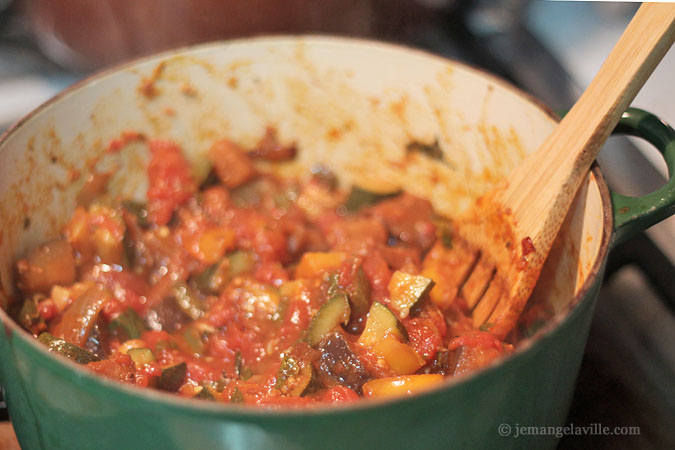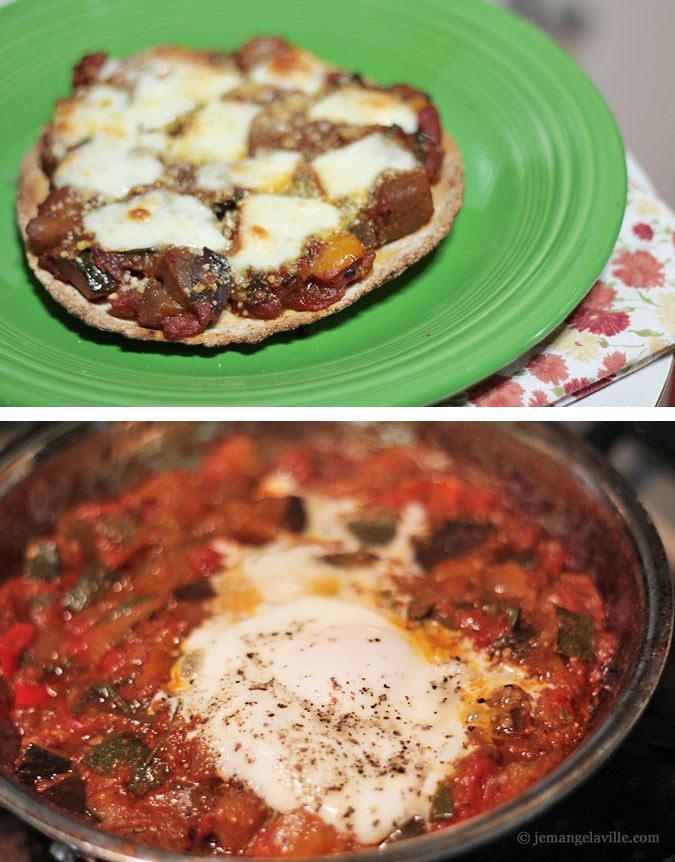 The Best Ratatouille
Adapted from a recipe in Gourmet magazine; serves 4-5
1 28-oz can peeled Tomatoes, drained (I like using San Marzano for this recipe)
5 large Garlic Cloves, minced
1/2 cup chopped fresh flat-leaf Parsley
10 fresh Basil leaves, torn in half
pinch Red Pepper Flakes
1/2 cup Olive Oil
1 small Eggplant (about 1 pound), cut into 1-inch cubes
1 tsp Kosher Salt
1 large Onion, quartered lengthwise and thinly sliced
2 Bell Peppers (green, red, and/or yellow), cut into 1-inch pieces
2 medium Zucchini, quartered lengthwise and cut crosswise into 3/4-inch-thick pieces
1/4 cup medium body Red Wine (I used a Merlot, then we had the rest with dinner)
1/4 teaspoon Black Pepper
Garnish: Parmesan shavings and olive oil
Roughly dice the tomatoes, reserving sauce from the can for another use. Transfer diced tomatoes to a pot with the garlic, parsley, basil, red pepper flakes, and 1/4 cup olive oil. Simmer, partially covered, stirring occasionally, until tomatoes break down and sauce is slightly thickened, about 30 minutes.
While sauce is simmering, toss eggplant with 1/4 teaspoon salt in a large colander and let stand in sink 30 minutes.
Meanwhile, cook onions and bell peppers in 2 tablespoons oil with 1/4 teaspoon salt in a 12-inch heavy skillet over moderate heat, stirring occasionally, until softened, 10 to 12 minutes. Add zucchini with a pinch more salt and continue to cook over moderate heat, stirring occasionally, about 6 to 8 minutes more. Transfer all the vegetables with slotted spoon to a bowl.
After the 30 minutes, pat eggplant dry with paper towels. Add two tablespoons more oil to the skillet that you cooked the vegetables in, and cook eggplant over moderate heat, stirring occasionally, until softened, 10 to 12 minutes. Add wine and deglaze plan, scraping up any brown bits (the good stuff).
Add eggplant (and any remaining wine), along with the cooked zucchini, peppers, onions, remaining 1/2 teaspoon salt, and black pepper to tomatoes and simmer, covered, stirring occasionally, until vegetables are very tender and almost falling apart, about 1 hour. Cool, uncovered, and serve warm or at room temperature. Garnish with shaved Parmesan cheese and a drizzle of goof, fruity olive oil.