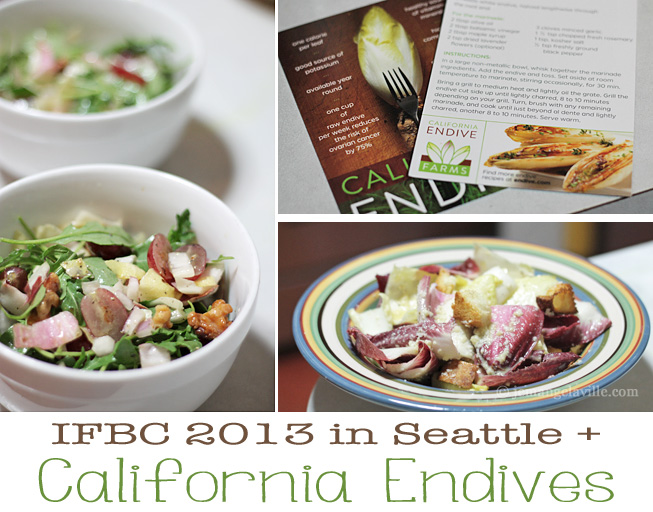 This year, the International Food Blogger's Conference was held in Seattle, which is only a short $25 (or thereabouts) train ride from Portland. Also, this year Dorie Greenspan was the keynote speaker and since I'm in the French Fridays with Dorie group, this event seemed to good to pass up. Especially since I really enjoyed last year's IFBC.
I mentioned IFBC and Dorie's upcoming appearance there to everyone in FFwD and to my delight, a lot of us (Doristas) ended up converging on Seattle to meet up with each other, meet Dorie, eat some food, and drink some wine. It was so much fun!

In addition to all the sessions, food, and excursions, they had a Gift Suite. This is like a crazy black Friday sale where food companies give you tons of their stuff for free (and provide you with cute little canvas bags to lug it all around in). One of my favorite giveaways in the Gift Suite this year were packages of California Endive. Luckily for me, I didn't have to fly my gifted produce back anywhere, just pack it into a cooler for the drive home.
With my endive so far I've made two salads – Endive and Arugula Salad with Walnuts and Grapes (recipe below) and also a Caesar Salad made entirely with halved, separated endive leaves. Both were excellent. I think I am truly becoming an endive fan. Before IFBC, I really only thought of them as healthy replacements for crackers, when dipping into hummus, dips, spreads, etc…, (which they still are, of course). On the recipe cards, there's even a recipe for grilled endive that I truly can not wait to try!
What follows are some photos from my adventures in Seattle – Dorie's keynote talk and Friday night's A Taste of Seattle and Gourmet Fair. That included a sampling of cuisine prepared by Seattle restaurants, wine tasting, and some pretty amazing sipping caramel with mescal from Hot Cakes. Sadly, I did not take a photo of the sipping caramel before slurping it down.
This year, there was a discounted conference price for bloggers if they agreed to write three posts about IFBC – this is my first.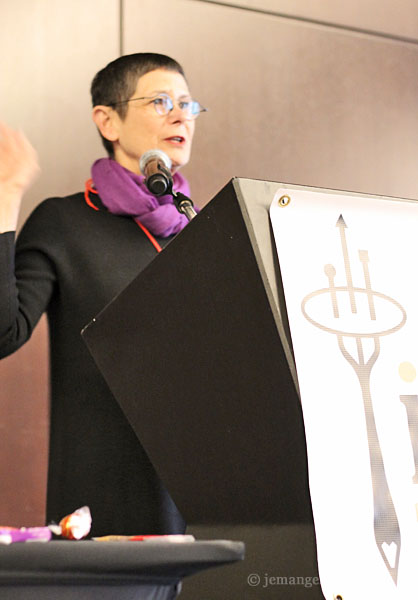 My fellow doristas from these blogs made the trip to Seattle – Great Food 360 | A Mama Baby and Sharpei in the Kitchen | A Plate Full of Happiness | The Not so Exciting Adventures of a Dabbler | Lola's Kitchen | Our Crazy Blessed Life | Bakeaway With Me | That Skinny Chick Can Bake | Lights on Bright No Brakes | Patty's Food | Tricia and Nana Cooking With Dorie | Create Amazing Meals | Sis.Boom.Blog!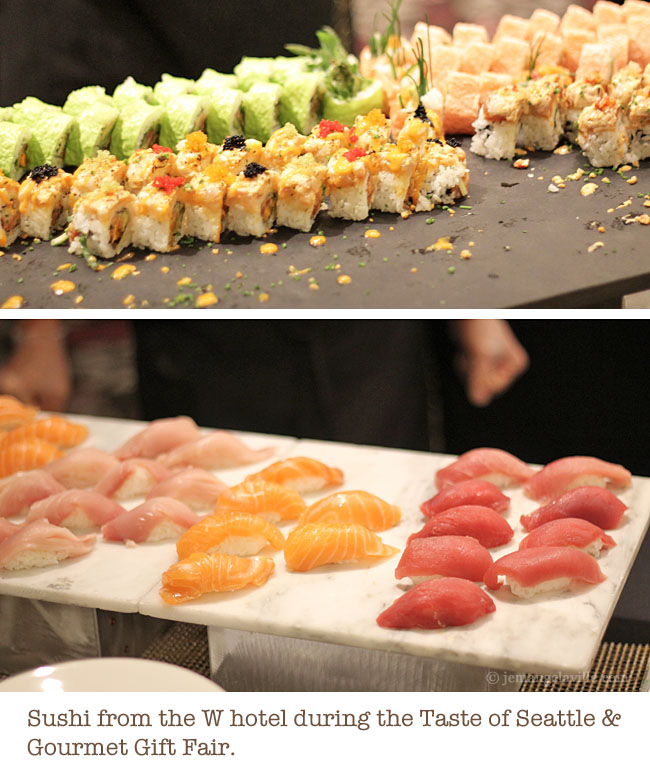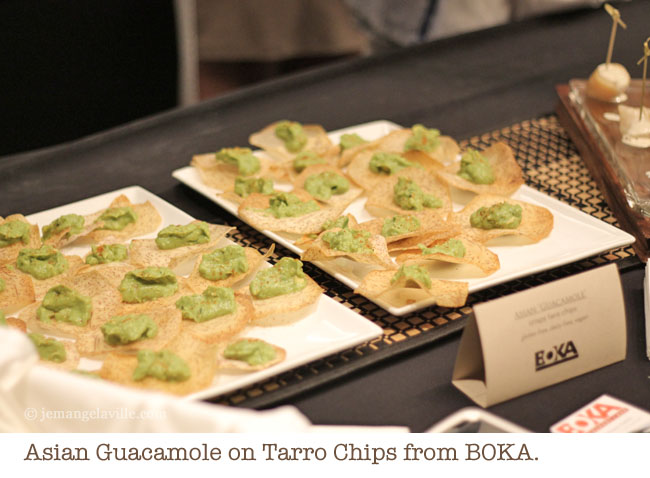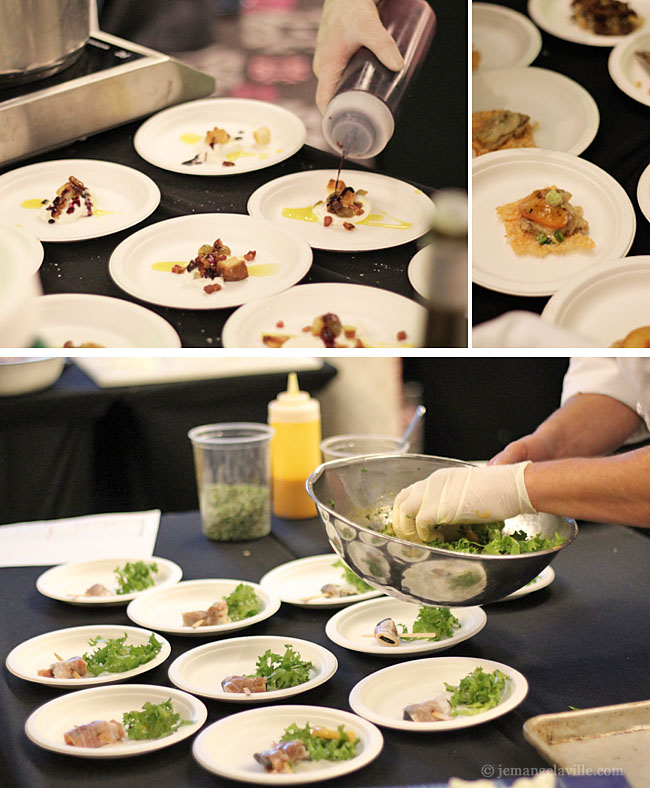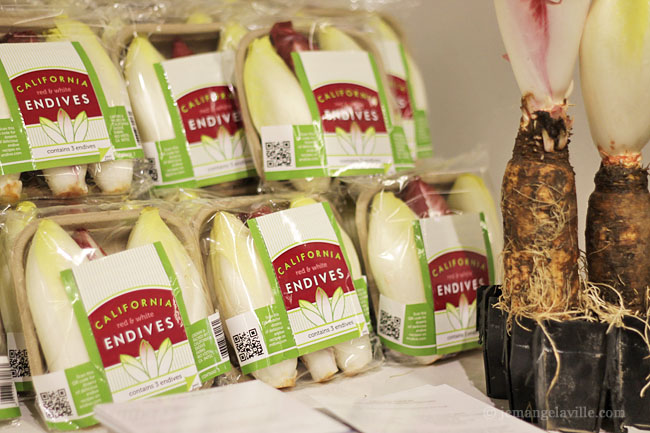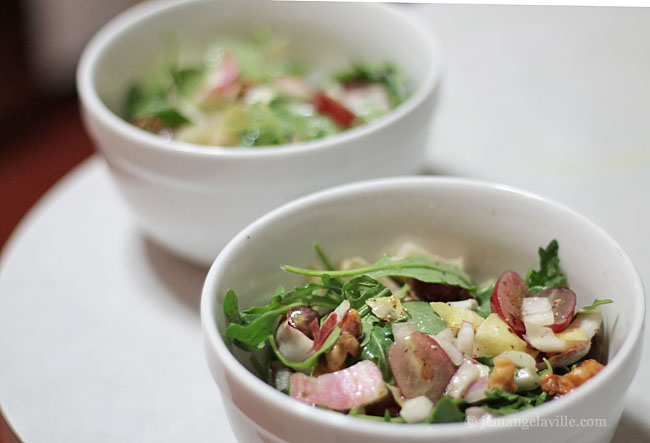 Endive and Arugula Salad with Walnuts and Grapes
Adapted from a recipe by Giada De Laurentiis; serves 3-4.
Vinaigrette:
1 tbsp White Balsamic Vinegar
1 tbsp Lemon Juice
1 tsp Honey
1 tsp Dijon Mustard
1/2 tsp Kosher Salt
1/4 tsp freshly ground Black Pepper
3 tbsp extra-virgin Olive Oil
Salad:
2 cups Arugula
3 heads of Endive, chopped
1/4 cup chopped, toasted Walnuts
1/4 cup seedless Red Grapes, halved
2 tbsp grated Parmesan Cheese
Whisk the white balsamic, lemon juice, honey, mustard, salt, and pepper in a bowl, add the oil and whisk to emulsify. Season the vinaigrette to taste with more salt and pepper, if desired.
In a large bowl combine the arugula, endive, walnuts, grapes, and cheese. Toss with as much vinaigrette as desired. Serve right away.