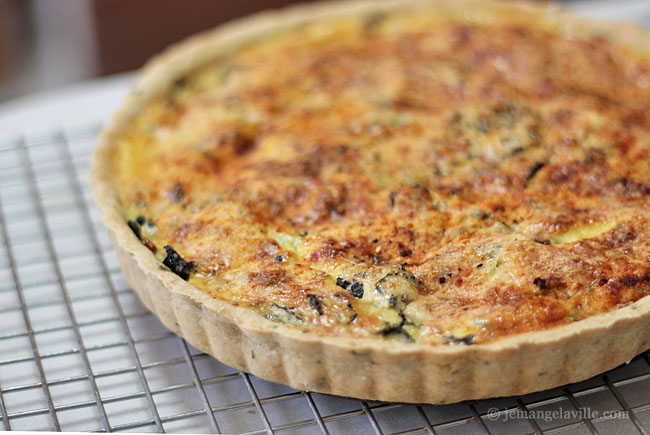 I am very enamored of the Kale and Onion hand pie at Lauretta Jean's. I'm trying to limit myself to one every other week, because when the pastry is that good and flakey, you know there's a lot of butter. But, I think I have found a way to have the flavors a bit more often — Kale, Feta and Onion Quiche. And the best part? The crust is still delicious but made from a mix of whole wheat and white flours, as well as olive oil.
I'm sure I'll still be getting a hand pie every so often, but this is a fairly good substitute, flavor-wise. Kale plus onions are just really, really delicious. The custard uses a short cut trick from Bon Appétit magazine of eggs and low fat cottage cheese. It's not a traditional custard, of course but since the star is really the kale, it works just great here.
The olive oil tart crust is from Chocolate & Zucchini and it's one of my favorites. I want to try making a sweet version this summer for a fruit tart. I'm thinking just substituting the dried herbs for some sugar would do the trick.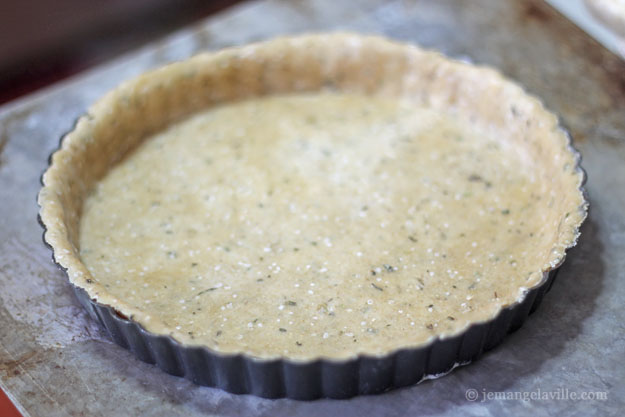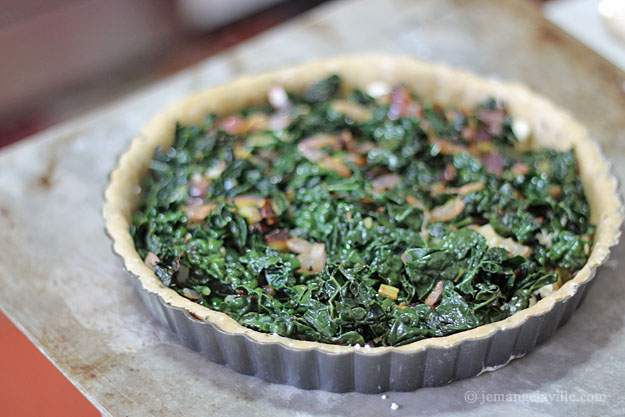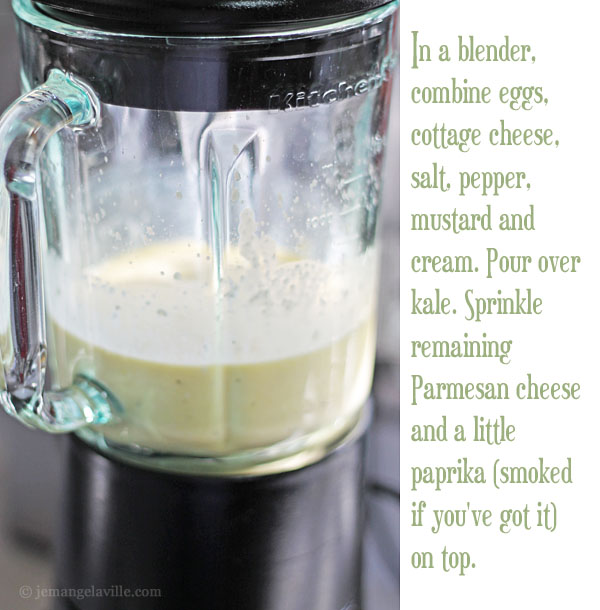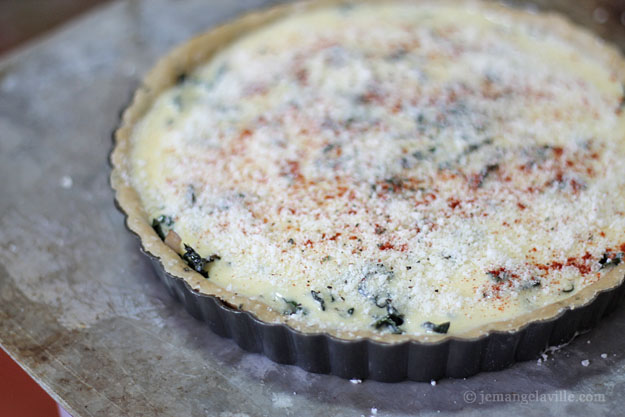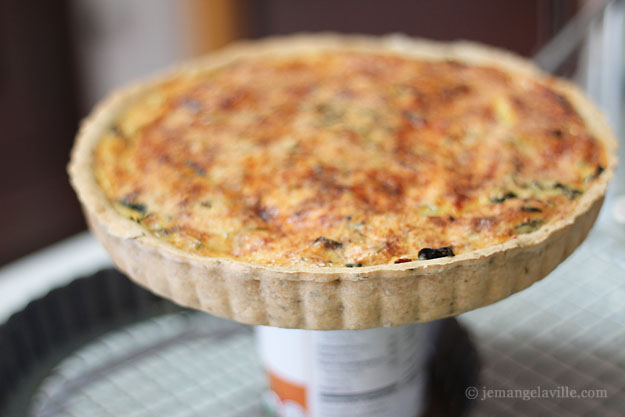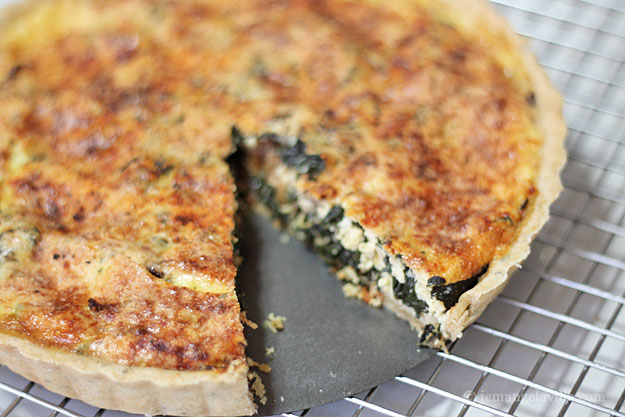 Kale, Feta and Onion Quiche (in an Olive Oil Crust)
Makes 4-6 servings
1 tbsp unsalted Butter
1 small Onion, chopped (I used a red one, because that's what I had)
1 small Leek, white part cleaned and sliced into half rings
2 cloves Garlic, minced
1 bunch Kale, stems & ribs removed, leaves chopped
1 tart or pie shell, unbaked (This recipe from Chocolate & Zucchini is recommended.)
1/2 cup crumbled Feta Cheese
1/2 cup grated Parmesan
4 eggs
1/2 cup low-fat Cottage Cheese
1 tsp Dijon Mustard
1 tbsp Heavy Cream (can be omitted or replaced with low-fat milk)
1/2 tsp Kosher Salt
1/4 tsp Pepper
1/8 tsp ground Nutmeg
For top of quiche: a little Paprika (~1/8 tsp) for color
Melt butter in heavy medium skillet over medium-high heat. Add onion, leek, garlic and a pinch of salt. Sauté until about 6-8 minutes. Add kale and stir, turn heat down to low, cover and cook about 3-5 minutes until kale is wilted. Remove from heat and cool slightly.
Sprinkle feta cheese and 1/2 of the Parmesan over bottom of crust. Top with kale-onion mixture. In a blender, combine eggs, cottage cheese, salt, pepper, mustard and cream. Pour over kale. Sprinkle remaining Parmesan cheese and a little paprika (smoked if you've got it) on top. Bake until filling is set, about 40-50 minutes. Cool slightly and then cut into slices and serve.