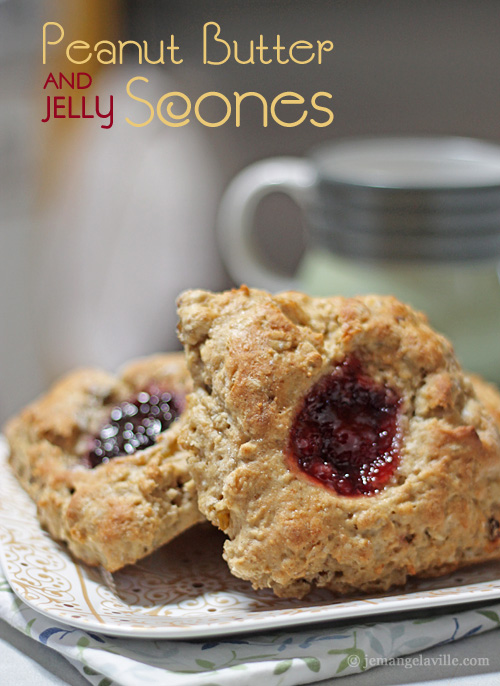 Peanut butter and jelly really is a timeless combination — just like macaroni and cheese. Olive oil and vinegar. Pizza and beer. The X-Files and Sunday nights. You get the idea. Also, be warned, these peanut butter scones are very habit-forming and a little well of jelly in the middle makes them even better.
A nice thing about these scones is that they also include whole wheat flour and wheat germ. They aren't overly sweet (for instance, you're not going to get confused and think you're eating an oatmeal cookie), but they don't taste completely healthy either. They're a little decadent but not too much.
The recipe below is for a full batch of scones but it can easily be halved to make 4-6 scones. I tend to think the delicious factor on baked goods is about two – three days, so I tend to make a lot of half recipes. If you think you can eat 8-12 scones in that amount of time, definitely go for it. When you pat your dough in into a circle, just use a pizza cutter to for 4 larger or 6 smaller scones. Repeat if that's what you're into. On thing to keep in mind though, will smaller scones you will have a higher jelly to peanut butter ratio. I'm just sayin'…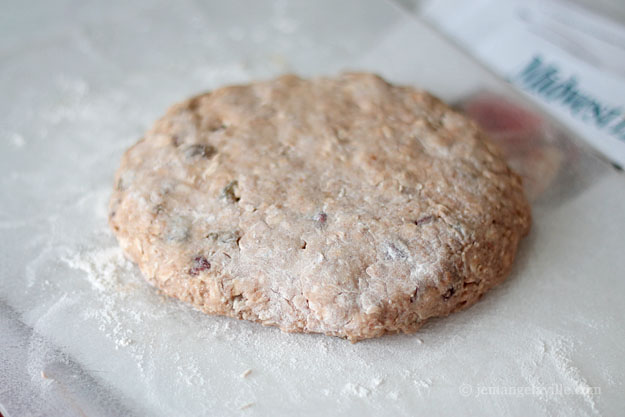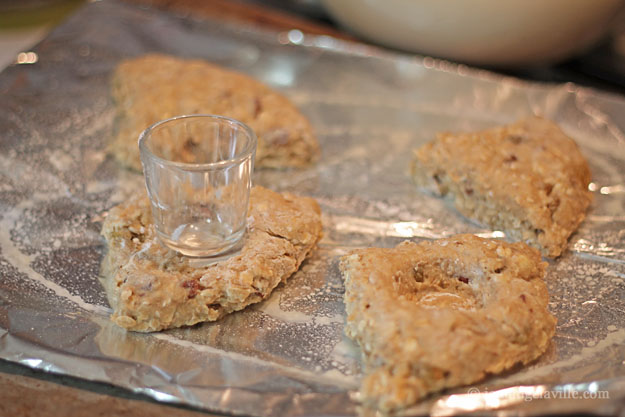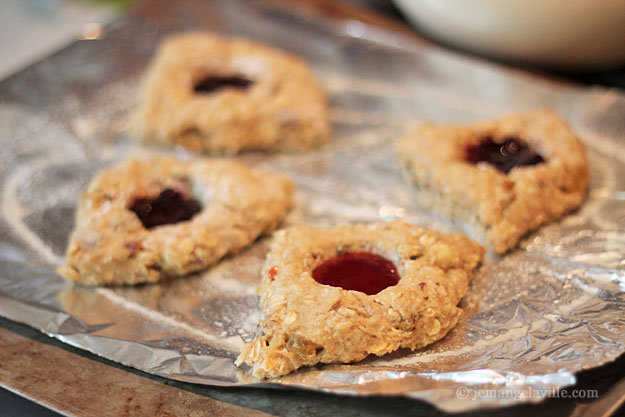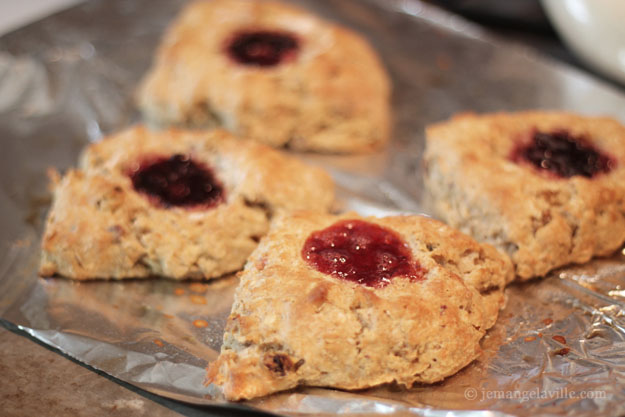 Peanut Butter and Jelly Scones
Adapted from Midwest Living Magazine; makes 8-12 scones
1 cup Old Fashioned Rolled Oats
1-1/4 cups All-Purpose, Unbleached White Flour
1/2 cup Whole Wheat Pastry Flour
1/4 cup packed Brown Sugar
1 tbsp Baking Powder
1/4 tsp Salt
1/4 cup creamy Peanut Butter
4 tbsp Unsalted Butter, cut into small cubes
2 Eggs, lightly beaten
3/4 cup Milk (can be fat-free)
1 tsp Vanilla Extract
1/2 cup roasted Peanuts, chopped
1/4 cup toasted Wheat Germ
1 tbsp Milk
8-12 tsp Strawberry (or other) Jelly
Preheat oven to 400 degrees F. Line a large baking sheet with parchment paper; set aside. In a large mixing bowl, combine the oats, flours, brown sugar, baking powder and salt. Using pastry blender (or a fork or your fingers), cut in peanut butter and butter until mixture resembles coarse crumbs. Make a well in center.
In a medium bowl, combine eggs, 3/4 cup milk and vanilla. Add all at once to dry ingredients with peanuts and wheat germ. Stir until just combined. Dough will be sticky.
Turn dough out onto a well-floured surface. Divide dough in half. Pat or lightly roll each portion into a 6-inch circle. Cut each circle into 4 or 6 wedges (depending on how large you'd like the scones). Place wedges a couple of inches apart on prepared baking sheet. Using a shot glass or similarly shaped item, press down on the center of each scone to make a well. If the glass sticks, dip into a little flour before pressing onto dough. Add 1 teaspoon of jelly into each indentation. Try not to overfill or the Jelly will ooze out all over the place. Learn from my mistakes.
Brush edges of scones with milk. Bake for 12 to 14 minutes or until golden. Serve warm.