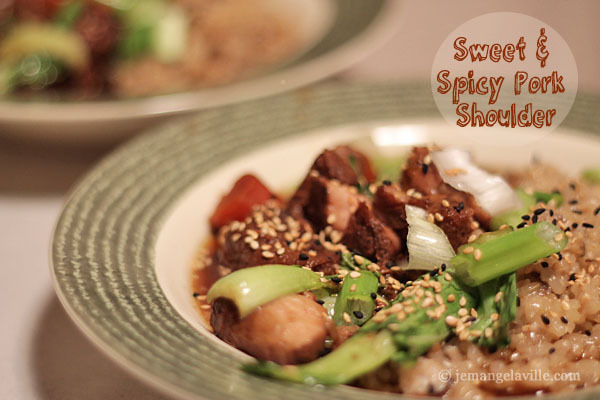 Some days there is nothing better than having something tasty simmering away in a slow cooker. The house starts smelling delicious about maybe hour two and it just keeps getting better smelling ALL DAY. So wonderful. This is one of those recipes that you definitely want going for 7-8 hours on a cold winter day.
Strangely, I haven't really done that much with pork shoulder before, just a handful of recipes, but I think this one is definitely a keeper. I chose to use Ponzu Sauce (soy sauce with citrus) because the sodium content was even less than the low sodium soy sauce I had and I thought that the citrus notes would work really well here. I used my Kitchen Ninja for this recipe, in the regular slow cooker setting.
Also I'm trying out a new format here — photos first and then recipe.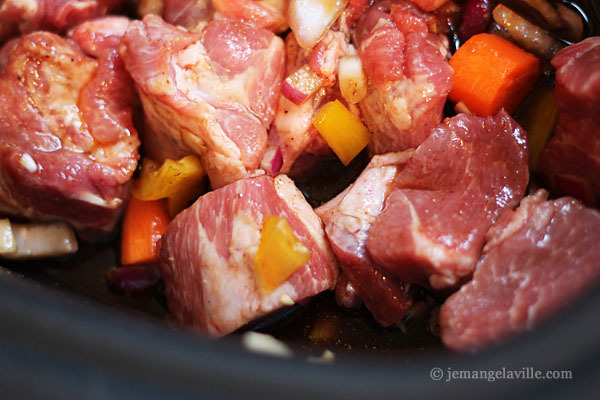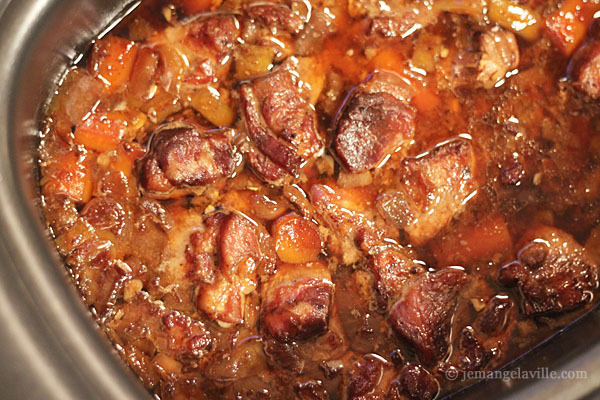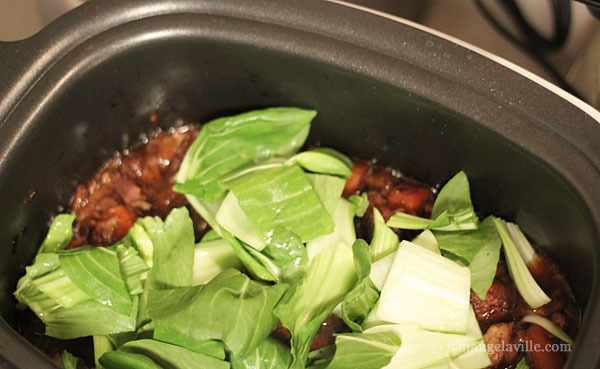 Sweet and Spicy Asian Pork Shoulder (Slow Cooker)
Adapted from Real Simple Magazine; serves 4-6.
1/2 cup Ponzu sauce (or low-sodium soy sauce)
1/2 cup brown sugar (just scooped, not packed)
1 tbsp Sriracha
3 garlic cloves, minced
1 tbsp grated fresh ginger
1 tsp Chinese five-spice powder
1/4 tsp freshly ground black pepper
2 medium carrots, peeled and chopped into 2-inch pieces
1 yellow or red pell bepper, cored and diced
2 1/2 pounds boneless pork shoulder, trimmed of excess fat and cut into 2-inch pieces
1-1/2 cups medium grain brown rice
3-4 heads baby bok choy
2 scallions, sliced
For garnish: sesame seeds
In a 4- to 6-quart slow cooker, combine the soy sauce, sugar, sriracha, garlic, ginger, five-spice powder, and pepper. Add the carrots, bell pepper and pork and toss to coat. Cook, covered, until the pork is tender, on low for 7 to 8 hours.
About 50 minutes before the pork is done, cook the rice according to the package directions.
A few minutes before serving, skim off and discard some of the fat from the pork. I just used a spoon and skimmed off what I could get easily from the surface and the sides of the slow cooker. Gently fold the bok choy into the pork and cook, covered, until heated through, 2 to 4 minutes.
Serve with the rice and sprinkle with the scallions and sesame seeds.