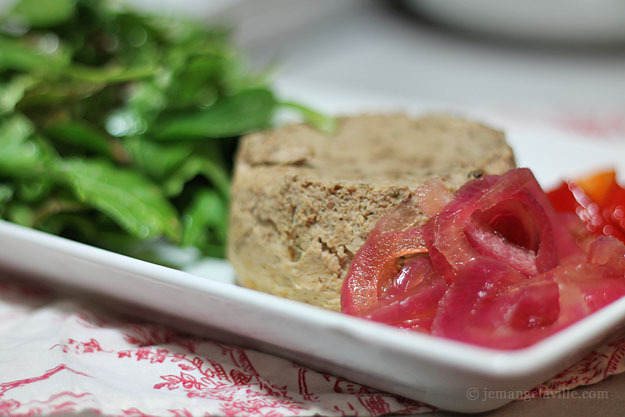 This week's French Fridays with Dorie is all "knock knock." And I'm all, "who's there?" And it's all, "Chicken liver." "Chicken liver who?" I ask. And it's all, "No, really. Chicken liver. Go buy some chicken liver and let's do this."
So, I bought chicken liver. I blended it up in my food processor with some egg yolk, half and half, garlic and herbs, etc…and I baked it. And it was pretty damn good.
Maybe it's because I've gotten so used to ordering charcuterie (the dream of the 1890's) when we go out and there's always a delicious terrine or a pâté or what-not on the plate. Or maybe I was just feeling extra adventurous, but I did it. And I would do it again, too.
I loved the pickled onions (I also had some store-bought pickled peppers on the side) and we had it with a simple salad, some red wine and a long skinny baguette from Little T's. A very delightful and very French meal. As always, the recipe is in the cookbook, Around My French Table by Dorie Greenspan.
Notes:
I made a third of a recipe (1 egg, 1 egg yolk, 2.5 oz chicken liver, 5 tbsp of half and half — instead of milk and cream) and I baked it in a one cup ramekin, for about 40 minutes. It worked perfectly. Oh and I added some garlic into the mix as well. For my pickled onions I used a red onion because that's what I had.
Here's a link to everyone's Chicken Liver Gâteau posts and my photos below.