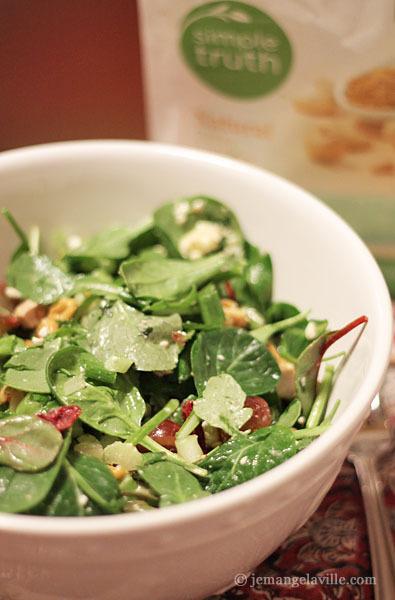 Simple Truth Organic and Natural Food
Way back in December, I was invited to an event at the Hawthorne Fred Meyer, for a launch of their new product line — Simple Truth.
Simple Truth aims to "provide a simple, uncomplicated and trustworthy solution to the challenge of simply better living. All Simple Truth items are Free From 101 artificial ingredients and preservatives." These products are available in Oregon at Fred Meyer and nationally at Kroger grocery stores.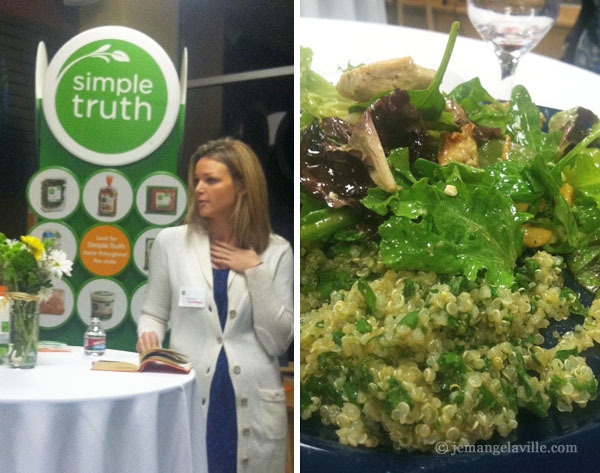 Nutritionist Carolyn Brown answering questions about eating healthier and a plateful of delicious event snacks — a quinoa salad and cashew curry chicken salad. Disclaimer: photos from my phone.
It was a fun event which included food demos with Leigh Ann Hieronymus and nutrition information with Carolyn Brown, MS, RD. There was also organic wine and beer and a huge swag bag at the end of the evening for everyone to lug home. But even better, attendees were given the opportunity to do a future blog giveaway. Hooray!
Seeing that it's the beginning of a brand new year and a great time for eating healthier and wiser, wouldn't it be awesome to win a whole basketful of Simple Truth products for yourself? (Answer: Yes, it would.)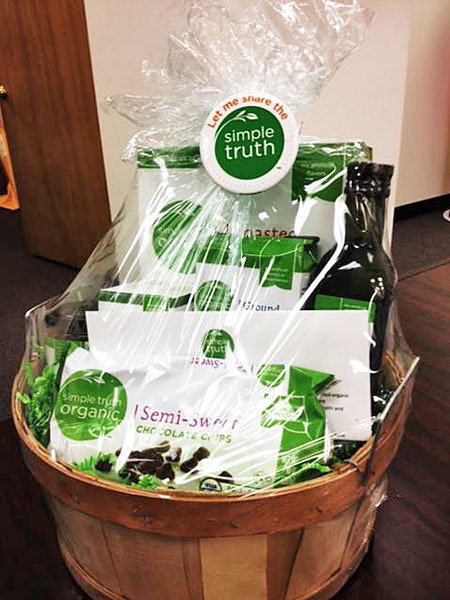 Included in the gift basket: Simple Truth Semi-Sweet Chocolate Chips, Simple Truth Salsa, Simple Truth Extra Virgin Olive Oil, Simple Truth Ground Coffee, Simple Truth Green Jasmine Tea and Simple Truth Toasted Oats cereal.
To enter for a chance to win this basket, please leave a comment below with one of your food goals for 2013 by Wednesday, January 16, noon (Pacific time). I'll randomly pick a winner (who lives in the US), send the good people at Simple Truth that person's address and a short time later, the gift basket will arrive at their door. Pretty cool, huh?
And, as if that wasn't enough, here's something that everyone reading this gets — a recipe from that December event. This salad was very good and filling, with a surprising crunch from the celery. I asked Simple Truth for the recipe and they were kind enough to provide it.
One of the nice things about this recipe is that you can tailor it to what you have on hand. For instance, I had feta and chicken thighs. No problem, I subbed those for the blue cheese and chicken breasts. And, even though the gift basket does not include the curry cashews, you could easily use regular cashews and just sprinkle a little curry powder on the chicken before cooking it. Or, just go buy some of the curry cashews because they are awesome-in-a-bag. Confession: I've already gone through two bags since December.
Simple Truth Chicken Curry Cashew Salad
Recipe by Fresh Ideas with Leigh Ann; serves 4.
1 tsp Dijon Mustard
1/4 cup Simple Truth Olive Oil
2 tbsp Rice Wine Vinegar
3 tbsp Blue Cheese, crumbled
6 Green Onions, chopped
4 Simple Truth Chicken Breasts, cut into 2-inch cubes
1 Package Simple Truth Organic Spring Mix, 16 ounces
3/4 cup Green or Red Grapes, halved
1/2 cup finely chopped Celery,
2 tbsp Simple Truth Dried Cranberries
1 Bag Simple Truth Curry Cashews, (5 ounces)
Sea Salt & Freshly Cracked Black Pepper
Mix mustard, oil, vinegar, crumbled blue cheese, salt and pepper. Set aside. Heat 1 tbsp. olive oil in a large skillet. Add green onions and sauté for 1 minute. Add chicken cubes and cook for 5-7 minutes, until golden brown. Remove from skillet; set aside.
In a large bowl, add spring mix, grapes, celery and cranberries and chicken. Toss with dressing.
Plate on four large plates and top with cracked pepper and curry cashews.
Winner has been chosen and is being notified. Thank so much everyone for entering!