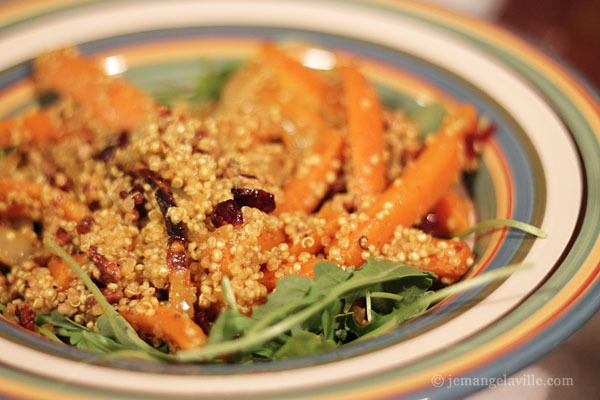 Quinoa is one of my favorite grains. I can't remember when I first tried it — I think maybe a couple of years ago? But ever since that first experience, I'm always looking for new ways to use it. I'm not quite sure what it is but I really like the texture and flavor — soft but still a bit toothsome, but with a slightly nutty flavor.
Tossed with spicy, roasted carrots, pecans, cranberries and peppery arugula, this is a great way to incorporate quinoa. There's also a good chance that all the spices needed for the spice mix are already in your cabinet so you really don't have an excuse to not give this a try. It may seem like a lot of work, but after you combine the spices together, you're basically just using it as a seasoning for roasting the carrots, flavoring the dressing, and mixing in with the final salad.
After I photographed this meal, I got the lightbulb-worthy idea to crumble some feta on top of the salad — you should definitely do that.
Also, we don't really stick to a Meatless Monday schedule, as we have a lot of meatless meals throughout the whole week, but I thought I'd mention how great of a choice this is for Meatless Monday, as quinoa is packed with protein.
Roasted Carrot and Quinoa Salad
Adapted from a recipe in Food & Wine Magazine; serves 2-4
2 tsp smoked paprika
1/2 tsp ground turmeric
1/2 tsp ground cumin
1/2 tsp ground ginger
1/2 tsp ground coriander
1/2 tsp ground cinnamon
1/8 tsp cayenne pepper
1/4 tsp ground cardamom
Salt & freshly ground black pepper
3 large carrots, thinly sliced lengthwise
1/2 small red onion, thinly sliced
3 tablespoons extra-virgin olive oil, divided
1/4 cup pecans
1/2 cup quinoa (ETA: should you rinse your quinoa? see the comments for more info)
1 cup water
3 tsp fresh lemon juice, divided
3 oz arugula
1/4 tsp finely grated lemon zest
1/2 tsp Dijon mustard
1/4 cup dried cranberries
1/4 cup chopped cilantro or flat-leaf parsley
Optional: 1/4 cup crumbled feta cheese
Preheat the oven to 400°F. In a small bowl, whisk the paprika with the turmeric, cumin, ginger, coriander, cinnamon, cayenne, cardamom and 1/2 tsp each of salt and black pepper. In a medium bowl, toss the carrots with the onion and 1 tablespoon of the oil. Add 3 tsp of the spice mix and toss to coat.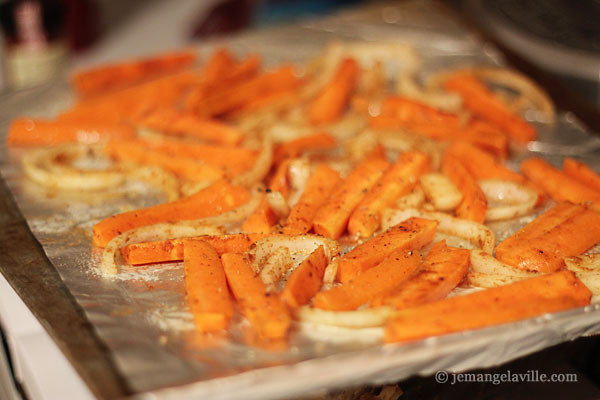 Spread the vegetables on a rimmed baking sheet and roast for 20 to 25 minutes, stirring once or twice, until tender.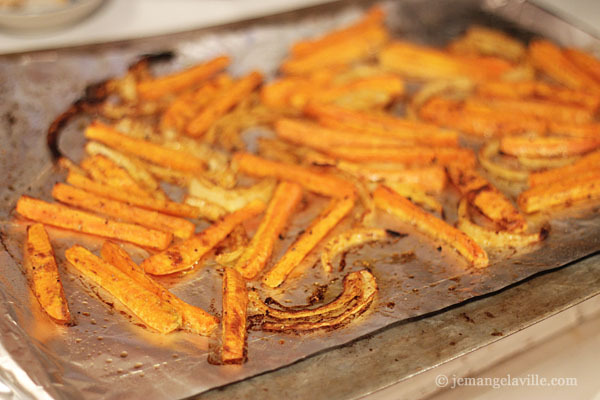 Meanwhile, spread the pecans in a pie plate and bake for about 7 minutes, until golden. Let cool, then coarsely chop.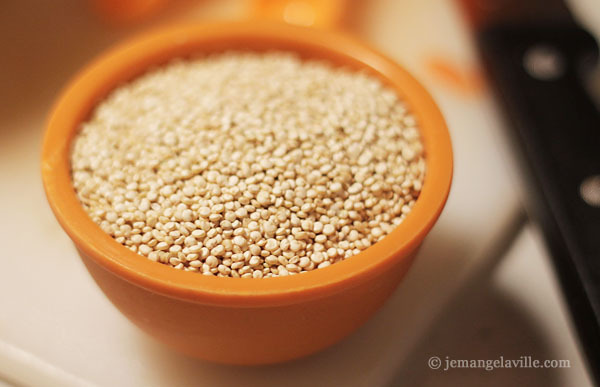 In a medium saucepan, combine the quinoa with 1-1/2 tsp of the spice mix and the water and bring to a boil. Cover and simmer over low heat until the water is absorbed and the quinoa is tender, about 17 minutes. Uncover, fluff with a fork and let cool slightly.
In a large bowl, whisk 1 tablespoons of the oil with 2 tsp of the lemon juice and season with salt and black pepper. Add the salad greens and toss to coat. Add the greens to a large bowl.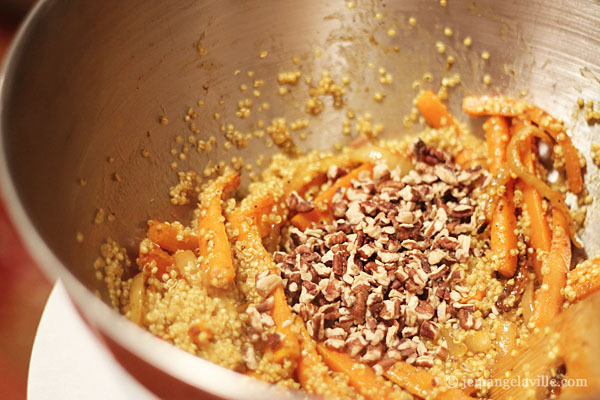 In the same bowl, whisk the remaining 2 tablespoons of oil with the remaining 1 tsp of lemon juice and the zest, mustard and remaining 1/2 tsp of the spice mix; season with salt.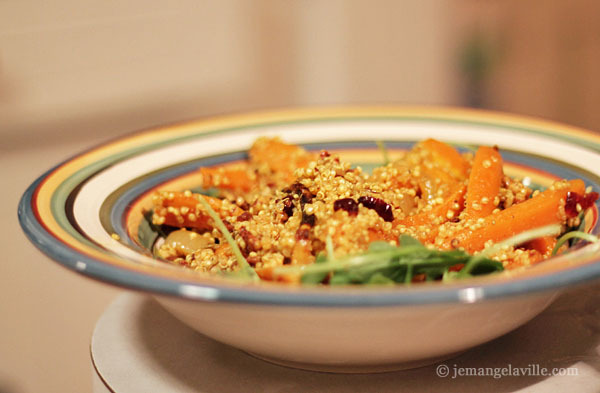 Add the quinoa, walnuts, cranberries, parsley and roasted carrots and toss well. Spoon the quinoa salad on the greens and serve.