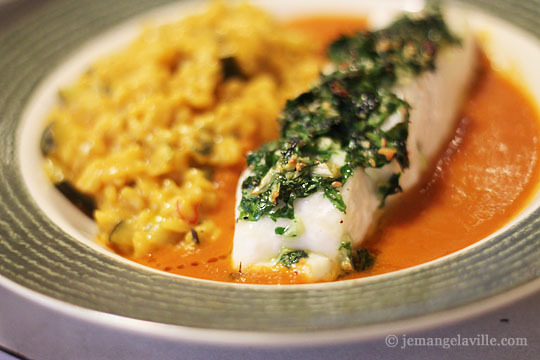 Originally, this dish called for cod, which sounds just as delicious, but I happened to have some halibut. So that's what I used. I made a few changes from the source material — I used half cilantro/half parsley (recommended!) and I added a little garlic to the herb mix as well. I also used about 1/4 tsp dried Aleppo Pepper flakes instead of using a dried chili.
I really can't think of any fish that this wouldn't be good with. And now I'm also thinking it would be fun to grill/char some octopus and have that in the broth, topped with the cilantro/parsley mixture.
Hmmm…I'll be back in a bit.
Roast halibut in Red Bell Pepper Broth / Bacalao en Caldo de Pimientos Asados
Adapted from The New Spanish Table by Anya Von Bremzen
1 small, dried hot pepper, stemmed and seeded (or substitute 1/4 tsp dried chili flakes)
4 large red bell peppers, cored, seeded and cut in half lengthwise
3 tbsp olive oil, plus more for brushing vegetables and drizzling finished dish
4 green onions, trimmed
1 small onion, chopped
2 cups chicken stock (or fish stock)
1 tbsp sherry vinegar
1 large pinch of sugar
1/2 cup chopped flat leaf parsley (sub in half cilantro, if you'd like)
2 cloves garlic, minced
4 skinless halibut fillets, about 2 lbs total
kosher salt & freshly ground pepper
Place the dried chili in a bowl and cover with hot water. Let soak while you roast the bell peppers and green onions. Preheat the broiler. Arrange the red peppers on a baking sheet and broil until the skin is charred and peppers are soft, about 8-12 minutes.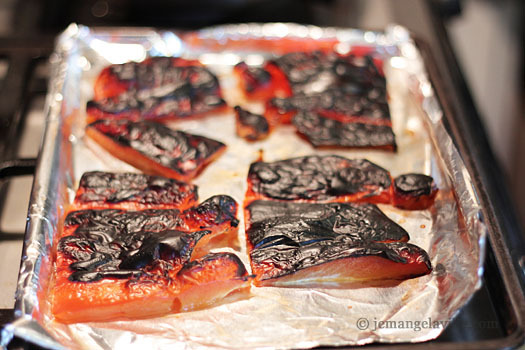 Transfer peppers to a bowl and cover with foil or plastic wrap and let steam for about 15 minutes. While the peppers are steaming, broil the green onions for about 3-5 minutes. Transfer green onions to a plate and set aside. Peel the charred skin from the peppers and chop them coarsely. Drain the chili pepper and chop.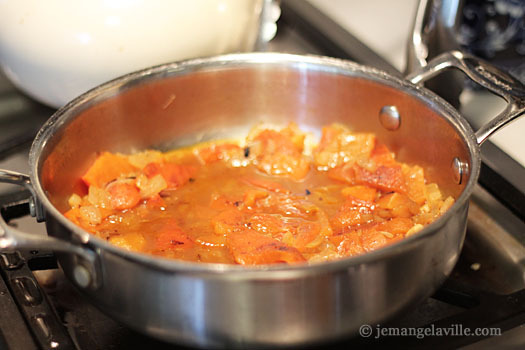 Heat 1 tbsp of olive oil in a pan over medium heat and add the onion. Cook for about 7 minutes, and then add the chili and the red bell peppers. Stir for about 1 minute and then add the stock, along with the vinegar and sugar. Reduce heat to low, cover the pan and simmer for about 20 minutes. Taste for seasoning and then strain the broth through a fine sieve, pressing on the peppers to get as much liquid as possible.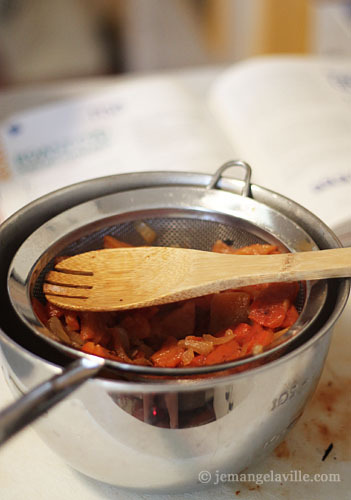 Puree 1/2 cup of the strained peppers in a blender with a little of the strained broth and the stir that mixture into the rest of the strained broth. Save the rest of the peppers for another use.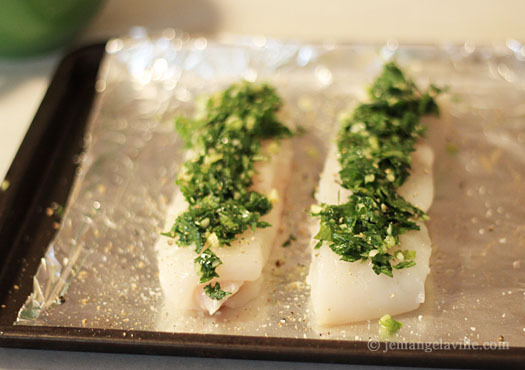 Preheat oven to 475 degrees F. Place the garlic, parsley and cilantro (if using) in a food processor and chop until fine. Scrape into a bowl and mix with the remaining 2 tbsp of olive oil. Season fish with salt and pepper and arrange on a small baking sheet.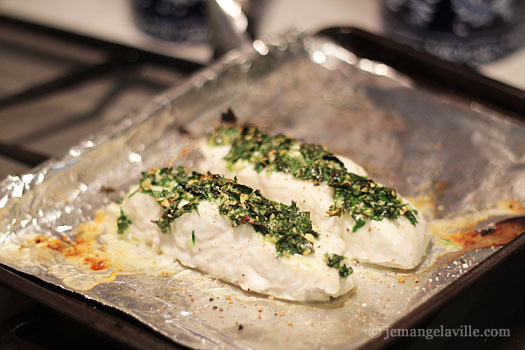 Spread some of the parsley mixture on each piece of fish and bake until it just flakes with a fork, about 10-12 minutes. While halibut is roasting, reheat the pepper broth.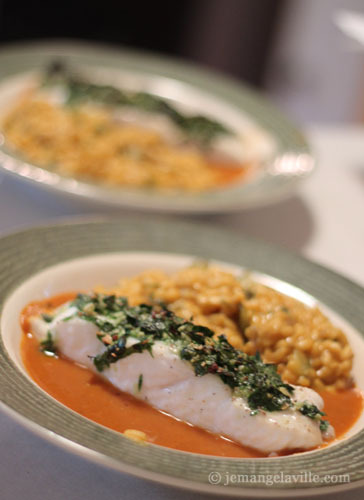 To serve: Place each piece of halibut in a shallow bowl with a grilled green onion and pour about 1/2 cup of the pepper broth around each piece of fish. I gave each bowl a small drizzle of olive oil to finish. We had this with some brown rice and walnut risotto on the side.