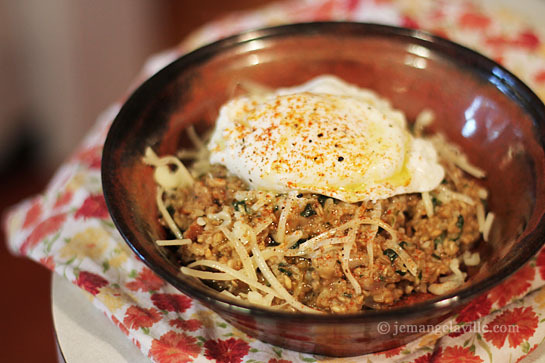 I have just never been a big fan of sweet breakfasts. Give me an egg! And cheese! And keep your oatmeal to yourself. Of course, whole grains are a great breakfast and I have gotten pretty fond of Muesli, but I'm still not super enthused about a big bowl of oatmeal. Until now.
See, you can have your whole grain oats and cheese. And even an egg on top. You can really add any vegetables to this, I just used onion and spinach, but I think sauteed red bell pepper and maybe some artichoke hearts would be great too!
If you're having trouble thinking of oatmeal like this, just consider it a big bowl of tasty breakfast risotto.
Savory Steel Cut Oats with a Poached Egg
Inspired by a recipe by Martha Stewart; Serves 1; easily doubled, tripled or quadrupled.
1 tsp olive oil, plus more for drizzling
2 tbsp diced red onion
1/3 cup steel cut oats
3/4 – 1 cup vegetable or chicken broth
2 tbsp frozen spinach
salt & pepper
1 frozen veggie sausage patty, defrosted (you know you can use real sausage — or even bacon — too)
2 tbsp grated cheese (cheddar, mozzarella, provolone, etc)
1 egg, poached (or cooked anyway you'd like)
optional: smoked paprika
Add olive oil to a pot and saute the onion until translucent. Add oats and stir for a minute in the oil and onion.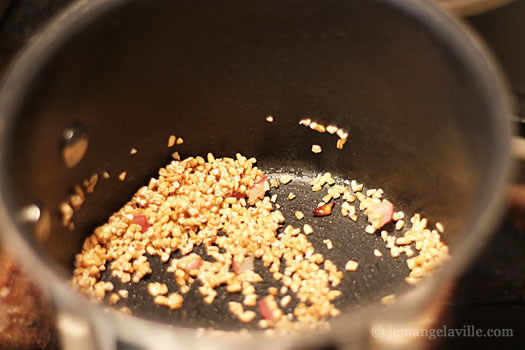 Add broth, frozen spinach and bring to a boil. Turn down heat and simmer 15 – 20 minutes, until the oats are soft and to your liking. Add salt and pepper to taste. You could also add any seasoning mix or dried herbs that you would like, such as Fox Point seasoning (1/2 tsp) or 1/4 tsp dried thyme. I usually start with 3/4 cup broth and add more if the oats aren't quite soft enough (and most of the broth has been absorbed) after about 15 minutes.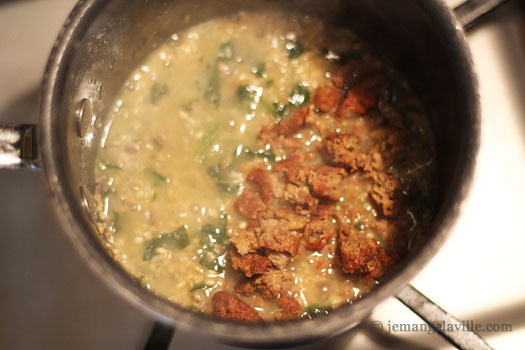 While your oats are cooking poach or fry an egg for the top. When the oats are almost done, add the crumbled, defrosted veggie sausage. Stir to combine and give the sausage a minute or two to heat up. Taste and season with salt and pepper.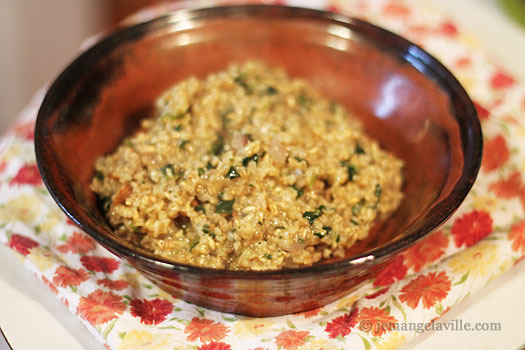 Dish oats up into a bowl and sprinkle with the cheese.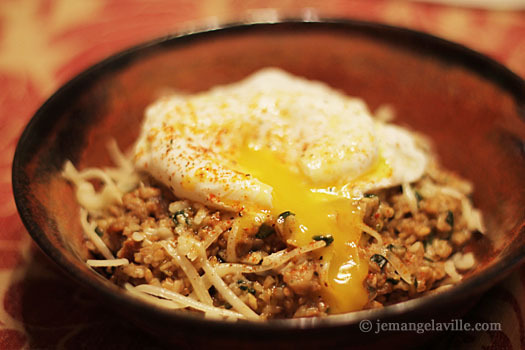 Top with the egg and add little more salt and pepper. Drizzle with olive oil and, if using, sprinkle with some smoked paprika.