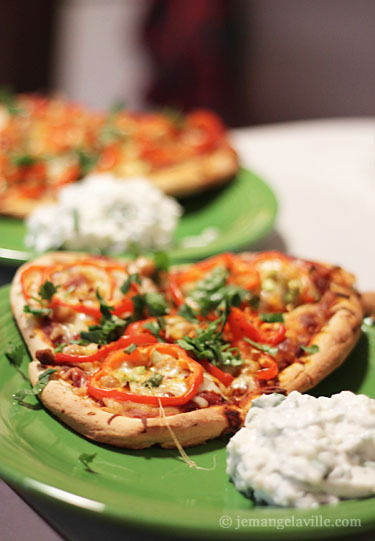 Occasionally, I find myself coming home from work, feeling very hungry and having absolutely no idea of what to make for dinner. I do know that I want it to be relatively easy and super, super good, though. Just such an evening was the beginning of Naan pizza. See, I really wanted pizza and we had everything to make pizza except pizza dough or even a boboli crust stashed somewhere in the fridge.
"Think, me. Think," I thought to myself. I even searched the fridge for some english muffins, for the in-college-favorite, english muffin pizza. Nope. I didn't even have that option. Aggghhh! Then, I poked my head in the freezer and the evening was saved. Naan! We had naan. Garlic naan, even. To be specific: Trader Joe's Frozen Garlic Naan. "Yes, that would make awesome pizza," I thought or possibly even said out loud. And it certainly did.
This could easily be made with whatever pizza topping-whatnots you had on hand. I just happened to have everything that I listed below but I really think this would work with whatever combination you felt like trying out. I embraced the Indian-influence of the naan by adding curry powder to the tomato sauce.
Naan Pizza with Garlicky Yogurt & Greens
Serves 2.
For Pizza:
2 frozen pieces of Naan
1/2 cup of your favorite pizza sauce (I used Dave's Gourmet Wild Mushroom)
1/2 tsp curry powder
1/2 cup (or more) canned garbanzo beans, drained and rinsed
1 cup shredded mozzarella cheese
1 red bell pepper, cored and sliced
2 green onions, chopped
1/4 cup chopped cilantro
For Yogurt:
1-1/2 cups Greek yogurt (low fat, plain)
1 small cucumber, peeled, seeded and grated
1/2 cup loosely packed spinach or arugula leaves, chopped
1-4 garlic cloves, minced (depending on how garlicky you want the yogurt)
pinch of cumin
salt and pepper
Preheat oven to 425 degrees F. If you've got a pizza stone, you could pop that in the oven too. Mix the curry powder into the pizza sauce and divide between the naan, spreading out evenly.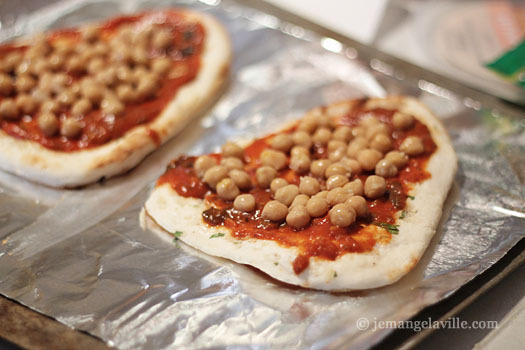 Next, add the garbanzo beans, cheese, bell pepper and green onion.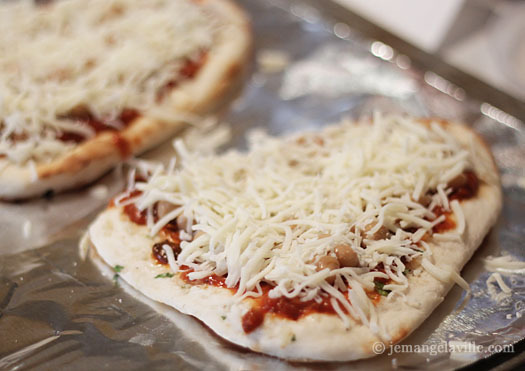 Slide onto the pizza stone (if using) and bake for about 20 minutes.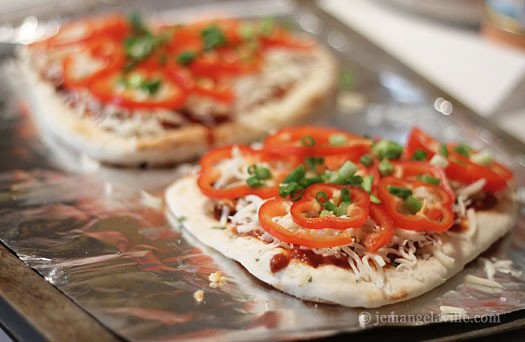 While the pizza is baking, you can mix up the Garlicky Yogurt & Greens.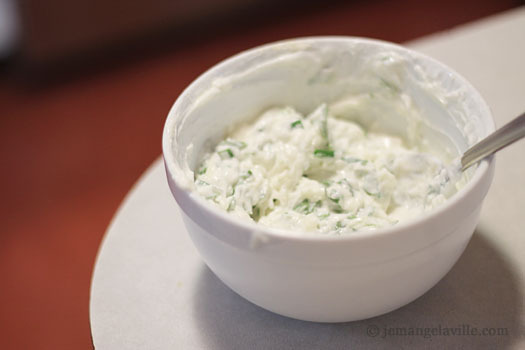 Squeeze out any moisture from the cucumber (I use a kitchen towel for this) and then mix together with the yogurt, chopped greens, cumin and garlic. Season with salt and pepper to taste.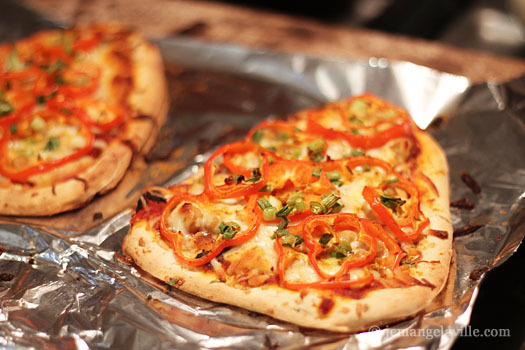 When the pizzas are done, sprinkle with chopped cilantro and serve with the yogurt.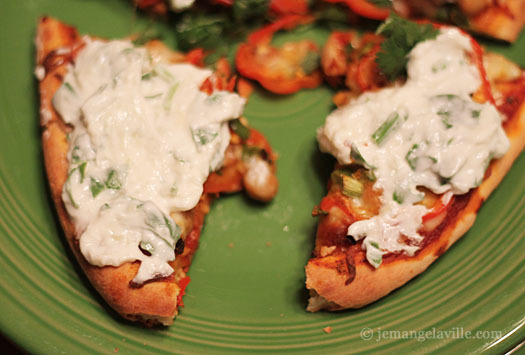 The pizza is especially good with the yogurt slathered on top.