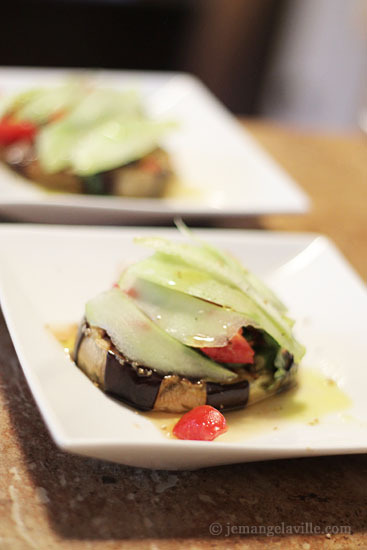 Wow! Well, I think I have found my most favorite French Fridays with Dorie ever! And that's so surprising because I didn't think this would be anything special at all. Something about the eggplant and vegetables and shaved cucumber slices that all just really worked together. I dunno…maybe it's just olive oil-vinegar-herb-grill pan magic.
Speaking of grill panning, that is one thing I did differently, as we're having a bit of a heat wave and here's just no way I could have turned on my oven. Not even for nachos, so no way I'm roasting eggplant slices. I'm just saying…
Notes: (and there are many because I changed a lot)
1. I grilled my eggplant slices for about 5-7 minutes per side and got really nice grill marks and my eggplant softened up quite a bit. I also sprinkled a little garlic powder on my eggplant slices just because. Why not?
2. The tomatoes (Romas) and cucumber were from our garden!
3. I made a smaller recipe, with two slices of eggplant and a fractions of the tomatoes, cucumber, onion, etc.
4. Instead of oregano, I used fresh basil (also from the garden)!
5. White balsamic instead of red wine vinegar. I sub these vinegars a lot. I'm not a huge fan of red wine vinegar and white balsamic (I don't think) is as sweet for regular balsamic, so it's a good fit for most vinaigrette.
Okay, here's a link to everyone's posts and here are some pictures.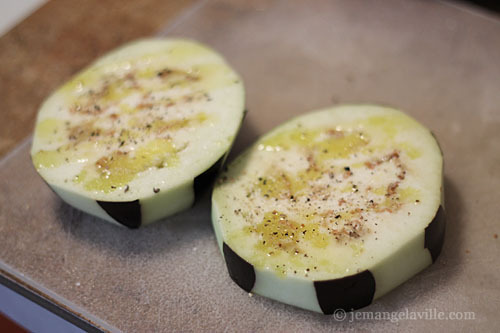 Eggplant slices salted, peppered and oiled up.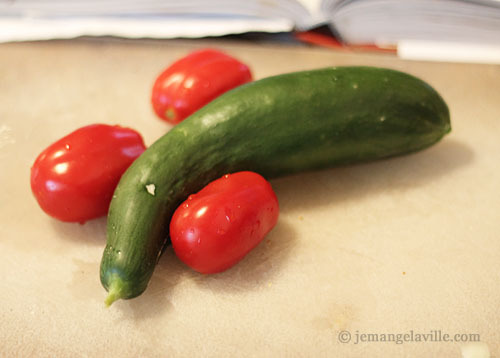 Tomatoes and cucumber from the garden.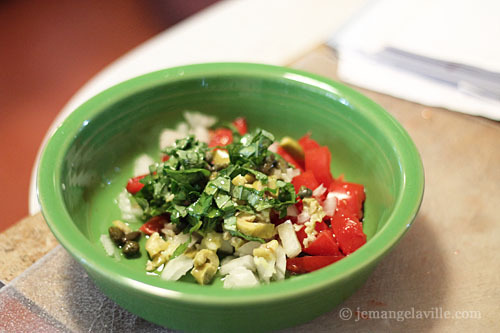 Tomatoes, onion, green olives, basil, garlic, capers, and vinegar.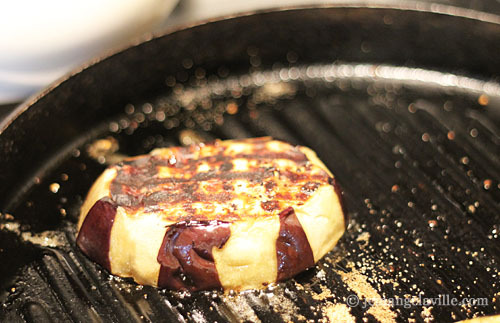 Grilling eggplant slices in the trusty grill pan.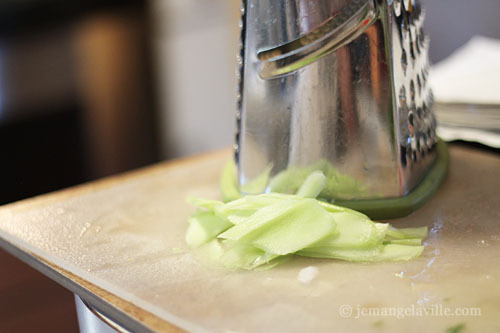 I used a box grater for the cucumber slices. Somewhat successfully.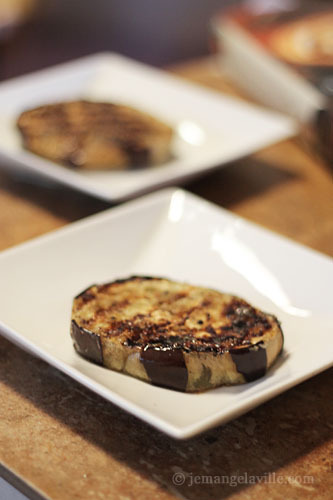 Getting ready to stack stuff on top of the grilled eggplant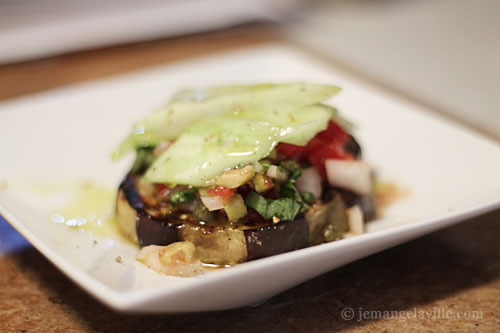 So amazingly good. I was seriously amazed.