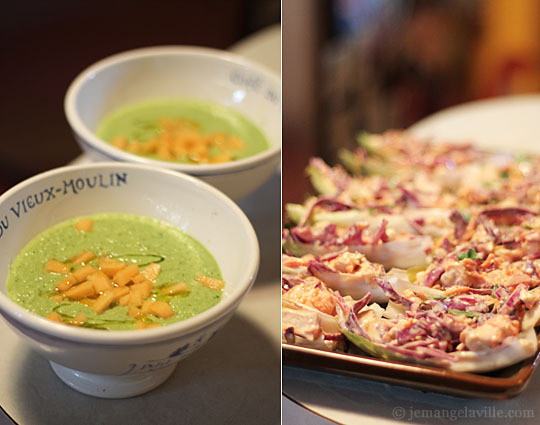 So, hey, welcome back summer! We're even supposed to be at about 95 degrees on Friday. Why? WHYYYYYY??? Well, I guess the tomatoes will enjoy the heat. Myself, on the other hand, will not be enjoying it. I may have to resort to eating the leftovers from this cool chicken salad in the basement, with the fan going.
The cucumber gazpacho can easily be doubled. I used our one (so far!) super-large garden cucumber and the soup made two pretty generous bowls. And the salad…the salad was so good! It looks really pretty too, I think these little stuffed leaves would make a great party appetizer. Or you could just eat them down in your basement, trying to stay cool on a too-hot summer/fall day.
Cucumber Gazpacho with Melon
Adapted from a recipe by CuisinArt Resort & Spa; makes 2-4 servings.
1 large cucumber, peeled, seeded, and coarsely chopped
2 green onions (white and green parts), coarsely chopped
1/4 cup chopped cilantro leaves
1/4 cup chopped parsley leaves
1/2 tsp dried dill
1/2 tsp dried mint
1 (1/2-inch) piece fresh ginger, coarsely chopped
1 clove garlic, coarsely chopped
3 tbsp extra-virgin olive oil
1/4 cup plain low-fat yogurt
3/4 tsp kosher salt
1/4 tsp freshly ground black pepper
1/4 tsp hot sauce
1/4 cup diced cantaloupe
olive oil for drizzling
In blender or food processor, combine the cucumber, scallions, fresh and dried herbs, ginger, garlic, olive oil, and yogurt and process until smooth, about 1 minute.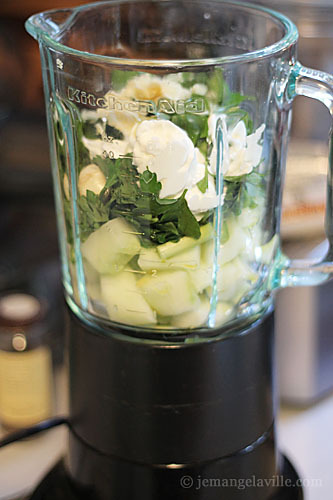 Stir in salt, pepper, and hot sauce and taste. Adjust seasonings, if needed. Transfer gazpacho to lidded container and refrigerate 1 hour or up to 4 hours. Divide soup evenly among 2 chilled bowls and top each with the diced cantaloupe and a drizzle of olive oil. Serve immediately.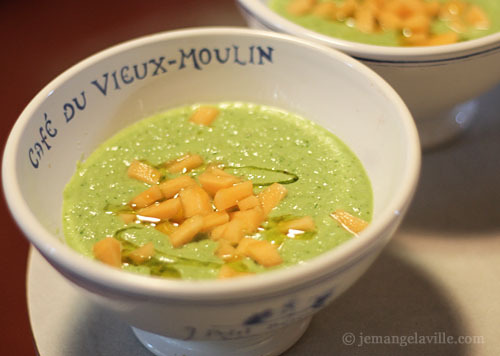 Chicken and Crunchy Slaw in Endive Leaves
Recipe adapted from Giada De Laurentiis; serves 4-6
1 medium carrot, grated
1 cup shredded red cabbage
1/4 cup dried cranberries
1 cup diced, cooked chicken breast
1/4 cup feta cheese
1/4 cup chopped pecans
Dressing:
1/2 cup low-fat Greek yogurt
2 tbsp light sour cream
Zest of 1 large lemon
1 clove garlic, minced
2 tbsp lemon juice
2 tbsp maple syrup
1/2 tsp kosher salt salt
1/4 tsp freshly ground black pepper
3 Belgian endive spears, leaves separated
For the Chicken and Salad: You can also start with a raw, boneless, skinless chicken breast.
This is what I did — salt and pepper each side liberally and then cook in a skillet, in a little olive oil, for about 6-7 minutes per side until cooked through (over medium heat). Let cool and then dice.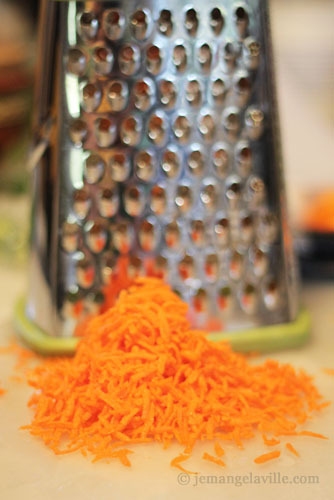 In a medium bowl, combine the grated carrot, shredded cabbage, cranberries, feta, pecans and chicken.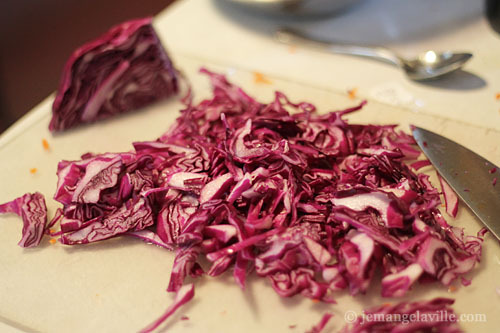 For the dressing: In a small bowl, whisk together the yogurt, sour cream, lemon zest, minced garlic, lemon juice, maple syrup, salt and pepper until smooth.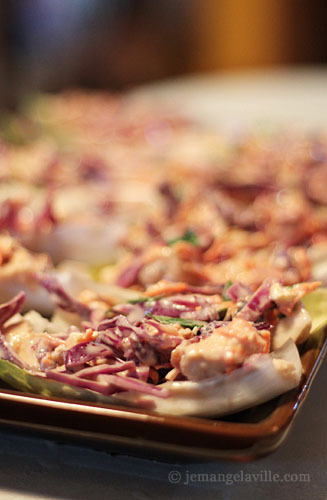 Pour the dressing over the cabbage mixture and toss to combine well. Spoon the filling into the endive leaves and serve.