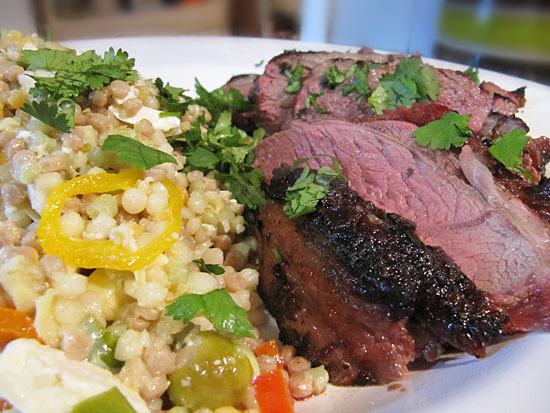 Update: You can vote here: 2012 O-Lamb-Pics. Mine is the 4th one down! Thank you!
Well, here is my entry to the Fans of Lamb Summer O-LAMB-pics grilling recipe contest. This recipe features a boneless leg of lamb and although I have never grilled a leg of lamb before (I've only oven-roasted), I decided to throw caution to the wind and give it a try. And, I think it turned out pretty delicious.
I used a sort of Moroccan and Indian-influenced spice blend with some yogurt as a marinade and paired the grilled lamb with a pearl couscous salad. So, it's sort of maybe a Mediterranean-Eastern-Savory-Exotic-type thing? Yeah.
Also, starting on July 11th, you can vote for my recipe at FansofLamb.com, so please do so if you think this looks good (it really, really was)! If I win, I get more lamb! Hooray!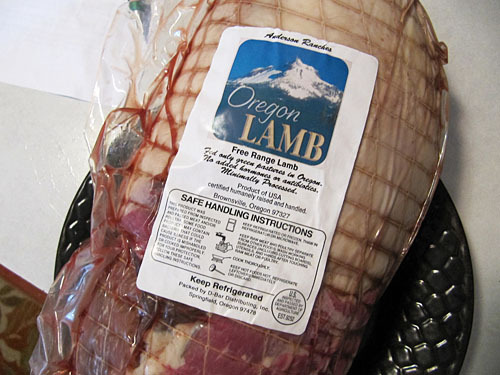 Starting of with local lamb!
Grilled Yogurt-Spiced Leg of Lamb
Serves 8-10-ish
1 1/2 cups plain yogurt (regular or low fat)
1 tsp salt
juice of 1 lemon
1 Tbsp smoked paprika
1 tsp cinnamon
2 tsp cumin
1/2 tsp cayenne pepper
1/2 tsp ground ginger
1 tsp garlic powder
3 Tbsp olive oil
1 boneless leg of lamb, 5-7 pounds
Garnish: chopped cilantro or parsley
Add the yogurt, salt and lemon juice to a large bowl. Stir to combine. Heat a small pan over medium heat and add the Smoked Paprika through the garlic powder. Stir for about 30 – 60 seconds until very fragrant.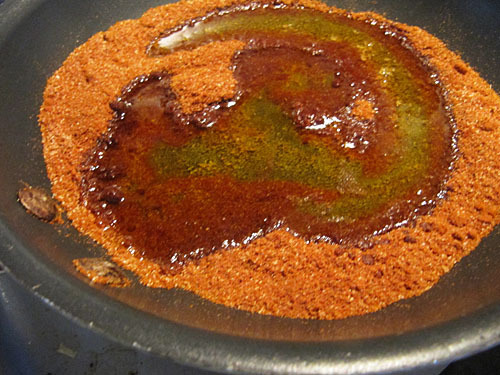 Pour in the oil and stir to make a loose paste, then pour that mixture into the yogurt and combine to make the marinade.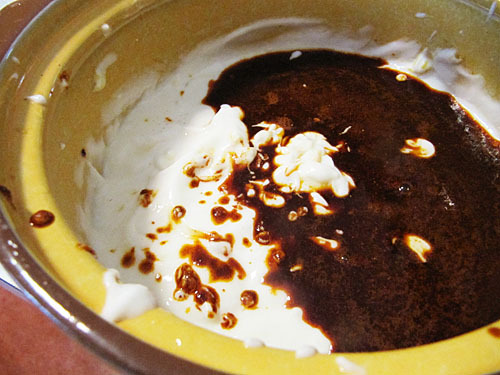 Remove any netting from the leg of lamb and lay flat on a cutting board. Use a knife to butterfly any large, uneven areas. You want to get it relatively the same thickness. It doesn't have to be perfect, just try to even it out a little if the thickness varies widely in some places.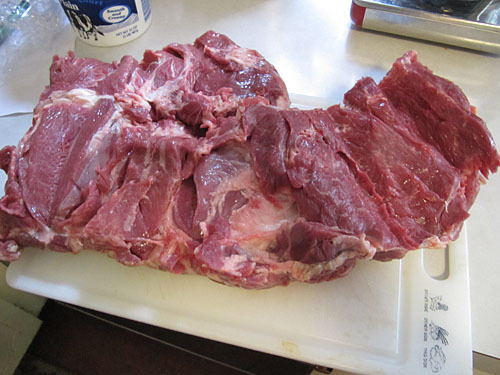 Put the lamb in a large container or dish (a lasagna-sized baking pan works well) and pour the marinade over. Slather it around on both sides and get it well covered with the yogurt. Cover with plastic wrap and refrigerate at least 6 hours to overnight (I let mine go for about 18 hours).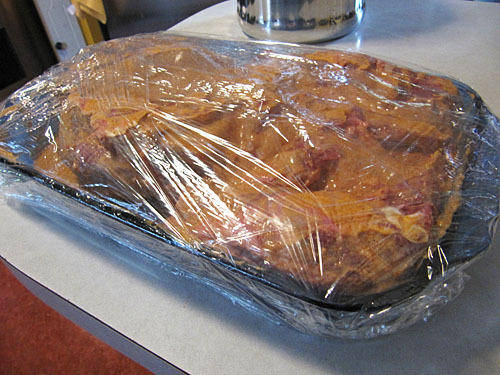 You may also choose to cut the leg of lamb into two pieces. This is especially a good idea if you have a smaller grill or your leg of lamb is very large. Mine was about 6.5 pounds, so I did this.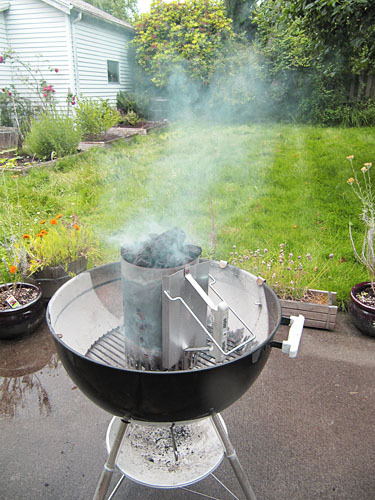 Get your grill ready. If using charcoal, make a hot side and a 'not as hot side' by stacking most of the hot coals on one side of the grill. Take the lamb out of the refrigerator about an hour before grilling. Before taking the lamb to the grill, wipe off the marinade using some paper towels. It doesn't have to be completely free of the yogurt, you just don't want any big globs of it remaining on the lamb. Salt and pepper each side lightly.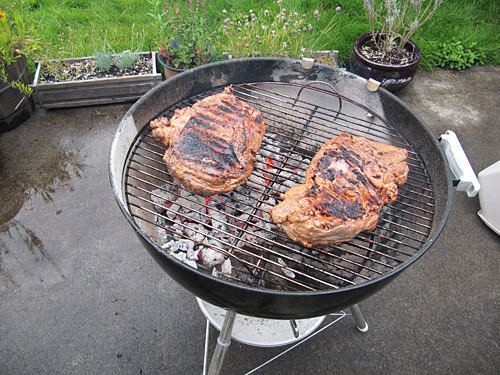 When the coals are ready, oil the grill with sunflower or other high-heat oil and sear the lamb on each side over the coals, about 2-4 minutes, then move over to the 'not as hot' side. Put the lid on and grill. If you have two pieces of lamb, start checking for done-ness after about 20 minutes. If you left the leg whole, start checking after 35 minutes (but expect that it could take up to an hour or so to cook to your liking).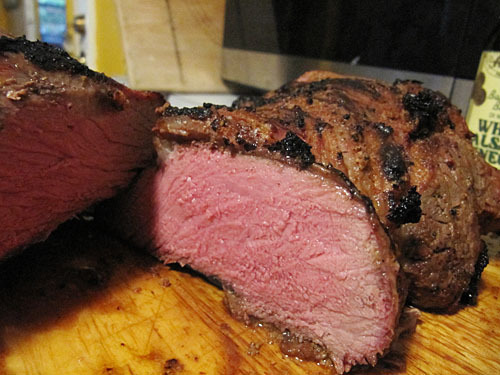 For medium rare, you're looking to pull the lamb off the grill when it has an internal temperature of around 130 degrees F. My two pieces took about 35 minutes (after the initial searing) to reach that. After taking the lamb off the grill, cover with foil and let rest 10-15 minutes. Slice and serve…perhaps with some Pearl Couscous Salad?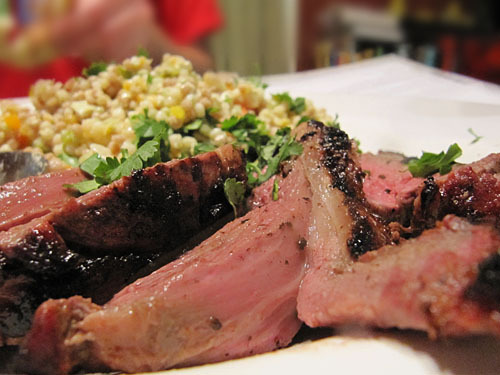 Pearl Couscous Salad
Serves 8-10
3/4 cup olive oil
1/4 cup lemon juice
1/4 cup white balsamic vinegar
4 cloves garlic, minced
1/2 tsp dried oregano
salt and pepper
2 cups pearl couscous (orzo pasta would also work well)
1 can artichoke hearts in water, drained and quartered
1/2 cup pitted green olives, roughly chopped
2 bell peppers (red, orange or yellow), cored and chopped
6 green onions, chopped
1/2 cup crumbled feta cheese
Garnish: chopped cilantro or parsley
Make the dressing: whisk together the olive oil, lemon juice, white balsamic, garlic and oregano. Season with a little salt and pepper. Set aside.
Toss together the artichoke hearts, olives, bell peppers and green onions in a large bowl. Cook pearl couscous according to the package and then add to the bowl with the vegetables. Toss with the dressing and refrigerate until cool. Mix in feta. Taste and adjust salt and pepper. Continue to store in the refrigerator until ready to serve. Garnish with cilantro or parsley leaves.