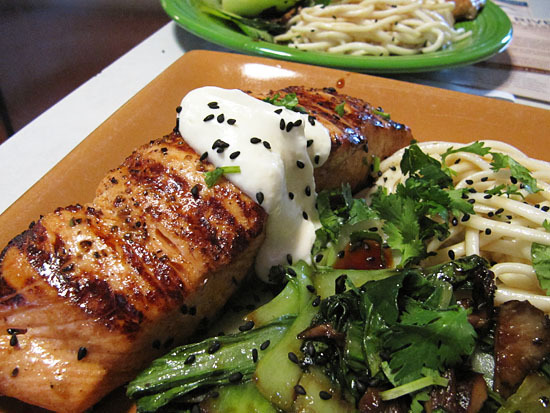 This actually happened: Well, hello there beautiful piece of Copper River King Salmon. Whatever shall I do with you? Goes off to consult cookbook. Hey! The recipe in this cookbook is even specifically for Copper River King Salmon! Looks like this is what's for dinner.
So, yeah, that's kind of how I decided on this one (besides the fact that it looked awesome). And yeah, it seems kind of fussy what with the marinade and the two sauces, but if it's a weekend and you have time to get stuff together earlier in the day, it's pretty easy.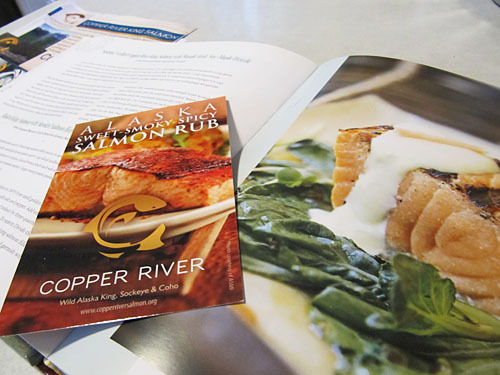 Besides, the King Salmon works just amazingly with the wasabi aioli and the bok choy. I'm usually not a huge fan of bok choy (it always seems too bitter to me), but the Soy-Maple drizzle was so good at balancing out that bitterness.
Copper River King Salmon with Wasabi Aïoli and Soy-Maple Drizzle
Adapted from a recipe in the cookbook, Ocean Friendly Cuisine: Sustainable Seafood Recipes from the World's Finest Chefs
3/4 pound salmon, sliced into 2 pieces
For the marinade:
2 tbsp sesame oil
1/2 cup ginger root, peeled and chopped
6 garlic cloves, crushed
3/4 cups soy sauce
1 1/2 cups water
1 cup rice wine
For the wasabi aïoli:
1/2 cup mayonnaise
3 tsp fresh lemon juice
pinch kosher salt
2 cloves minced garlic
1 tsp minced ginger
1 1/2 tsp wasabi paste
On the side:
3 heads baby bok choy, cut in half
10-12 shiitake mushrooms, stemmed and chopped
1/4 cup maple syrup
2 tbsp cup soy sauce
8 oz cooked Soba or Udon Noodles
White or Black Sesame Seeds for garnish
For the marinade: In a small saucepan heat the sesame oil under medium heat and sweat the garlic and ginger until soft. Deglaze with the rice wine and reduce for 30 seconds. Next add the water (if you want to cool it down faster, use some ice for the water), soy and bring to just a boil. Remove from heat and cool. When cool, add the salmon fillets to the marinade and refrigerate for 2 hours.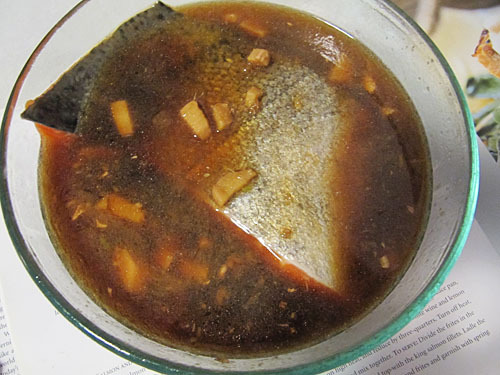 Soy-maple reduction: Combine maple syrup and soy sauce in a small saucepan over medium heat and reduce to about 1/3 cup.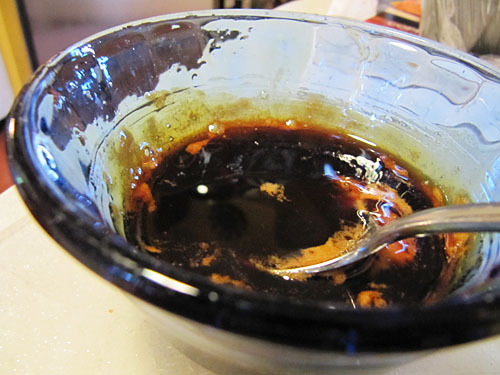 For the Wasabi aïoli: Combine garlic, mayonnaise, ginger, salt, and lemon juice in a food processor. Blend at high speed until combined. Fold wasabi into the aïoli until blended. Taste and add more wasabi if needed.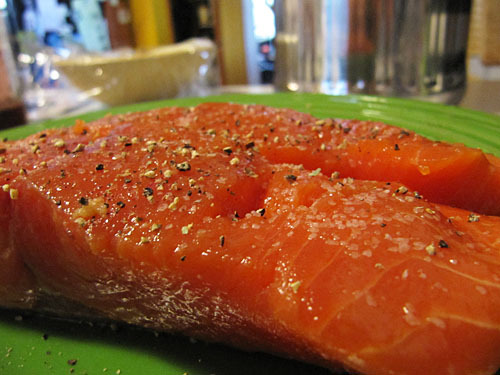 Remove the salmon from the marinade and pat dry, salt and pepper lightly. Now here you can grill or just cook in a pan. I chose a grill pan option. Oil the fillets and grill over high heat for 2 to 3 minutes on each side.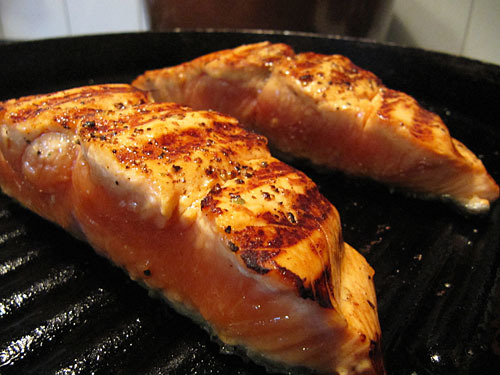 Heat a pan over medium-high heat and add about a tablespoon of canola oil when hot. Add the shiitakes and saute for a few minutes. Roughly chop the baby bok choy and add it to the pan with the mushrooms. Cook bok choy until slightly soft, wilted and golden in spots. Remove from heat until ready to serve.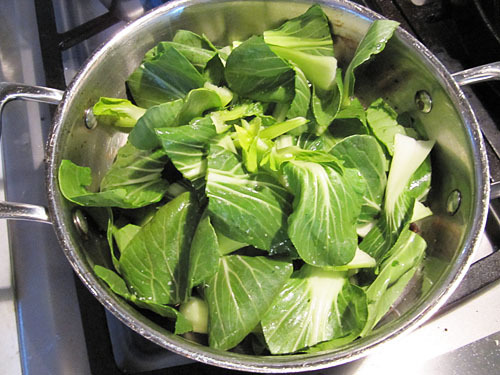 To serve: Drizzle the soy maple around the plate. Put the bok choy to one side and a small mound of noodles on the other side.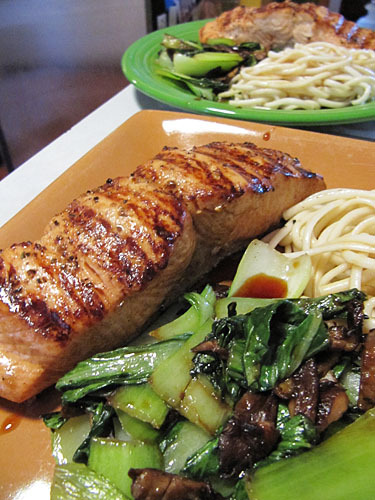 Put the salmon on the plate between the bok choy and noodles. Top it with a dollop of aioli. Sprinkle with black sesame seeds for garnish. Serves two.
Check out the rest of the Fresh Catch Crew:
Plate Fodder | lisa is cooking | Rooftop Gourmet | What's Cooking, Chicago | Heather's Dish | The Salted Spoon | a nutritionist eats | Cookin and Kickin | Justin Davis | Fritos and Foie Gras | Girl Meets Fork | Cafe Johnsonia | Spices and Aroma | Country Cleaver | The Hungry Muse