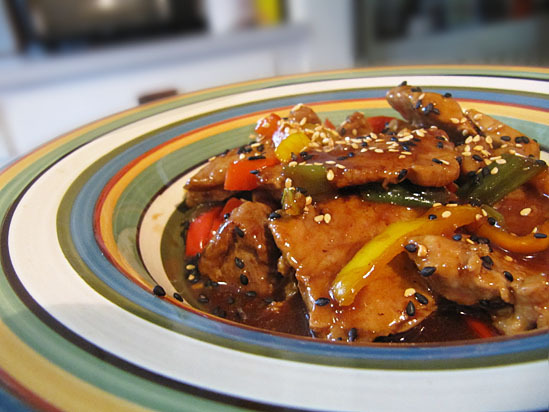 I am always on the lookout for easy recipes that I can make at night and then use the next day for work lunches. So when I saw this recipe at Serious Eats recently, I was really excited because Sweet & Sour anything is kind of an old school guilty pleasure for me. But, then I actually read through the whole recipe and realized it was deep fried. Now, I know that's totally delicious, but it seems like deep fried foods are not great idea to make the night before with the sole purpose of being lunch leftovers.
But, hey, I thought, "What if I didn't do that part? And what if I added a whole bunch of these mini bell peppers that I have in the fridge and I need to use up?"
Well…this is what happened and spoiler alert!!! — it was very good! I also like that you could pretty much use this as a base recipe for sweet & sour anything — chicken or shrimp or even just vegetables.
Sweet & Sour Pork
Inspired and adapted from a recipe in Serious Eats by Chichi Wang. Serves about 4.
1 lb pork tenderloin, sliced into 1/4-inch slices
Kosher salt
1 tbsp Sherry or Shaoxing rice wine
2 tbsp peanut or sunflower oil
2 tbsp white sugar
2 tbsp black Chinese vinegar
1 tsp soy sauce
2 tsp cornstarch
2 red, orange and/or yellow bell peppers cored and thinly sliced
3 scallions, chopped into 1-inch segments
one 1-inch piece of ginger, grated
4 cloves garlic, minced
1/4 cup chicken broth
Cooked brown rice
White and/or black sesame seeds for garnish
Combine 1 teaspoon of the salt and the sherry or rice wine in a medium bowl and stir to combine. Add the pork and refrigerate for at least 30 minutes and up to overnight.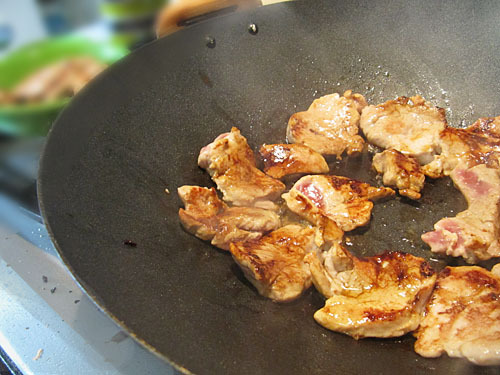 Heat oil in a wok or Dutch over high heat and cook pork about 3-4 minutes, letting it get a little color. Do this in batches, if necessary. Remove the pork with a slotted spoon and transfer to bowl.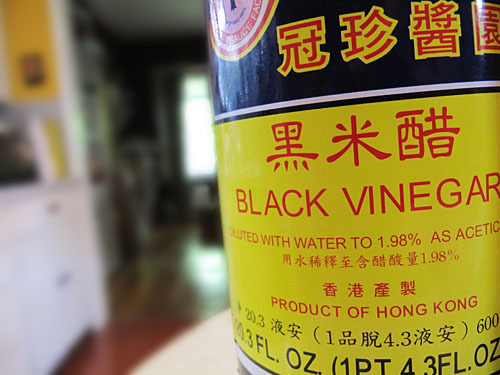 Combine 1/2 teaspoon salt, sugar, vinegar, soy sauce and 2 teaspoons cornstarch in a small bowl and mix to combine.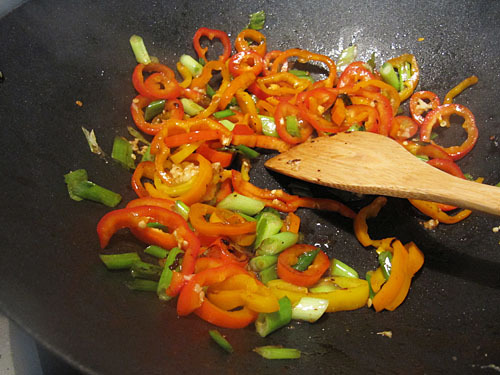 Return wok to medium-high heat. Add the bell peppers and stir-fry until soft, about 4-5 minutes. Add the ginger, garlic and the scallions and continue to cook with the bell peppers, about 30 more seconds. Add the pork back to the wok and reheat with the vegetables for about a minute.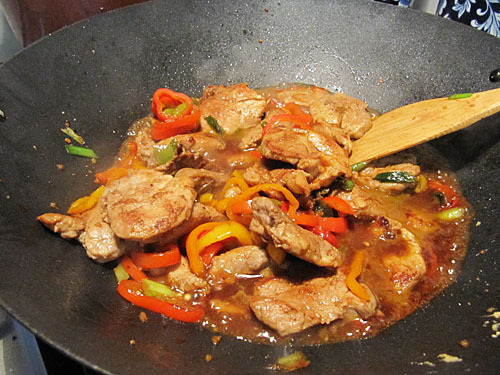 Add the broth and bring the liquid to a simmer, then give the sugar/vinegar/soy mixture a quick stir to remix the cornstarch, then add it to the wok. Cook until the sauce has thickened, about a minute. Serve in bowls over brown rice and sprinkle with the sesame seeds.