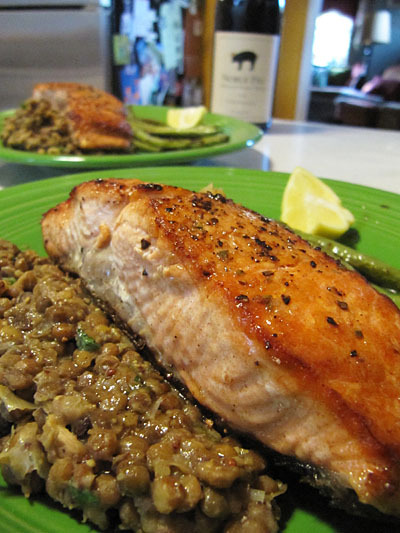 This is super exciting: I got my second shipment of Copper River Salmon this past week. This time it was King Salmon and it was so beautiful! I almost hated to eat it (okay, not really). King, also known as Chinook Salmon, is utterly delicious and has unusually high levels of heart-healthy omega-3 fatty acids. Yay, healthy!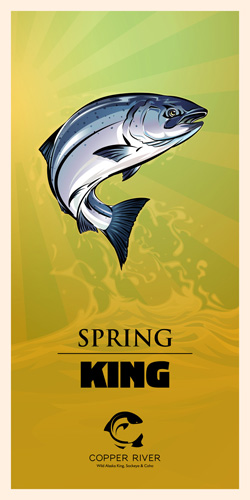 I once had salmon and lentils at 2nd Street Bistro in Livingston, Montana and I remember thinking at the time, "wow, salmon and lentils, who knew?" And then I also thought, "oh, I should make that at home some time." And then I promptly forgot all about it. Flash forward about three, four uh, six years and here we are — with a big plate of delicious salmon and creamy, buttery lentils.
You should definitely give this one a try. Oh and here's a short cut — one of my favorite things at Trader Joe's is their Steamed Lentils (kept by the refrigerated produce). Those work really well in this recipe, just use them in place of dried lentils and start that part at cooking the leeks. Use a little chicken or vegetable broth for the lentil cooking liquid and you're all set.
Salmon with Lentils and Mustard-Herb Butter (Saumon aux Lentilles)
Adapted from a recipe in Gourmet magazine
For mustard-herb butter
2 tbsp unsalted butter, softened
1 1/2 tbsp chopped chives
1 tsp chopped tarragon
1 tsp grainy mustard
1 tsp fresh lemon juice
For lentils
1/2 cup French green lentils
2 cups water
1 medium leek (white and pale green parts only)
2 tsp olive oil
1/2 tbsp fresh lemon juice
For salmon
2 (6-ounce) pieces skinless salmon fillet
1/2 tbsp butter
1/2 tbsp olive oil
Garnish: fresh basil leaves
Stir together all ingredients with 1/4 teaspoon each of salt and pepper. Bring lentils, water, and 1/2 teaspoon salt to a boil in a heavy medium saucepan, then reduce heat and simmer, uncovered, until lentils are just tender, 20 to 25 minutes. Remove from heat and let stand 5 minutes. Reserve 1/2 cup cooking liquid, then drain lentils. While lentils cook, chop leeks, then wash. Cook leeks in butter in a heavy medium skillet over medium-low heat, stirring occasionally, until softened, 6 to 8 minutes.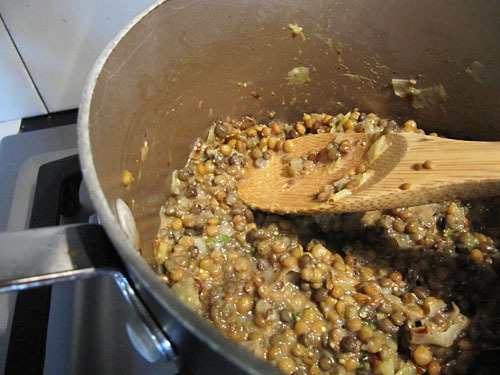 Add lentils with reserved cooking liquid to leeks along with 3 tablespoons mustard-herb butter and cook, stirring, until lentils are heated through and butter is melted. Add lemon juice and salt and pepper to taste. Remove from heat and keep warm, covered.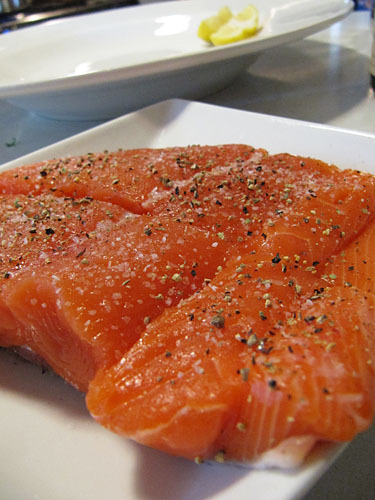 Pat salmon dry and sprinkle with 1/4 teaspoon salt and 1/8 teaspoon pepper.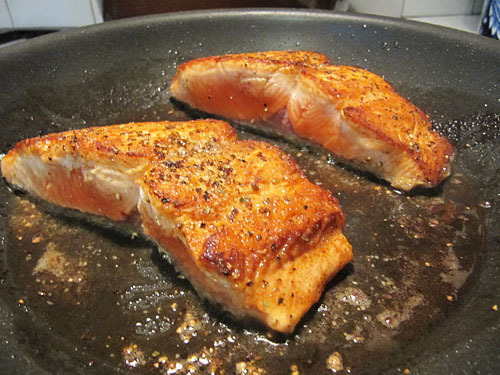 Heat butter and oil in a large nonstick skillet over medium-high heat until foam subsides, then sauté salmon, turning once, until golden and just cooked through, 6 to 8 minutes total.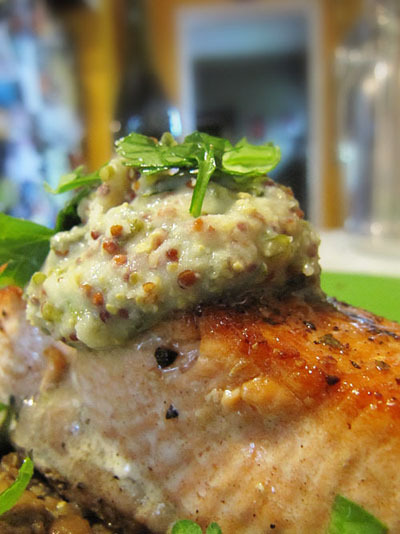 Serve salmon, topped with remaining mustard-herb butter, over lentils. Sprinkle with chopped basil leaves, if using.
Check out the rest of the Fresh Catch Crew:
Plate Fodder | lisa is cooking | Rooftop Gourmet | What's Cooking, Chicago | Heather's Dish | The Salted Spoon | a nutritionist eats | Cookin and Kickin | Justin Davis | Fritos and Foie Gras | Girl Meets Fork | Cafe Johnsonia | Spices and Aroma | Country Cleaver | The Hungry Muse