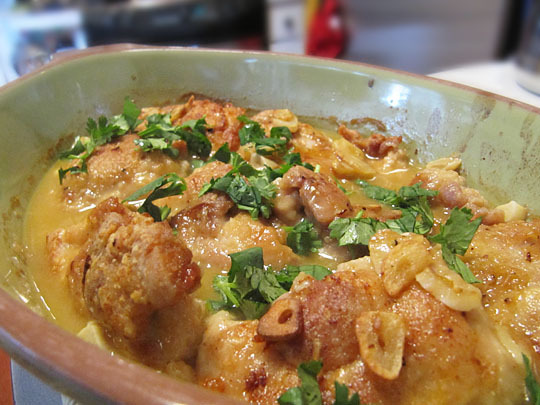 This was a wonderful meal and although not a predictable Summer-type dish, if you have a cooler, maybe even a rainy day this season, this could just be the perfect meal. In my case, since we are in the Pacific Northwest, there's a good chance I'll even be able to make this a couple more times this Summer.
I found my initial garlic cloves got a little dark, so I ended up fishing a lot of them out of the oil, as they got to the point where I thought they were getting close to burning. I'm assuming that's why you keep the peel on those, to aid in protecting them from the pan's heat.
Spanish Garlic Chicken (Pollo al Ajillo)
Adapted from a recipe in The New Spanish Table by Anya von Bremzen.
2 lbs boneless, skinless chicken thighs
Kosher or sea salt
olive oil
1/4 cup AP Flour, for dusting the chicken, plus 1 tsp for the sauce
12 whole unpeeled medium size garlic cloves, lightly smashed, and 10 large garlic cloves sliced
1/2 dried small red chile, such as arbol, crumbled
2/3 cup dry white wine
1/3 cup chicken stock or broth
2 tsp White Balsamic Vinegar
3 tbsp minced fresh flat leaf or Italian parsley
Preheat the oven to 425 degrees F. Place the chicken in a bowl and rub it generously with salt. Let stand for 30 minutes.Pour olive oil to a depth of 1/2 inch in a heavy oven proof 12 inch skillet and heat it over medium high heat until almost smoking. Lightly dust the chicken pieces with flour, shaking off the excess.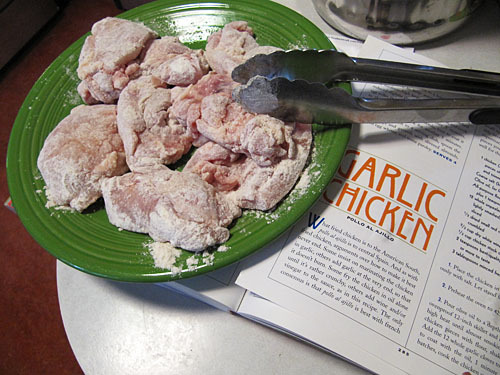 Add the 12 whole garlic cloves to the skillet and stir to coat with the oil, 1 minute. Working in batches if needed, cook the chicken until somewhat crisp and richly browned all over, 8 to 10 minutes per batch, adjusting the heat so that the garlic doesn't burn. If garlic is getting too dark, remove it from the pan.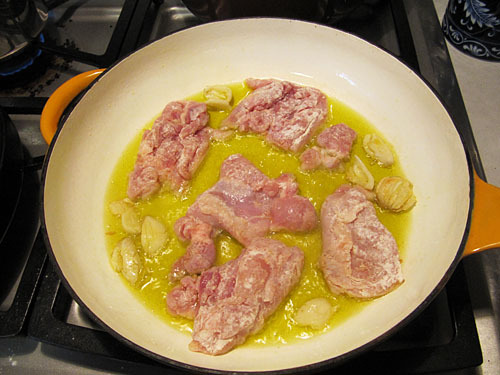 Using a slotted spoon, transfer the browned chicken pieces to a earthenware cazuela or a baking dish of similar size. Discard the whole garlic cloves. If the oil doesn't seem clean enough, pour if off, wipe the skillet, and add 2 to 3 tbsp fresh olive oil. If the cooking oil seems fine, pour off all but 3 tablespoons of it.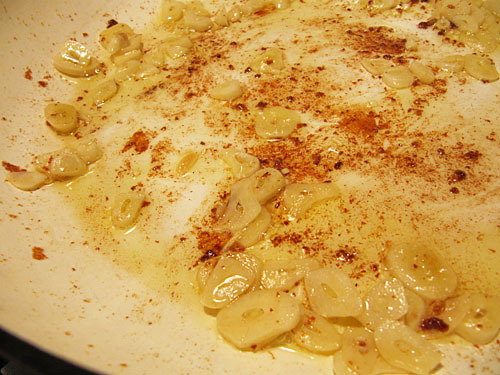 Heat the skillet over low heat, add the 10 sliced garlic cloves, and cook until very fragrant and just beginning to color, about 2 minutes. Add the chile and stir for a few seconds. Add the 1 tsp flour and stir for about 20 seconds. Add the wine and chicken stock and bring to a boil, stirring.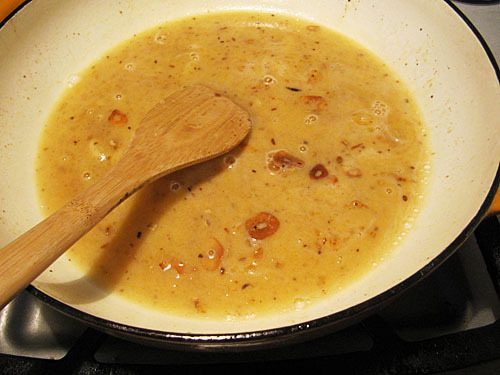 Season the sauce with salt to taste and pour it over the chicken. Bake the chicken until its cooked through, about 15 minutes.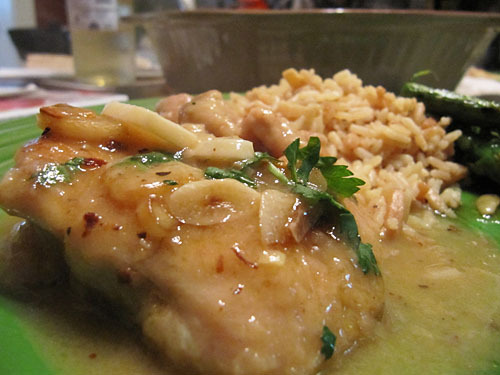 Stir in the vinegar and parsley, coating the chicken evenly with the sauce, and serve. We had this with some rice pilaf and green beans for a great, even-though-it's-late-Spring, it's-still-kind-of-chilly meal!