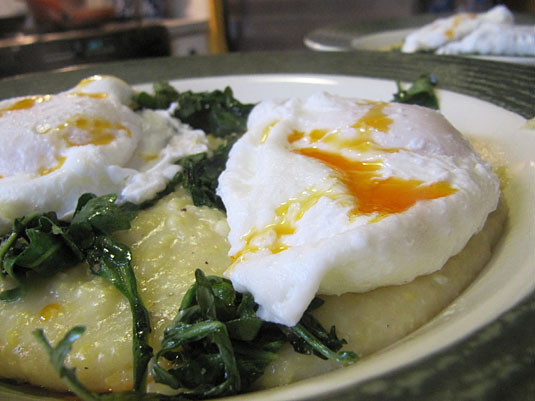 This is a meal that I kind of reverse-engineered from our many brunches at Accanto. Although I have tried many things there for brunch, the dish this is based on is my favorite.
You could easily start here and add even more too it — maybe cook the greens with pieces of crisp bacon? Add roasted onions to the mix (I actually meant to do this. I caramelized my onion earlier and then set them aside in a small dish. I put them in the microwave, meaning to warm them for about 30 seconds before using but…well, I found the small dish of onions in the microwave about 3 days later). Sad face. Crumbled sausage? Sauteed veggies instead of the greens? The possibilities are endless, go for it.
Also, I believe the original inspiration uses heartier greens — kale, chard, etc… but I chose to use arugula because that's what I had.
Poached Eggs over Polenta & Greens with Chili Oil
Serves 2
1/3 cup polenta
1 cup chicken or vegetable broth (+ more if needed)
1 cup milk
2 Tbsp parmesan cheese
1/4 tsp garlic powder
1/2 tbsp butter
salt & pepper
1 tsp olive oil
2 cloves garlic,minced
3 cups spinach or arugula, washed
4 poached eggs (this will entail water and vinegar)
Asian chili oil (I used is chili peppercorn oil)
In a heavy saucepan, combine the broth and milk and bring to a boil. Whisk in the polenta garlic powder. Simmer for about 20 to 30 minutes, stirring often, until the grains are soft. As it cooks, you may very well need to add more broth to keep it at a creamy, soft consistency. When it's done, stir in the butter and cheese and taste for seasoning. Fold in the cheese.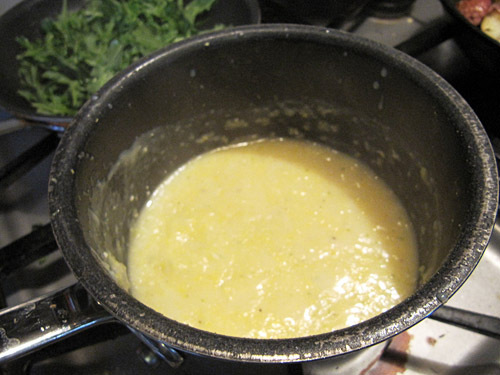 While the polenta is cooking, heat a skillet and add the teaspoon olive oil. Cook the garlic until it's just getting golden, add the greens and turn down the heat to low. Cook, stirring occasionally, until the arugula has wilted. Turn off heat, cover and keep warm until you're ready to plate everything.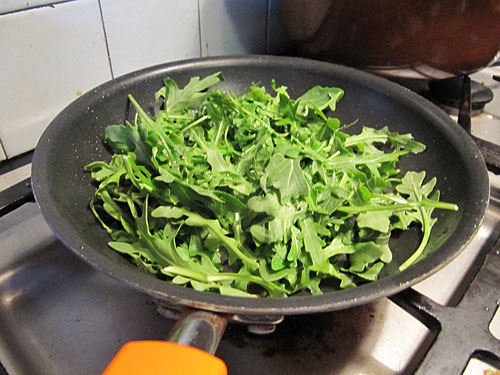 Also, while you are cooking the polenta and greens, poach your eggs. Here is a wonderful tutorial/recipe from Simply Recipes if you haven't done it before. I don't bother with the rings or anything, but I've had great success with the slide eggs into water, turn off heat, cover, wait 4 minutes method. I usually lift the eggs out with a slotted spoon when they are done and let them rest on a paper-towel covered plate to drain for a minute or so.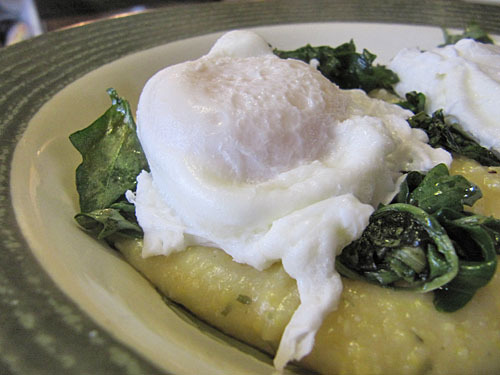 Putting it All Together
Okay, divide the polenta between two wide, flat bowls. Then divide up the greens on top of the polenta, then give each bowl 2 poached eggs, maybe a sprinkle of salt and freshly-ground pepper on top.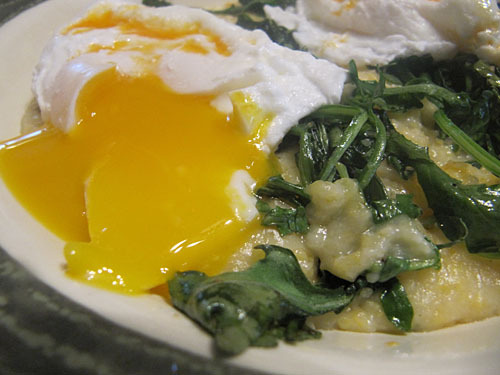 Drizzle with chili oil and bon appétit!