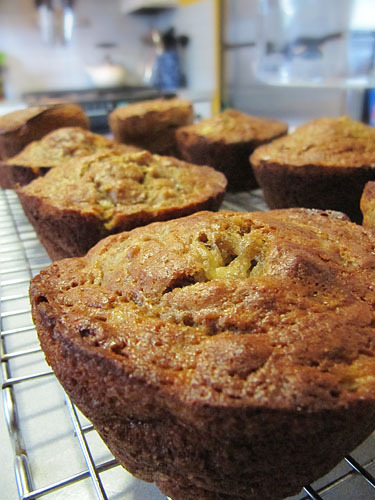 Wow, these are so good. In fact, I think they are my most favorite muffins that I have ever made. Seriously. And, I made them quite a bit healthier than the original. That recipe had 12 tablespoons of melted butter, which is kind of insane, imho. I used 4 tablespoons instead, subbing in some low-fat yogurt for the rest. I also added some whole wheat flour and some flaxseed meal. You wouldn't even know they were kind of healthy if I wasn't telling you. So go ahead and make some and be amazed! They are super moist and very buttery tasting.
If you don't have any ground flaxseed meal, you can just use 2/3 cup of whole wheat flour. But you really should get some — it's very good for you and pretty easy to incorporate into baked goods. Okay, so go make some…I'll wait.
(I Can't Believe They're Kind of Healthy Muffins): Banana Nut Muffins
Recipe adapted (quite a bit) from one by Tyler Florence
1-1/3 cup AP flour
2 Tbsp ground Flaxseed Meal + enough Whole Wheat Flour to make 2/3 Cup
1-1/2 tsp Baking Soda
1/2 tsp Kosher Salt
1/2 tsp ground Cinnamon
1/4 tsp ground Ginger
3 super ripe Bananas
1 cup brown sugar
4 Tbsp melted Butter
3/4 cup low-fat plain Yogurt
2 Eggs
1 tsp Vanilla Extract
1/2 cup chopped Walnuts, toasted (don't skip the toasting — I just threw mine in the toaster oven for about 3-1/2 minutes)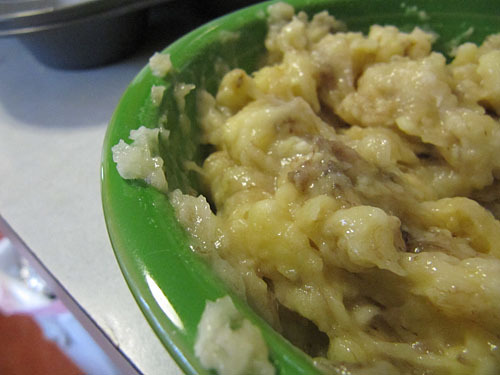 Preheat oven to 375 degrees F and lightly spray a jumbo 6 muffin tin with non-stick spray. You can also use a 12 muffin tin. If you use the jumbo, be ready to accommodate a little overflow. I ended up using two ramekins.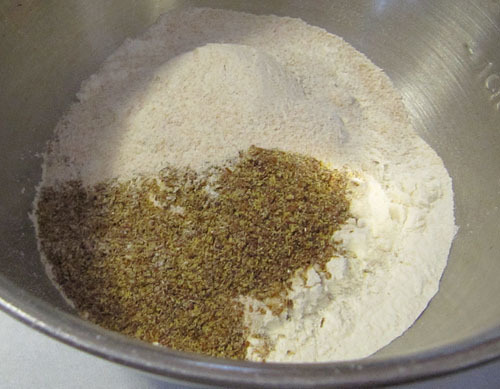 In a large bowl, combine the flours, ground flaxseed meal, baking soda, cinnamon, ginger and salt; set aside. Mash 2 of the bananas with a fork in a small bowl so they still have a bit of texture.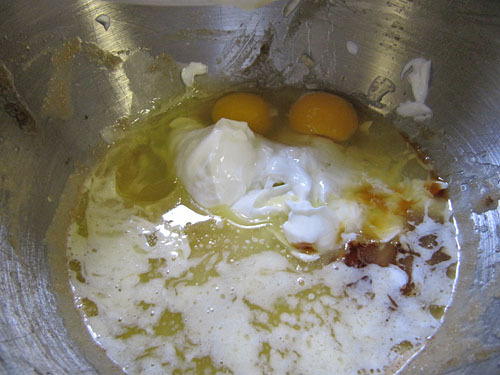 With an electric mixer fitted with a wire whisk, whip the remaining banana and brown sugar together on high speed for about 3 minutes. Add the melted butter, yogurt, eggs, and vanilla and beat well, scraping down the sides of the bowl once or twice.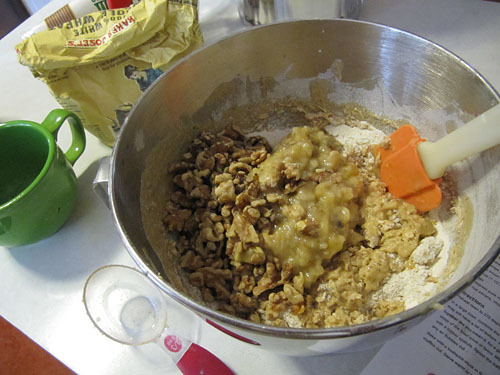 Mix in the dry ingredients just until incorporated. Fold in the nuts and the mashed bananas with a rubber spatula. Spoon the batter into the muffin tins to fill them about halfway. Give them a rap on the counter to get any air bubbles out.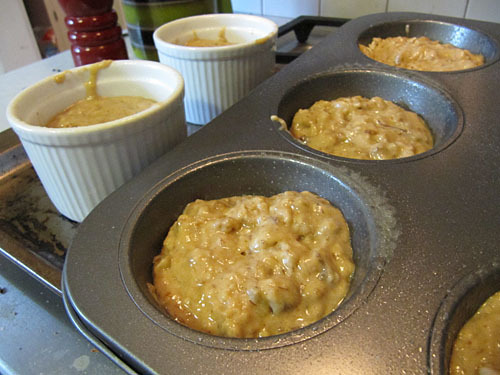 Bake until a toothpick stuck in the muffins comes out clean, 24-28 minutes for jumbo muffins and 18 to 20 minutes for small muffins.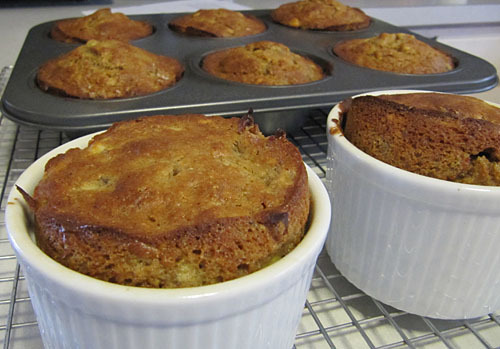 Let cool for a few minutes before turning the muffins out. Serve warm or at room temperature.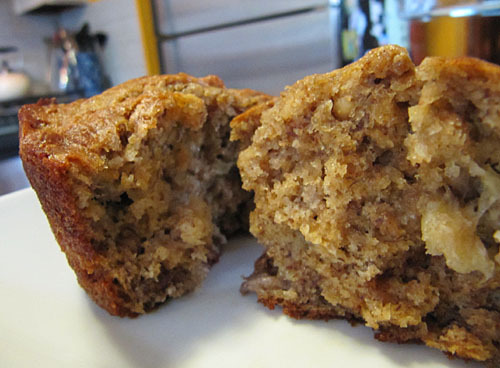 These are so good. Make sure to eat one while it's still warm. If you are using a regular-sized muffin tin, you will probably want to eat two.