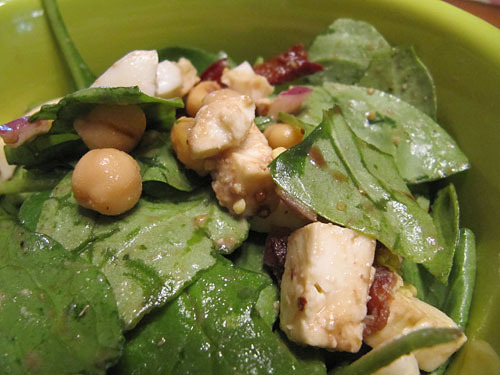 Okay, Summer, welcome! The garden missed you and so did jwa. I could go either way, but I know the garden enjoys you so it's okay. Except that it's hot. Which I guess is okay because then I can make huge salads for dinner. Hey, kind of like this one!
I used the Alton Brown recipe for inspiration and then sort of changed it. A bit less spinach, less bacon, balsamic for red wine vinegar and I added garbanzos and feta for more of a dinner salad type thing. It was delicious! Plus, it gave me an excuse to buy bacon outside of the traditional bacon season in this household (Oct – Feb). Hooray for rule-breaking!
Spinach and Feta Salad with Warm Bacon Dressing
Recipe adapted from Alton Brown
6 ounces baby spinach
2 large eggs
4 pieces bacon
2 tbsp balsamic vinegar
1 tsp sugar
1/2 tsp Dijon mustard
Kosher salt and freshly ground black pepper
4 large white mushrooms, sliced
1/4 cup diced red onion
1/2 can garbanzo beans, drained and rinsed
1/4 cup crumbled feta cheese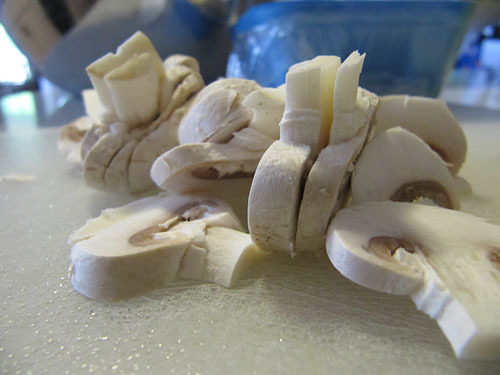 Wash, drain and pat dry thoroughly. Place into a large mixing bowl and set aside. Place the eggs in a soup pot and cover with cold water by at least 1-inch. Bring the water to a boil over high heat. When it starts boiling, turn the heat off and let sit for 15 minutes. Rinse eggs in cold water until you can handle them easily, then peel and slice.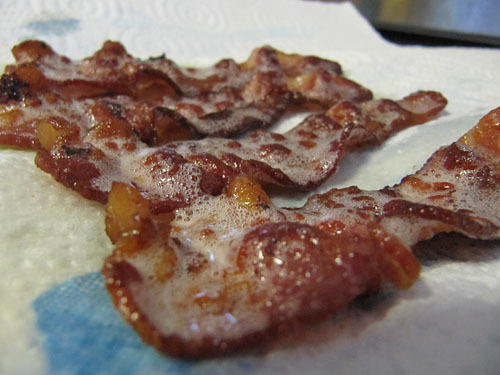 Fry the bacon and when done, drain on a paper towel lines plate. Reserve the bacon grease. When the bacon is cool enough to handle crumble up and set aside.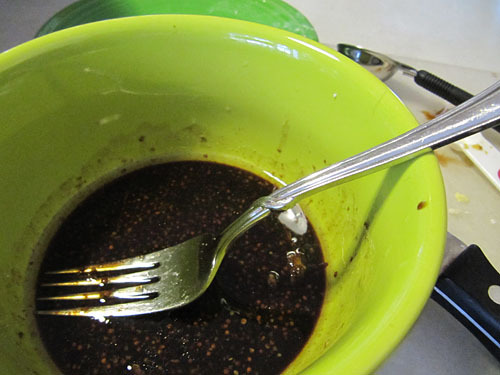 Add 2 tablespoons bacon fat to a small pan and over low heat, whisk in the vinegar, sugar and Dijon mustard. Season with a small pinch each of kosher salt and black pepper. For some reason, I whisked all my non-bacon fat ingredients together in a bowl and then poured the bowl's contents into the pan with the bacon grease. I'm not sure why I did that. It just dirtied an extra bowl…but the picture is nice!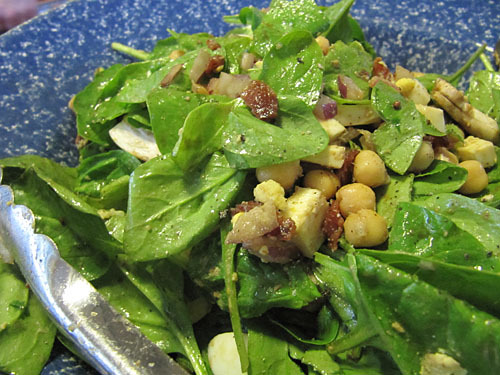 Add the mushrooms, sliced onion, garbanzo beans, eggs, bacon and feta to the spinach and toss. Season with fresh cracked black pepper and a little sprinkle of salt. Add the dressing and toss again to combine. Divide the spinach between two big plates or bowls. Serve immediately.