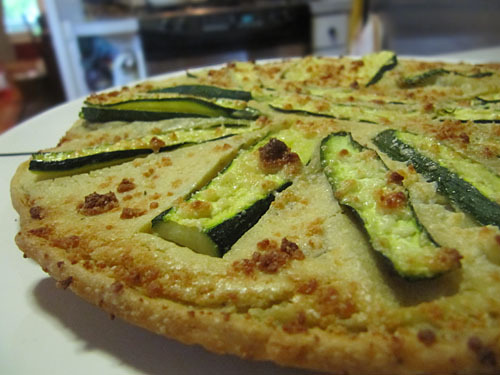 Recently, I got a bag of Garbanzo & Fava Flour* to make falafel with but I kind of forgot all about making falafel, so the bag has just sat around being lonely. So sad. Luckily, I remembered about the flour today and did some searching for something interesting to do with it and I found…Socca!
According to Mark Bittman, Socca is a street food in Nice that is kind of like a chickpea pizza. I kind of thought it was like a hummus-y, falafel-y pie. Either way, it was delicious.
The Nice version is usually just the flour, water, olive oil, salt and pepper, while in Genoa, they add onions and rosemary. I chose to do more of the Genoa style, but also with garlic because it is near impossible for me to make anything savory without garlic in it. I also added zucchini and Parmesan Cheese to the top to make it more like a pizza. Although those additions are not traditional, they were quite tasty.
The best thing? It is ready in lightening speed. Get a plate and let's go.
Socca (Chickpea Pizza from Nice and also other places like Genoa)
Adapted slightly from a recipe by Mark Bittman
1 cup chickpea (garbanzo) flour (or garbanzo and fava flour, which is what I used)
1 tsp kosher salt
1 tsp, at least, ground black pepper
4 to 6 tablespoons olive oil
Optional:
1/2 large onion, thinly sliced, then halved
1 tbsp fresh rosemary leaves
Optional More Stuff:
1-2 garlic cloves, minced
1 small zucchini, thinly sliced
2 tbsp Parmesan cheese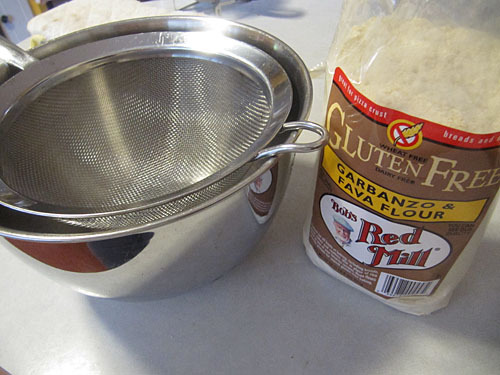 Heat your oven to 450 degrees and put a well-seasoned cast-iron skillet or other oven-proof skillet in oven. Sift chickpea flour into a bowl; add salt and pepper; then slowly add 1 cup lukewarm water, whisking to eliminate lumps. Stir in 2 tablespoons olive oil.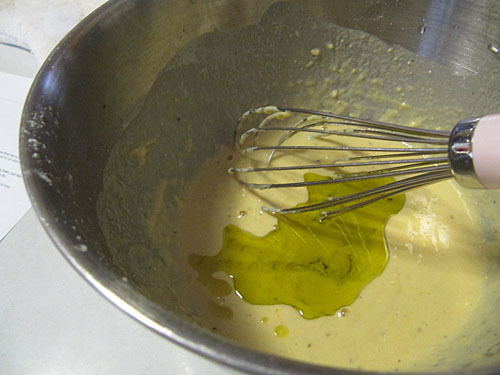 Cover, and let sit while oven heats, or as long as 12 hours. The flour will have absorbed a bit of the water and be slightly thicker and creamier after sitting.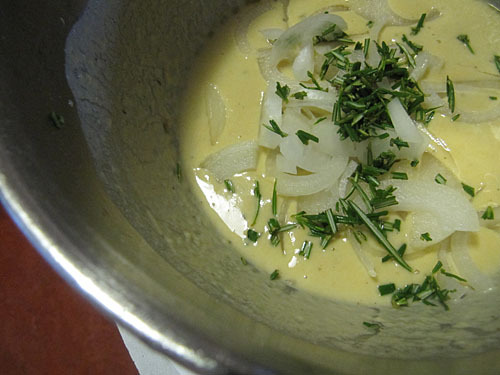 If using onion, rosemary, and garlic stir them into batter after it has rested. Pour about 2 tablespoons oil into the hot pan, and swirl to cover pan evenly. Pour in batter. It should sizzle. Nice!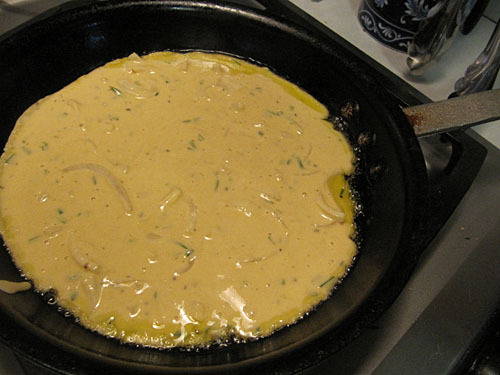 If you are using the zucchini and cheese, spread the zucchini out decoratively on top and sprinkle with the Parmesan.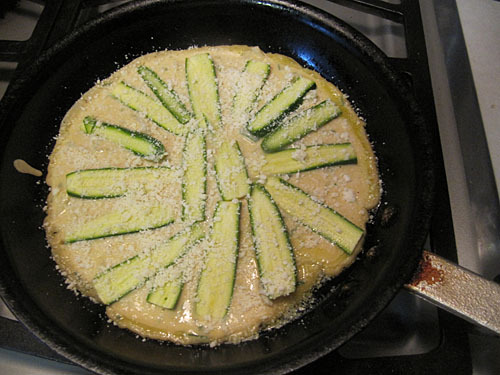 Bake 12 to 15 minutes, or until pancake is firm and edges set. Heat broiler, and drizzle the top of your socca with 1 or 2 tablespoons of olive oil. Set socca a few inches away from broiler for a few minutes, just long enough to brown it spottily.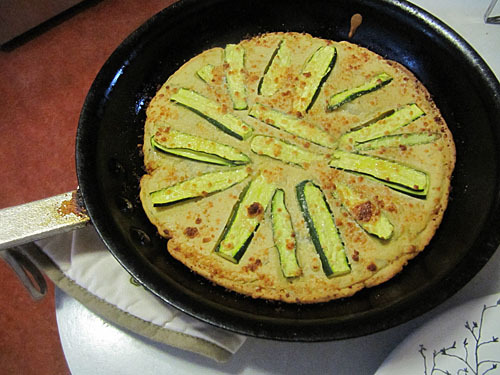 Cut it into wedges and serve hot. Delicious! Or you can even make a light meal out of it with a salad on the side.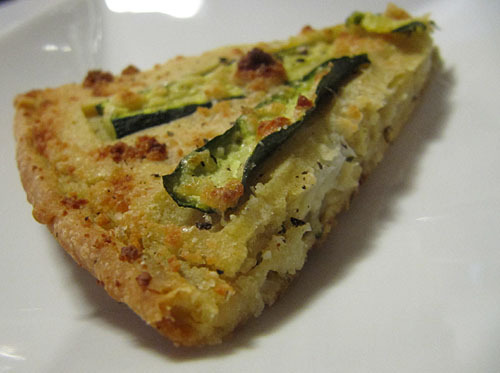 * I do still love the gluten, of course…this flour just happens to be gluten free!