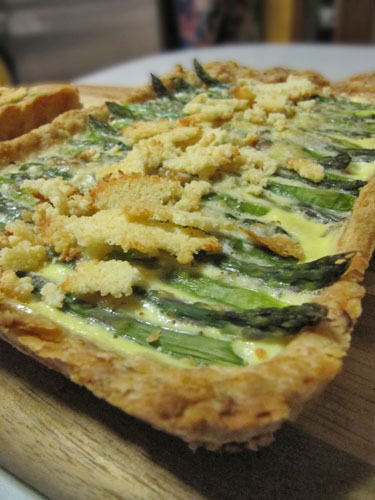 Ah, Spring! Rain, freak hail storms with thunder, mud…asparagus! This was a tart that I was very happy to make because I was super excited to try out my new, skinny, rectangular tart pan and also because I love asparagus. My expectations were met as this was a very good tart and honestly, it could be a much simpler meal if you used pre-made pie crust and skipped the roasted garlic and Parmesan chips.
But, if you want to go all out and you have some time, make your own crust and do the garlic and Parmesan! You won't be sorry.
Asparagus Tart with Roasted Garlic and Parmesan Chips
Adapted from Bon Appétit Magazine
1 ready-to-use pie crust (or your favorite pie crust recipe made and ready to go. Mine is this one by Dorie Greenspan. When I use it for a savory pie or tart, I replace the 1/4 cup sugar with that amount of Parmesan cheese)
1 head garlic, some of the outer papery part removed (but not all)
14 ounces asparagus, each spear trimmed to the half-width of your tart pan if doing a spoke design, the full width if using a rectangular pan
2/3 cup half and half
2 eggs
1/2 cup fresh grated Parmesan cheese
1 tsp dried tarragon (or 1 tbsp chopped fresh)
1/2 tsp salt
Parmesan Chips (see below)
Preheat oven to 400 degrees F. Wrap your garlic head in aluminum foil and roast until soft, about 40 minutes. Set aside and cool. If you're really organized, you can also make the Parmesan Chips at this time while you have the oven at 400.
Preheat oven to 425 degrees F. Open crust on work surface. Press out any cracks. Arrange dough in 9-inch-diameter tart pan with removable bottom. Press dough into pan. You can also use a smaller rectangular-shaped tart pan but you will have extra dough and other ingredients leftover, so be prepared with another smaller baking dish that you can make a bonus tart in. Bonus tart!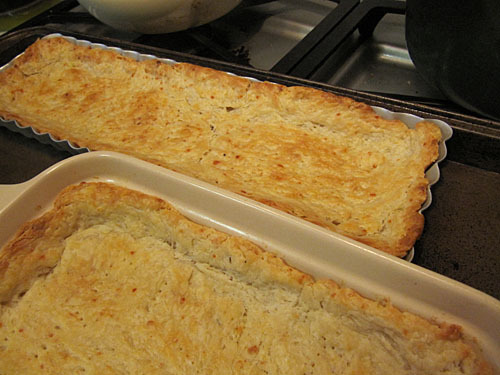 Pierce dough all over with fork. Bake until golden, about 15 minutes. Cool on rack. Reduce oven temperature to 375 degrees F.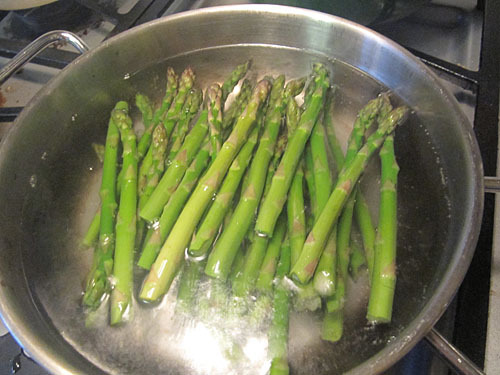 Cook asparagus in pot of boiling salted water until just crisp-tender, about 4 minutes. Drain well and place on paper towels. Mix half and half, eggs, 1/2 cup of the Parmesan cheese, tarragon, pepper and salt in bowl.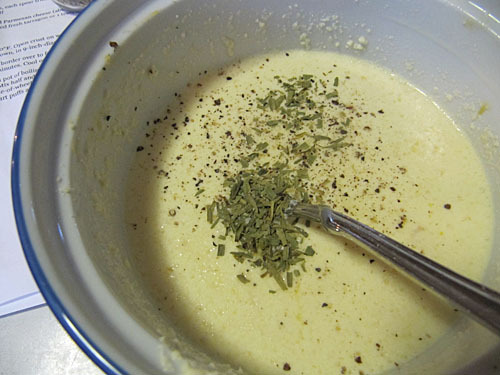 Squeeze out the roasted garlic and mix that in as well. Now you are ready to put it all together!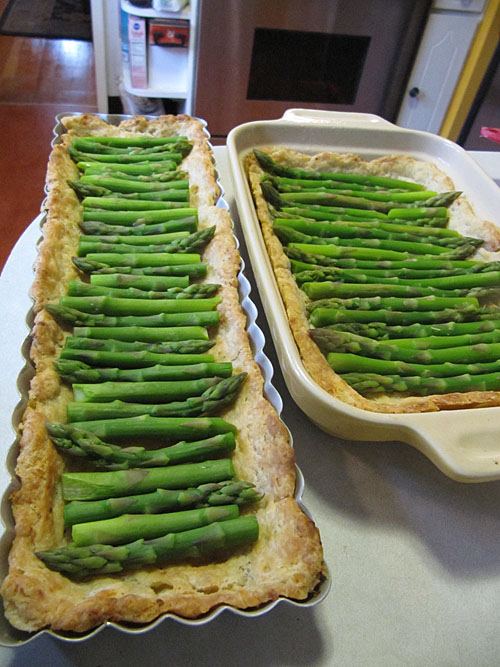 Arrange asparagus in spoke-of-wheel fashion in crust, tips toward edge and ends meeting in center. Or, like I did above, arrange horizontally in the pan, depending on what shape tart pan you are using.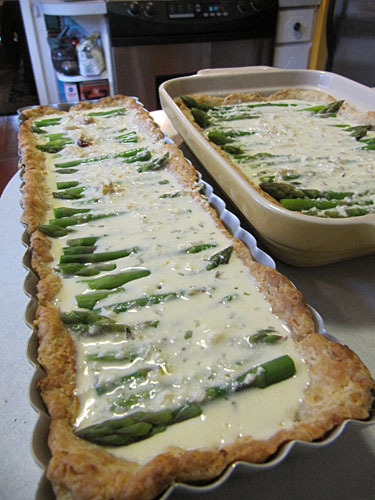 Pour custard over. Bake until tart puffs and top browns, about 35 minutes. Cool slightly. If you haven't already, you can make the Parmesan Chips now.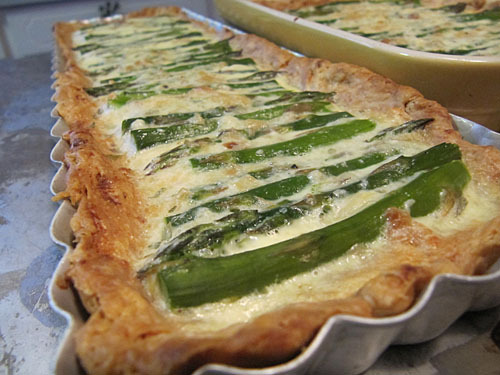 For the Parmesan Chips, I pretty much followed this recipe, breaking up the crisps after they had cooled a little bit (and snacking on a few).
Parmesan Crisps
Recipe by Giada De Laurentiis
1/4 cup grated Parmesan
Preheat oven to 400 degrees F. Pour a heaping tablespoon of Parmesan onto a silicone or parchment lined baking sheet and lightly pat down.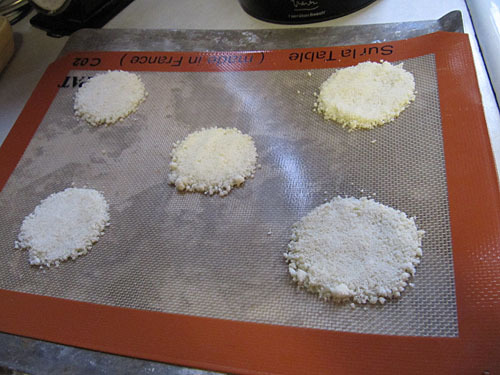 A silicone baking sheet is highly recommended. Repeat with the remaining cheese, spacing the spoonfuls about a 1/2 inch apart. Bake for 3 to 5 minutes or until golden and crisp. Cool. Mine turned out more dense than lacey. I think I should have flattened them more, pre-baking. For my use though, it didn't really matter.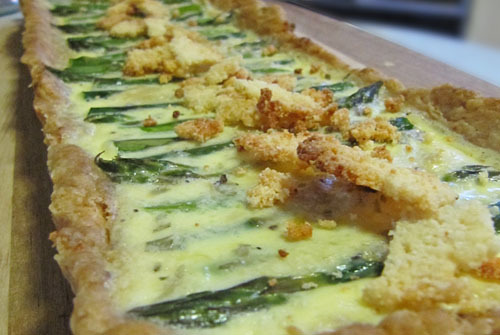 I also used one extra tablespoon of cheese for 5 total crisps. The fifth one was for snacking… Anyway, break up the crisps and sprinkle along the top of your tart in an eye-pleasing pattern. Since my pan was a rectangle, I just placed them in a path down the center.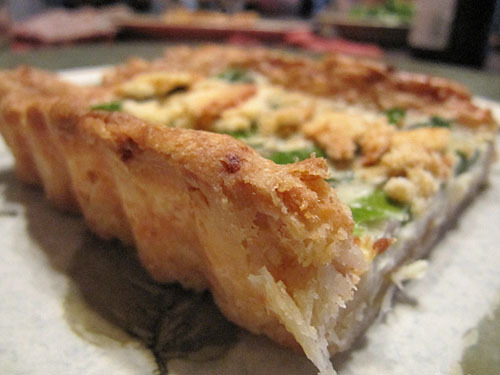 Check out that flakey crust! Okay, slice tart into the desired number of pieces and eat. Hello Spring! Brrrrrr…..