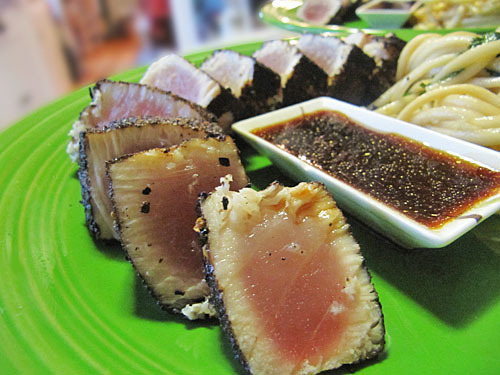 This recipe is from my newest cookbook acquisition, Culinary Tea by Cynthia Gold and Lise Stern. It's basically a whole cookbook full of recipes that use tea. Delightful! I really love the idea of using tea as a seasoning or ingredient in recipes and this book does not disappoint at all. This is the first recipe I've made out of the book and I loved it. I found some beautiful wild Pacific Albacore Tuna at the Zupans on Belmont that worked just perfectly here.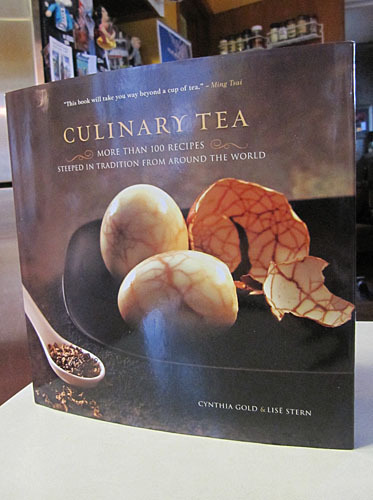 I have to say, I'm always surprised at how well tuna and cinnamon seem to got together. It's a combination that seems so very, very wrong on paper but in reality it just really works. In fact, all of the tea spice crust just blends together so well with the tuna here. I also loved how the sliced tuna looked almost like sushi, with the dark, spicy crust that seemed to resemble nori. Very, very pretty.
Anyway, it may seem like there's a lot of ingredients here (and there are) but it's really worth it. For a lighter dinner just the tuna and salad are perfect, but it also works well if you add some soba noodles on the side. Mmm…noodles. They also go great with the ginger-soy sauce as well, so you don't have to worry about anything besides cooking the noodles. Just toss with the sauce. Done.
Seared Tuna with Tea Spice Crust
Adapted from the cookbook, Culinary Tea.
Serves 2.
3 tbsp loose leaf black tea (I used Tiger Hill Nilgiri Black Tea)
1/4 tsp whole coriander seeds
1/4 tsp black peppercorns
1/4 tsp anise seeds
3/4 tsp cinnamon
1/4 tsp ground ginger
1/2 tbsp brown sugar
3/4 pounds tuna steak
1/4 tsp kosher salt
1 1/3 tbsp olive oil
salad greens, radish slices, cilantro sprigs for salad
Soy Ginger Sauce
3 tbsp low sodium soy sauce
1/3 cup steeped Jasmine Green Tea
1 tbsp seasoned rice vinegar
1/2 tsp minced fresh ginger
1 garlic clove, minced
1/4 tsp toasted sesame oil
2 tbsp olive oil for salad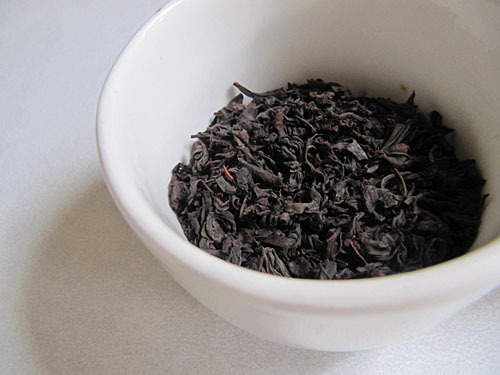 Combine the tealeaves, coriander, peppercorns, and anise seed in a spice or coffee grinder and finely grind together.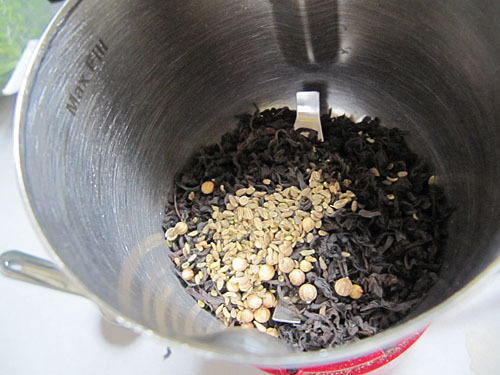 Transfer to a bowl (I used a teacup!) and stir in the dried ginger, cinnamon, and brown sugar. Pour out onto a plate for easy tuna application.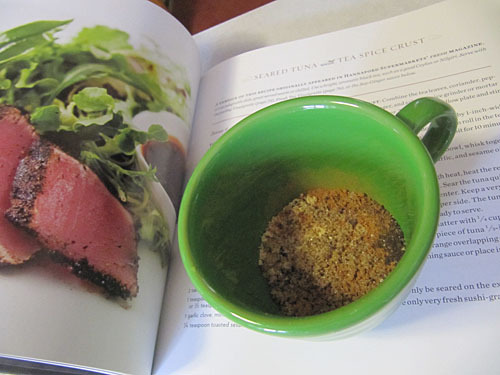 Cut each piece of tuna (if you have more than one) so that you have at least one rectangular shape. If your steak is shaped kind of like a triangle (my two pieces were), slice so that you have two pieces — a rectangle and a smaller triangle (after searing you'll cut these into slices). This is kind of hard to explain, but just look at your tuna steak(s) and I'm sure you'll get it. Okay, roll each piece of tuna in the spice mixture and let sit at room temperature for about 15 minutes for the crust to set.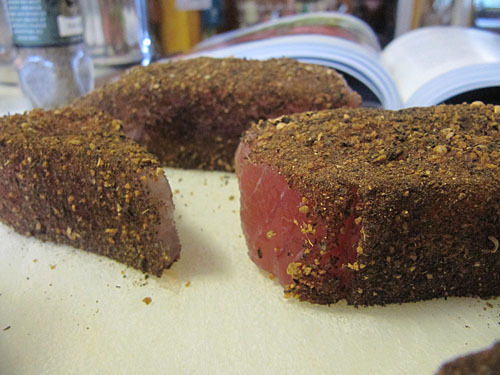 Meanwhile, Make the Sauce: In a small bowl whisk together the soy sauce, tea, vinegar, ginger, garlic and sesame oil. Set aside. Okay, in a large skillet over high heat, add the 1 1/2 tbsp olive oil and when just beginning to smoke add the tuna. Cook each spice-crusted side for about 30-45 seconds.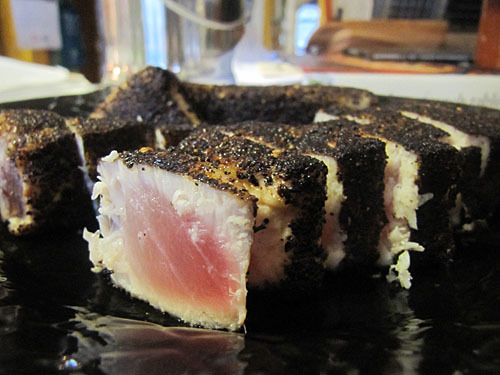 Slice each piece of tuna into 1/2 inch thick slices and fan out onto two plates. Add some of the dipping sauce to small bowls and place on the plate next to the tuna.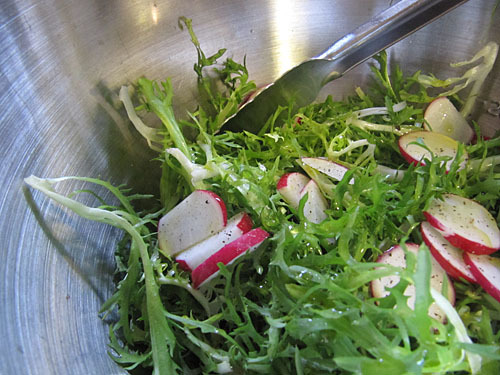 When ready to serve, toss the greens, radish slices and cilantro sprigs with 2 tbsp olive oil and some of the leftover dipping sauce. Arrange next to the tuna.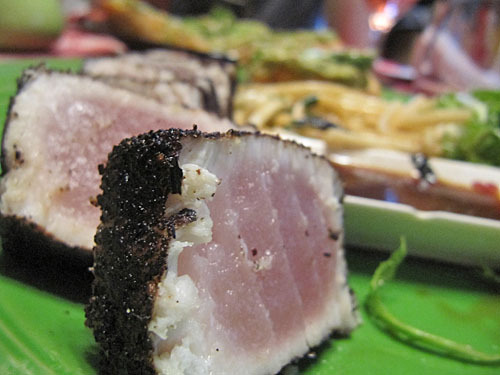 As I mentioned earlier, we also had some soba noodles with this one the side, also tossed with a little remaining soy-ginger sauce. In fact, bring any extra sauce to the table because it's delicious!