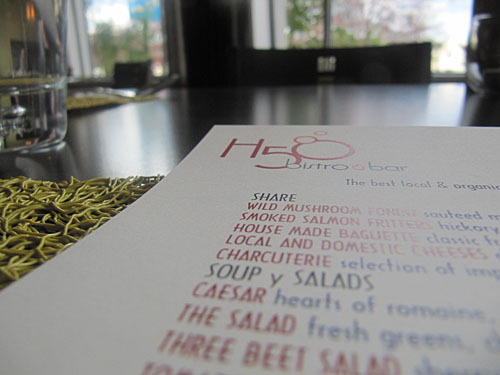 H5O Bistro
50 Southwest Morrison
Portland, Oregon 97204
Normally, we hardly ever eat downtown. We're just really lucky living where we do in the SE and being within easy walking distance to many different, tasty establishments. But, we are trying to broaden our horizons and ever since March's Foodportunity event (asparagus, roasted garlic and parmesan FTW!!!), we have wanted to try H5O Bistro. And, as luck would have it there was an occasion to be downtown Saturday evening and what better than to go there for dinner first? Nothing better, that's what. It was an excellent idea.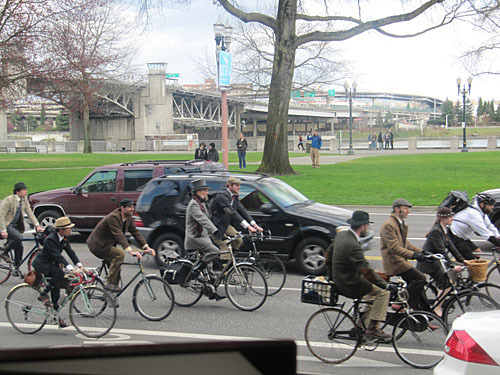 The evening started off with a very Portlandia moment with a drive bike-by from the tweed biking people, which we had a great view of from our table. Nice outfits and hats. Very tweedy. And jaunty. Okay, then we moved onto drinks.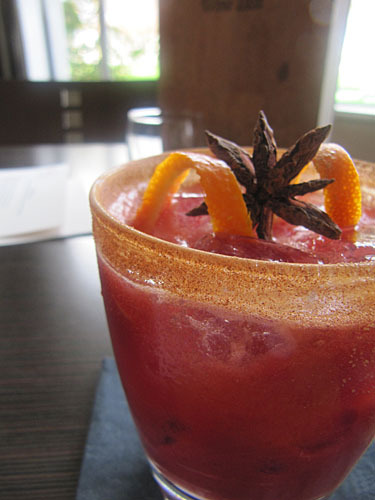 A Cinnamon Blood Orange Margarita (cinnamon-infused tequila, blood orange, star anise, orange juice) for me. Very strong flavors but I really liked it. It seemed kind of Fall-ish, but then Fall is my favorite season so I was happy.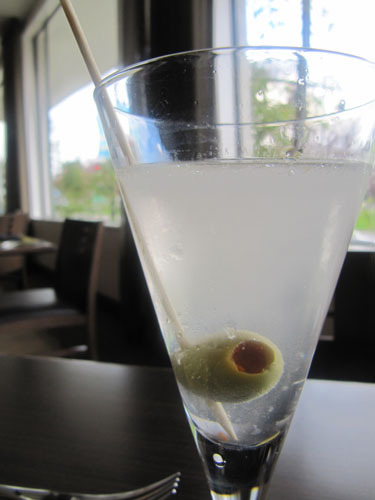 jwa had a gin martini, like he usually tends to do.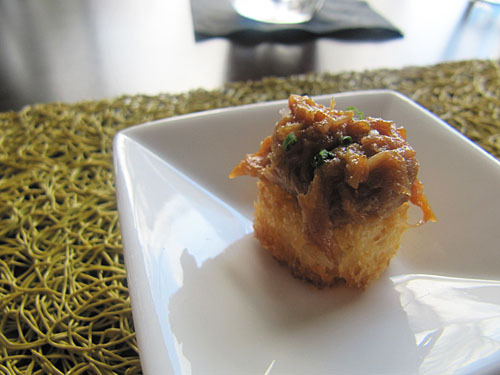 Next there was an amuse bouche, a little round of brioche toast and this amazing pulled pork on top of it. Seriously could have eaten a plate of these…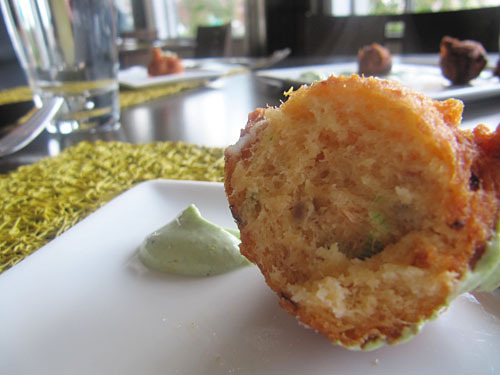 We split the Smoked Salmon Fritters (hickory-smoked troll king salmon, fennel, honey, parsley sour cream), which were very good. I especially loved the parsley sour cream. I always forget how much I like the flavor of parsley. Note to self: stop forgetting that!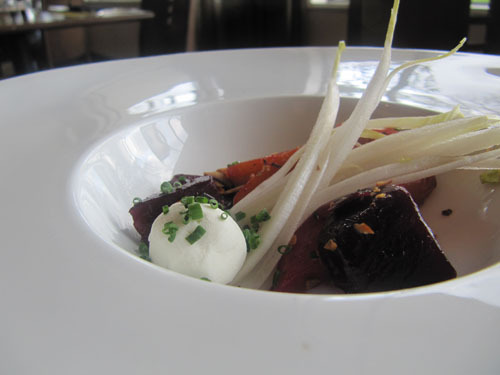 jwa's salad: Three Beet Salad (sherry vinaigrette, herbed goat cheese, toasted hazelnuts), which was very artful in its white bowl. Almost made me wish I liked beets.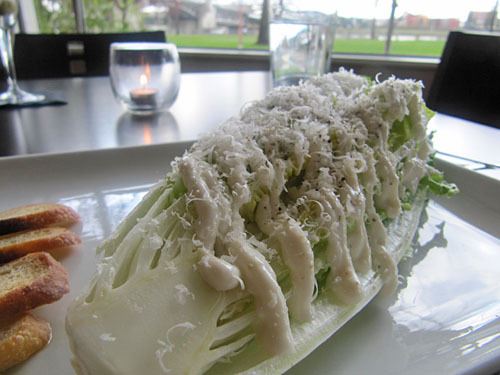 I had the Caesar Salad which was also good. Not my favorite in pdx, but certainly tasty. Not garlicky enough for me, but then I am a garlic fiend.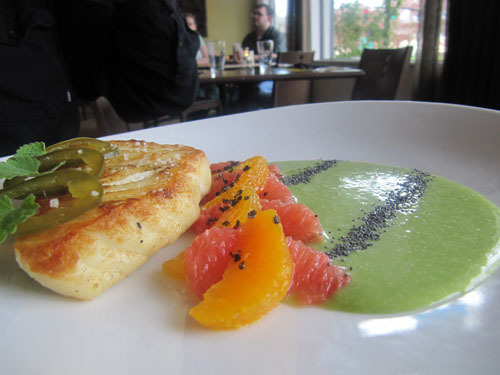 Okay, now this was a winner — Pacific Halibut with Avocado Gazpacho, parsley, jalapeno, citrus melange, poppy seeds and black salt. Thankfully, jwa let me have a few bites. I loved the gazpacho with the citrus and the halibut was flaky and moist.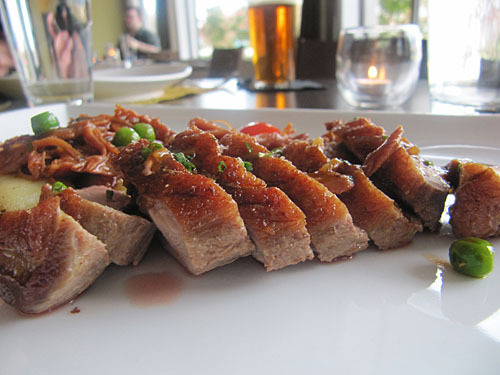 I had the Duck Breast – confit of duck, house gnocchi, fennel pollen, tomato, english peas. Equally delicious! The only problem was that jwa kept stealing my gnocchi. So unfair.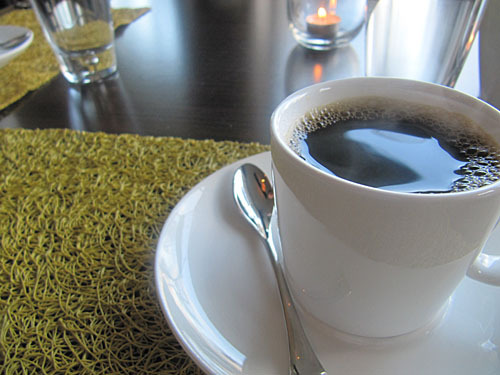 Pretty shot of the post-dinner coffee. I seriously loved these place mats. So photogenic. I want some for home.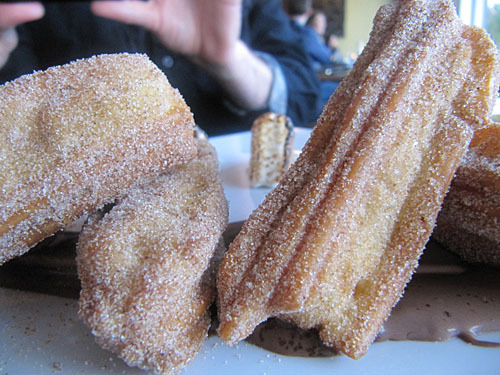 Okay, dessert was a plate of Spanish churros. While growing up, we used to always get churros at White Sox games (the handful I went to). While I definitely enjoyed those, these were much better (duh), with cinnamon and sugar, spiced hot chocolate and homemade roasted marshmallows.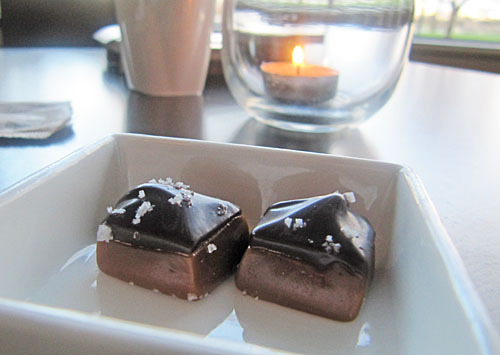 Just when we thought we were done, we were brought out a couple of salted caramels with our check. Well, okay, if you insist.
The verdict: we both really enjoyed our dinner and we both definitely want to head back there again soon.