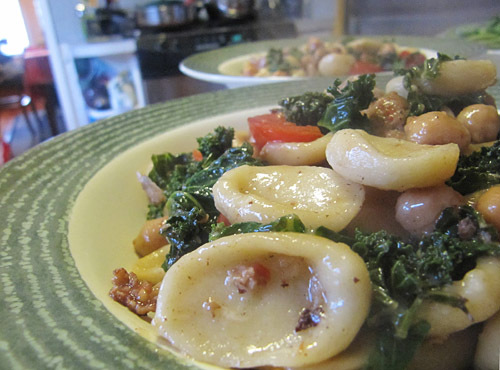 I'm not going to write too much about this for an introduction because it's a pretty long post. I will say, "Wow! This was wonderful!"
My hand did get a little tired after the 6th or so ball of dough, but it was well worth it. I definitely want to make more of these little ears (I always thought they looked more like UFOs), before pasta weather is no more. Say, around July in Portland…
Fresh Semolina Orecchiette
From Gourmet Magazine
2 cups semolina
2 cups unbleached all-purpose flour
1/2 tsp salt
1 cup lukewarm water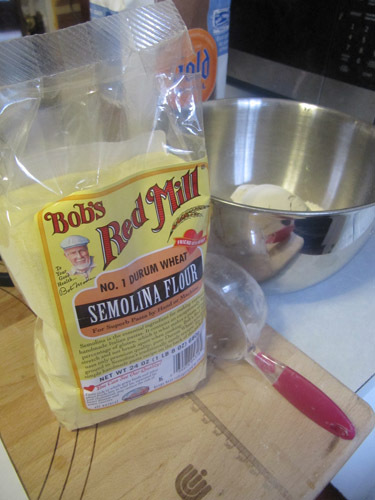 In a large bowl stir together semolina and flour and form a well in center. Add water and salt to well and with a fork gradually incorporated semolina mixture until a dough is formed (some of the mixture will not be incorporated).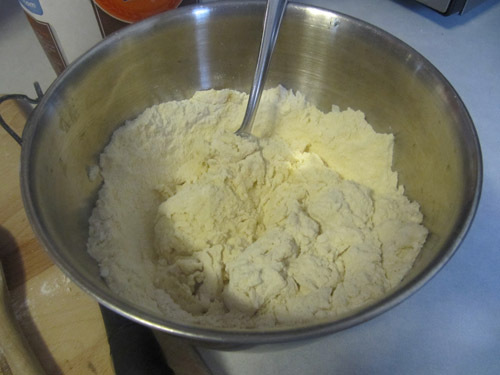 If after pulling the dough out of the bowl, you find you have a lot of flour mixture leftover (I did), go ahead and add a bit more water to make more pasta dough. You do want about 1/2 cup leftover semolina mixture that you will use while forming the pasta.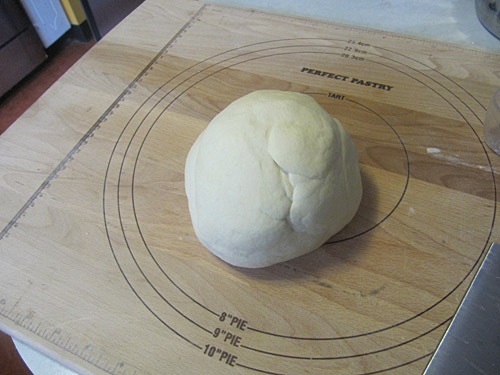 On a work surface knead dough, incorporating more semolina mixture from bowl as necessary and discard any hard clumps, until smooth and elastic, about 8 minutes. I have to confess, I cheated and used my stand mixer here — about 5 minutes with the dough hook.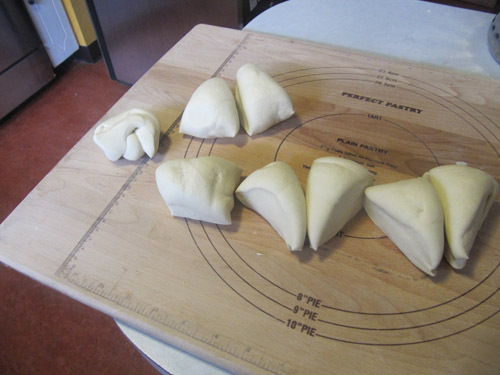 Divide dough into 8 pieces and wrap separately in plastic wrap. I was so surprised at how nice and soft this dough was after the kneading. A beautiful, soft, workable dough!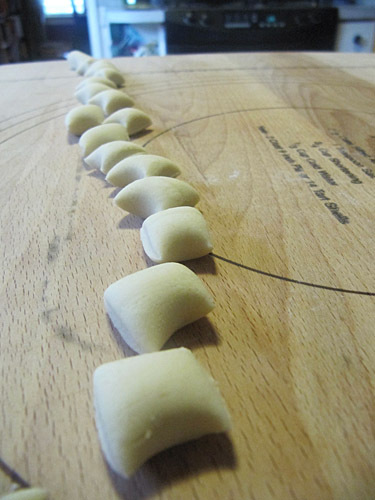 Line 2 trays (you may need a third) with a dry kitchen towel (or paper towels) and dust your hands with some semolina mixture. Remove plastic wrap from 1 piece of dough and roll between your hands and a work surface to create a rope 3 to 4 feet long and 1/2 inch wide. At this point, it seems a lot like make gnocchi. With a sharp knife cut into 1/2-inch pieces, separating pieces as cut so they are no longer touching. Lightly toss cut pieces with a little of your leftover semolina mixture.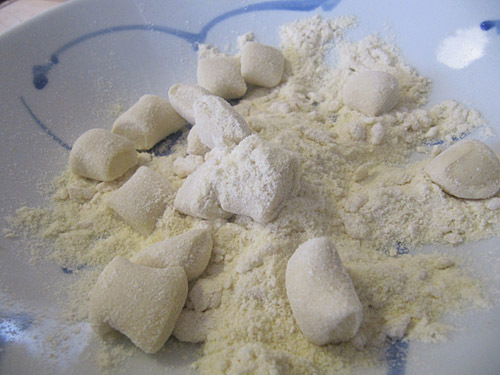 Put each cut piece of dough, a cut side down, in palm of hand and form a depression by pressing thumb of other hand into dough and twisting slightly. I wish I had another arm and hand, because then I would have taken a picture of my thumb pressing into the dough. Please use your imagination for this.

Arrange orecchiette on your towel-lined tray. Make more orecchiette with remaining 7 pieces of dough in same manner, transferring to kitchen-towel-lined trays.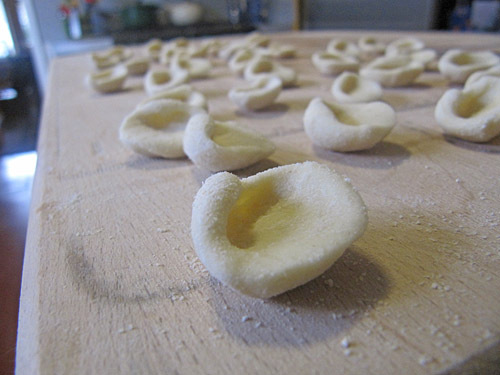 The first ones you make will look mostly like orecchiette, but by the 8th ball of dough you will definitely be channeling your inner-Puglian and making perfect shapes. Gourmet Magazine says the orecchiette may be made 2 days ahead and chilled on towel-lined trays, covered with plastic wrap.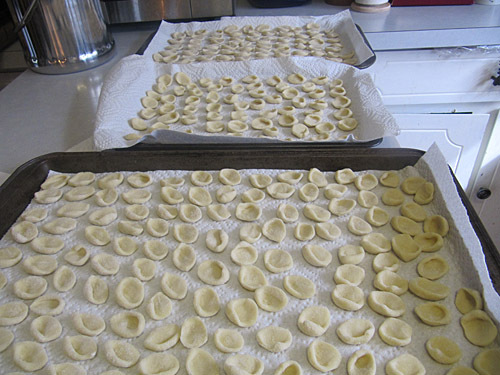 I stuck one of my trays in the freezer overnight and in the morning, gathered up my frozen pasta into a freezer bag for storage. I have every reason to believe this will work. I'll let you know. I got a little bit more than 1.5 pounds of pasta from this recipe.
So, now what to do with your Orecchiette? How about this…
Orecchiette with Kale, garbanzo Beans, Cherry Tomatoes and Parmesan
1 lb orecchiette pasta
1/2 cup diced onion
3 cloves garlic
2 Italian sausages, casings removed (I used chicken sausage)
1 bunch kale, center rib removed and discarded, the leaves roughly chopped
1 can garbanzo beans, rinsed well and drained
1 cup dry white wine
12-15 cherry tomatoes, halved
a handful of fresh basil
1/2 cup + Parmesan cheese, grated
Start a large pot of water over high heat to cook your pasta. Then, heat the olive oil in a huge skillet and saute the onion and garlic until soft. Add the sausage to the pan and break up with a wooden spoon.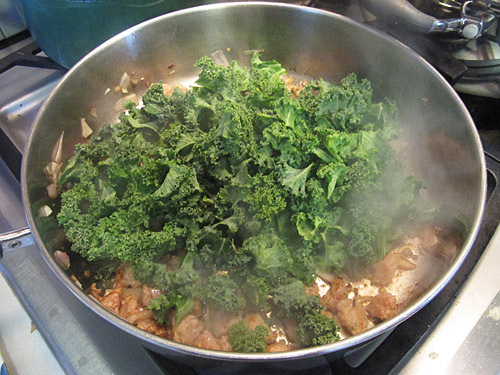 After sausage has browned and is mostly cooked through, add the kale, beans and wine. Scrape any brown bits off the bottom of the pan, then lower heat and cover with a lid and let cook while you cook the pasta in your boiling water. For fresh orecchiette, it'll take about 6 minutes and for dried pasta, 9-11 minutes.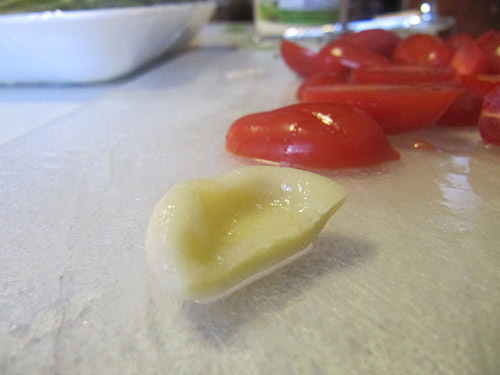 Testing and tasting pasta for doneness.
When pasta is almost done, add it to the skillet, along with about a half a cup of the pasta water.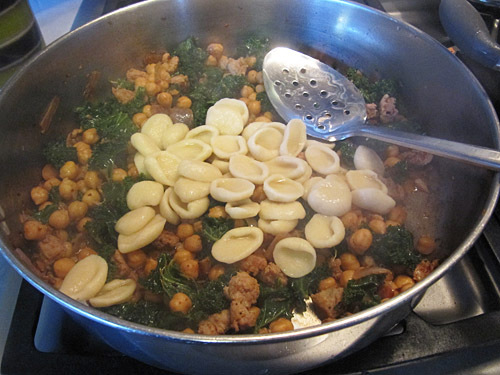 Add the cherry tomatoes, Parmesan cheese and basil. Salt and pepper to taste and serve.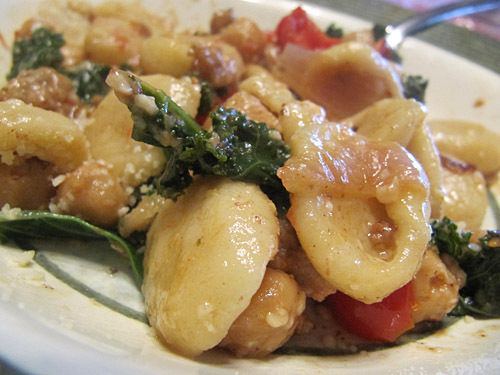 This was so good! I can't believe I've never tried making this before. Now I have to figure out what to do with the 1/2 pound or so in my freezer.