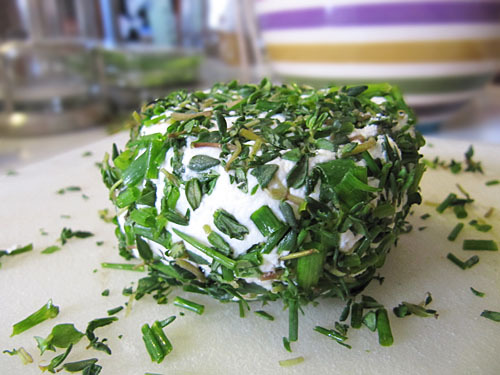 So, I recently took a Cultured Chevre making class through Urban Cheesecraft & the Portland Bureau of Planning and Sustainability* and it was a lot of fun. And super inspiring! So inspiring that just one day later I was buying goat milk and hoping for the best.
The class that I took demonstrated making a culture chevre, which uses a culture + vegetarian rennet (and probably other stuff). You can also make a simpler, milder version that uses citric acid (or you can sub 1/8 cup cider vinegar for the 1 tsp. citric acid). Here's a link to that recipe: Simple Creamy Goat Cheese.
Since I did take the class though, I purchased some culture, which you can find online at New England Cheesemaking Supply or also in Portland at the Urban Farm Store on Belmont, in SE Portland.
Before I start with the step-by-step, here are a few things:
1. If you are making the cultured version, you can't use ULTRA-pasteurized Goat Milk. Some of the organisms you need for the cheese have been killed in the "ultra"-ization. Pasteurized Goat Milk is fine, though. I used Summerhill Dairy (carried by Trader Joe's) and it seemed to work great. I think she said in class that ultra-pasteurized would work for the citric acid/cider vinegar simple goat cheese (but don't hold me to that statement, I could be remembering it wrong).
2. The holes in normal cheesecloth are too big and you will probably lose some curds if you use that type. The fine cheesecloth that I used is also called butter muslin and you can machine wash it and re-use it. Just rinse it in cold water right after you remove the cheese. You can buy it online and at the Urban Farm Store.
3. Your kitchen will smell like sour yogurt while you are making the goat cheese. I found it a slightly unpleasant but jwa liked the smell.
4. If you let it drip down into a pitcher while you are gone, make sure there's LOTS of room for the whey to accumulate. I almost didn't have enough space and was about 1/4 inch away from my cheese hanging into the whey. Either check on it periodically to make sure you have enough space or use a very tall pitcher/container to accumulate the whey.
5. I tend to use the term chevre and goat cheese indiscriminately. I'm just lazy like that.
6. This makes a good amount of cheese. Next time I make a batch, I will weigh the chevre after unwrapping so I can say definitively that using 1/2 gallon of goat milk will give you "____" oz chevre. Should have thought of that this time, I was just way too excited to discover actual goat cheese after unwrapping my bundle!
Okay, I think that's it. Let's do it! I'll list any special equipment below with the recipe.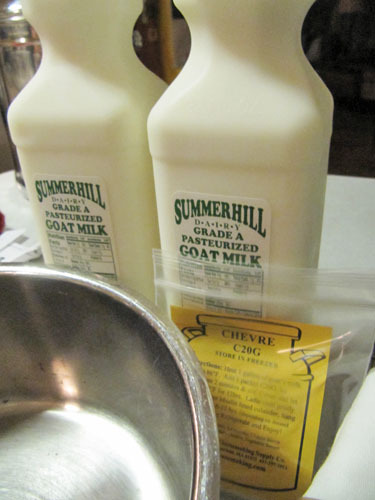 Cultured Chevre
Adapted from a recipe by Urban Cheesecraft.
1/2 Gallon Goat Milk (NOT ultra-pasteurized)
1/2 a culture packet
Supplies:
stainless steel or enamel coated pot
stainless steel spoon
stainless steel or enamel coated colander
large bowl
food thermometer
chopsticks or skewers
fine cheesecloth (butter muslin)
a container or pitcher for draining
16-24 hours
Optional:
cheese salt or kosher salt (no iodine or anti-clumping agents, just salt)
fresh or dried herbs, black pepper, preserves, or anything else you's like to mix in, place on top, or coat your chevre in
Making the Cultured Chevre:
Heat the goat milk in the stainless or enamel coated pan to 86 degrees F.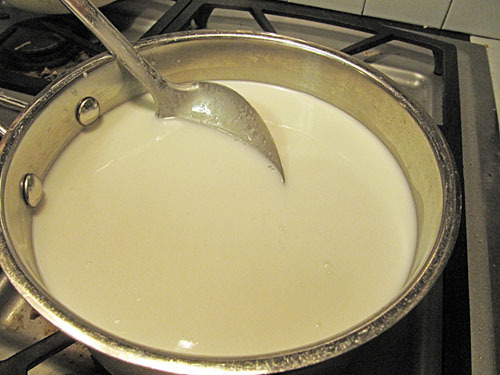 Sprinkle 1/2 the packet of chevre culture on the milk and all to sit on the surface for about 2 minutes. Stir or whisk into all the milk. Cover and allow to sit at room temperature (70 – 72 degrees F) for 6 – 12 hours. The less time it sits, the milder it will be. I let mine sit for about 10 hours and I was pleased with the results.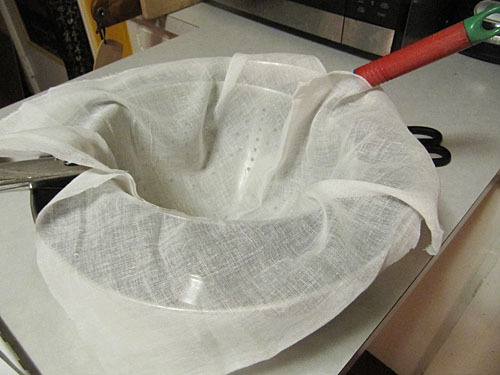 Line a colander with fine mesh cheesecloth (butter muslin) and place a large bowl beneath to catch the whey.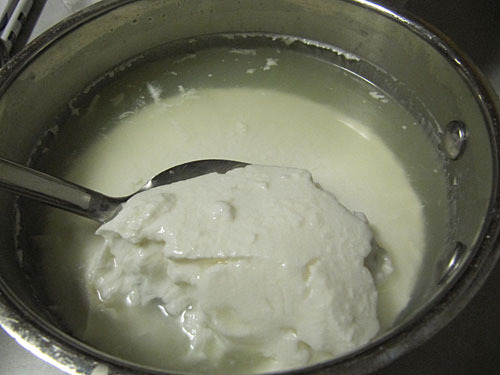 Gently ladle the separated curds into the the lined colander. I think the amount of whey you have on top can vary depending on the temperature of your kitchen and the amount of time you let it sit.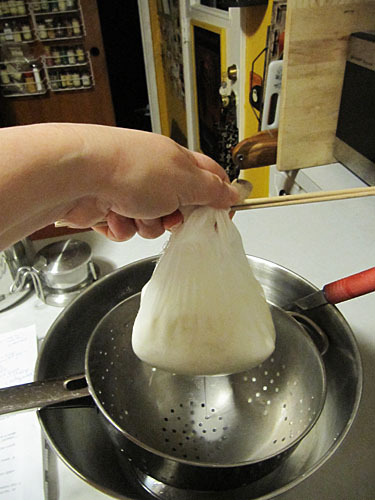 Gather up the four corners of the cheesecloth and tie it into a bundle, as if you were a cheese-loving hobo and hang the bag to drain. Chopsticks or skewers are great to hang the bundle onto and then let it drain into your tall container or pitcher.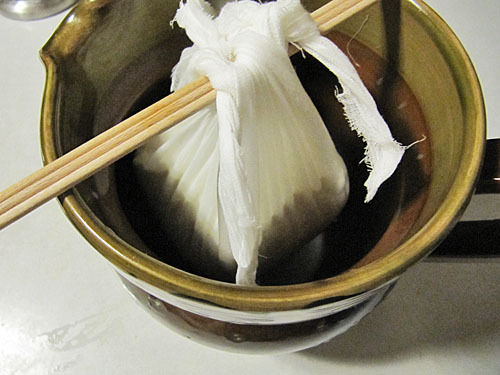 You don't want the bundle to sit down into the whey so make sure you have plenty of room to accumulate the whey. It'll lose quite a bit of liquid. Let it hang and drain for about 12 hours.
Open up your bundle and transfer to a clean bowl for salting. Salt to taste.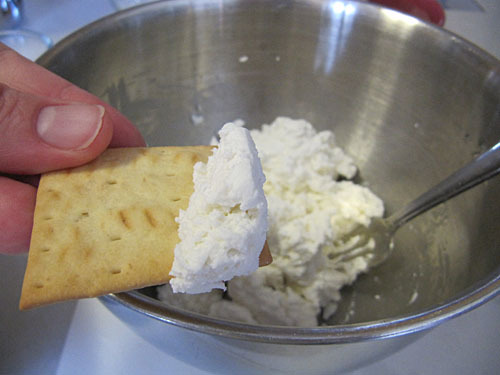 At this point you can use cheese molds to shape the cheese, or roll it into a log, coat some in herbs, or just eat it out of the bowl with a fork. I chose to roll about 2/3's of my cheese into a log for later and shaped the rest into a mound.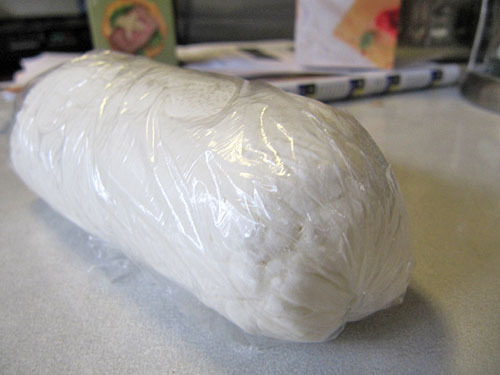 Then, I rolled and coated the mound of chevre in chopped fresh thyme and chives. Almost too pretty to snack on. Almost…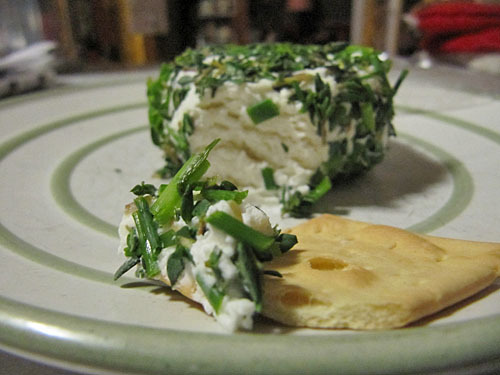 The other night, we had a pizza that I topped with discs of the cheese (from my rolled chevre), Parmesan, sun-dried tomatoes, fresh thyme, garlic and onions and mushrooms I had sauteed in olive oil and glazed with a little port wine.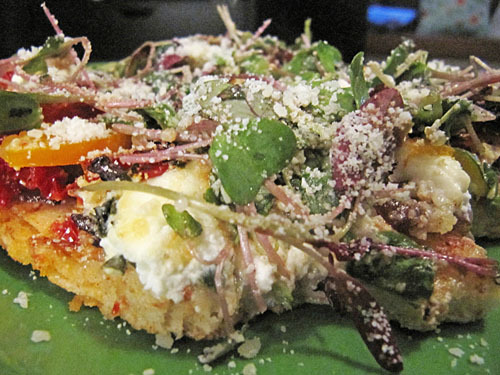 We topped the hot pizza with some micro greens that I had tossed in some olive oil and balsamic vinegar. Oh my, so delicious!
* I probably would not have tried making cultured chevre on my own without taking the class. I totally recommend it! It's led by Claudia from Urban Cheesecraft. I think I'm going to try and take the feta one too.