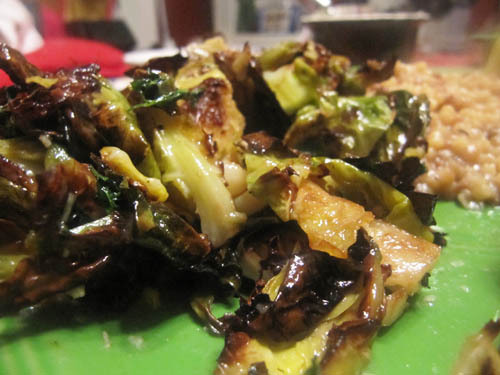 This is now my favorite Brussels Sprouts recipe ever. As a late convert to sprouts, I thought I had done almost every delicious thing with them so far — braising, roasting, shredding & tossing with tasty things, but this roasting + tossing with tasty things has them all beat!
The original recipe was for frying, but due to the other items I was making for dinner (salmon w/ a feta and artichoke topping and couscous) and the attention they would need, I opted for roasting, since I know that produces a fairly golden, crunchiness that would work just as well here. And, most importantly, I was able to just pop it in the oven, while leaving the stovetop and my hands free for other things. Yeah, it worked well.
My substitution are included below in the recipe ingredients. Originally, the dressing was chopped/minced and whisked together and anchovy fillets and serrano chili were used. I chose to utilize my food processor because I am a bit lazy. I also made just a half recipe of what's listed below, but next time I'll know better. Make a full recipe. It's awesome!
Roasted Brussels Sprouts with Walnuts and Capers
Adapted from the cookbook, Michael Symon's Live to Cook.
2 tbsp olive oil
1 (big) clove garlic, minced
2 tsp anchovy paste (or 4 salt-packed anchovy fillets, rinsed, filleted and minced)
1-2 tsp jalapeno Tabasco sauce (or 1 serrano chile, seeded and minced)
1/4 cup red wine vinegar
1 tbsp honey
2 scallions, white and green parts
1/2 cup walnut pieces, toasted and coarsely chopped
1/2 cup extra-virgin olive oil
1 pound Brussels sprouts, trimmed and quartered lengthwise (if your sprouts are small, you may want to just halve)
2 cups loosely packed flat-leaf parsley leaves
2 tbsp salt-packed capers, rinsed and patted dry
Kosher salt and freshly ground black pepper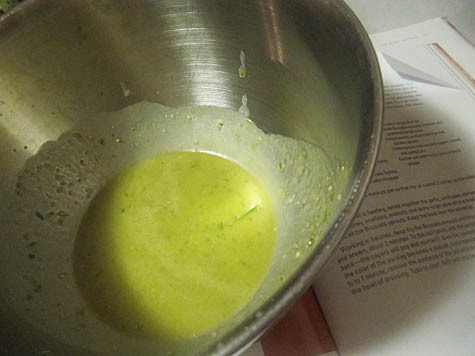 Preheat oven to 425 degrees F. Add the garlic, anchovies (or paste), serrano (or jalapeno Tabasco), red wine vinegar, honey and scallions to the bowl of a food processor and process until smooth. Stream in the olive oil, it should emulsify a bit.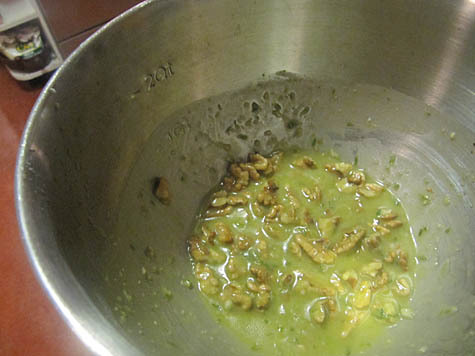 Remove the dressing to a bowl large enough to toss all of the Brussels sprouts and add in the walnuts. Set aside.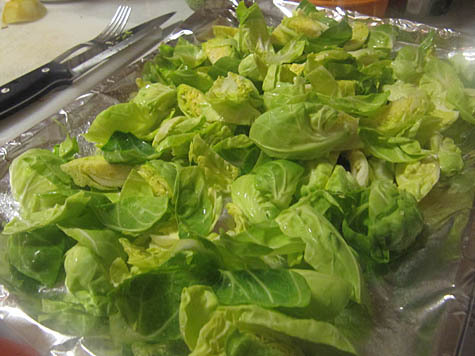 Toss Brussels sprouts with the 1 tablespoon of remaining olive oil and give a sprinkle with salt and pepper. Roast in the oven for about 15 minutes. Check for brownness and crispiness. They should be getting both.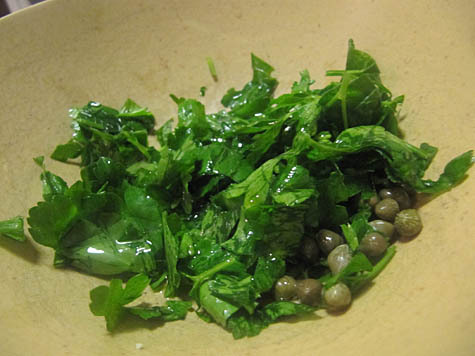 Add the parsley and capers to the pan and return to the oven for another 5-10 minutes. Add the sprouts, parsley and capers directly in the bowl of dressing. Toss to coat. Add salt and pepper to taste. Oh my god, so good!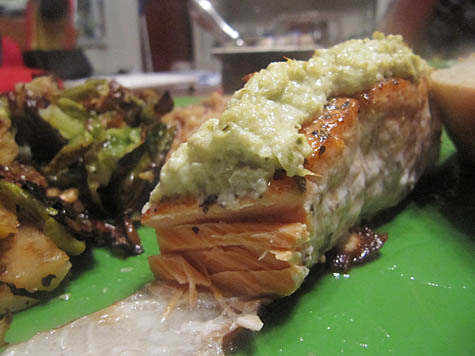 Sprouts on the side of some salmon with artichoke & feta topping.